CJ Perry, formerly Lana in WWE, reveals why she doesn't want to join AEW and what one big difference is between the promotions during a recent interview with The Bailey Show. While she's no longer part of the WWE roster, Perry explained why she still sees WWE as the best franchise in wrestling and the entire world.
For Perry, the big difference is that WWE values its storytelling over resolving conflicts in the ring, compared to AEW's more in-ring-centric product.
CJ PERRY SHARES HER THOUGHTS ON AEW COMPARED TO WWE
Perry first gained notoriety in wrestling when she joined WWE in 2013.  She was known as Lana aka The Ravishing Russian.  Her role was not one which saw her wrestling but as a manager for Rusev, who would later become her real-life husband.  The pair saw a lot of success in WWE, but in April 2020 Rusev was released by WWE, and in June 2021, Perry was released from the company as well. Since their departure, Perry has focused on acting and other things outside of wrestling.  However, Rusev who now goes by the ring name Miro, joined AEW in September 2020.  
RELATED: SCARLETT BORDEAUX WAS INCREDIBLY UPSET WITH LACK OF 2021 CALL-UP
While chatting with The Bailey Show, Perry was asked why she hasn't joined her husband in AEW:
"You're asking some really, really, really good questions. Maybe we should call [Dave] Meltzer and maybe he got the tea from Tony Khan. Tony Khan runs his business however he liked to run his business and I'll leave it at that. There's a reason why WWE is the greatest wrestling franchise and one of the greatest franchises in the world and it's because they value sports entertainment, they value storytelling, they value not just fighting for a wrestling title, but they value resolving conflict in the ring."

H/T To Wrestling Inc. For Transcription
CJ Perry has hit on one of the biggest differences between the two largest American wrestling promotions.  AEW has, for better or worse, focused more on in-ring storytelling and shied away from the sports entertainment aspect of wrestling.  That is not to say AEW doesn't have storylines which they have been accused of many times. 
However, their storylines have taken place in the ring rather than in backstage segments and many stories last only a few weeks rather than months.  Also, AEW has much fewer silly segments like dance-offs or food fights.
On the other hand, WWE is all about the entertainment side of wrestling. This has its ups and downs.  Many very talented Superstars cannot show their talent in the ring because WWE focuses more on the storytelling and spectacle of professional wrestling.
One big example involves the love triangle storyline for Rusev, Lana, and Bobby Lashley.  The goofy storyline focused heavily on backstage segments and a wedding in the ring rather than Lashley and Rusev beating the hell out of each other.
RELATED: VINCE MCMAHON FORCED LANA, AKA CJ PERRY, TO WRESTLE
The entertainment side of wrestling is a side of wrestling that CJ Perry likes about the business and WWE.  Even though WWE began to train her to wrestle, she wasn't interested in becoming the "best wrestler" in WWE.  She did what she was asked to do. While her in-ring work was not bad, she never seemed comfortable with the in-ring side of her career.
CJ Perry went on to make it clear what she wanted to do in wrestling and she doesn't believe she can do that in AEW, even if she could do it with her husband. She stated the following:
"I'm here to entertain and put smiles on people's faces. Not just be the 'best wrestler. That's where I think I stand on the two different promotions and yeah, I'm gonna leave it at that."

H/T To Wrestling Inc. For Transcription
In AEW and in wrestling in general, the manager role is not as prominent as it used to be.  Perry doesn't seem to think she would have the opportunity to have a purely "out-of-the-ring role."  AEW's tendency to shy away from sports entertainment and being proud of that difference appears to reinforce that theory.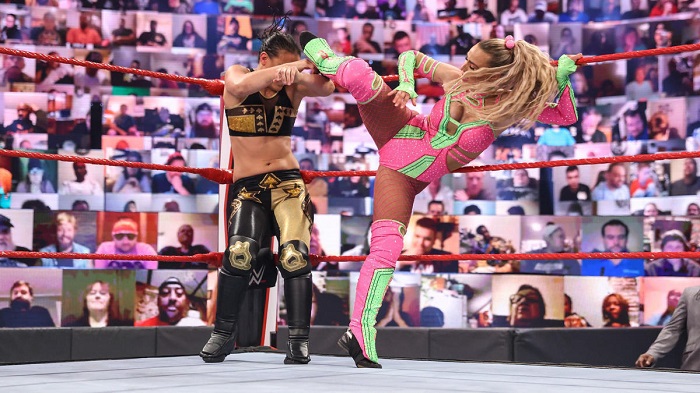 Another potential issue is that her husband, Miro, is not featured on AEW TV anymore.  The last we saw him was at AEW All Out in September of last year.  To make his absence worse, it has been reported he is completely healthy and eager to return to the ring, but AEW will not use him.  If Perry were to sign with AEW it doesn't mean that she would be able to have storylines with Miro as they had in WWE for almost their entire time with the company.
Do you think CJ Perry would do better in WWE or AEW?  Would joining AEW be a lousy choice for Perry?  Is it better if she only works with Miro in AEW or will she hinder him?  Let us know if you think rejoining WWE is only a matter of time for the couple, or if we could see the former Lana in WWE one day on The Illuminerdi Twitter account.
KEEP READING: SASHA BANKS MAKES HUGE NJPW DEBUT AND RETURN TO WRESTLING
Sources: The Bailey Show, Wrestling Inc.