Walt Disney Studios Haunted Mansion teases a spooky family adventure.
Based on the classic theme park attraction/ride, Walt Disney Studios is telling another tale of the Haunted Mansion. In this iteration, a woman and her son move into the mansion and soon find out that a vanilla-scented candle is not enough to counteract the eeriness of their new abode. So, they enlist the help of a strange combination of spiritual and supernatural experts to help them discover and potentially get rid of the otherworldly squatters. With a stellar cast of stars and decades of history, nostalgia, and memories associated with the attraction at the park, this could be the family film of the year.
Haunted Mansion Teaser Trailer
RELATED: Get Your First Hideous Look at Sebastian The Crab in Disney's Live-Action The Little Mermaid
The Haunted Mansion trailer focuses heavily on the spookier aspects of the film. Which, given the subject matter and title, makes a lot of sense. While maybe not at extremely high levels of horror, there is a strong build-up of frightening tension, especially considering this movie is likely targeted at a PG audience. Director Justin Simien seems to have dialed in on all of the emotions the attraction and ride induce in Disney park goers. Having been a former Disney cast member who rode the ride a lot, audiences should expect the film to capture everything about the attraction and more.
"I used to work here! I actually worked at Disneyland, y'all. It was the best summer job I ever had. I used to ride the Haunted Mansion on breaks. There was something about that ride that I felt was there in the script. I wanted to be sure all the Easter eggs are there because I'm a nerd."

Director Justin Simien, at D23 Interview with Variety
RELATED: Ant-Man and the Wasp: Quantumania Review – Marvel Begins A New Dynasty
Justin Simien is best known for directing 2014's Dear White People which was later adapted into the Netflix series of the same name. Fans can expect incredible attention to detail, well-crafted stories, and some really surprising takes on what many people believe they understand. Combine that with his first-person experience and fandom of the ride and attraction, on top of the all-star cast that includes Rosario Dawson, Danny DeVito, Owen Wilson, Jared Leto, LaKeith Standfield, and Jamie Lee Curtis, Haunted Mansion is poised to be a must-see film this summer. And likely a home media rewatch just in time for Halloween.
The Haunted Mansion releases exclusively in theaters on July 28, 2023.
About Haunted Mansion (2023)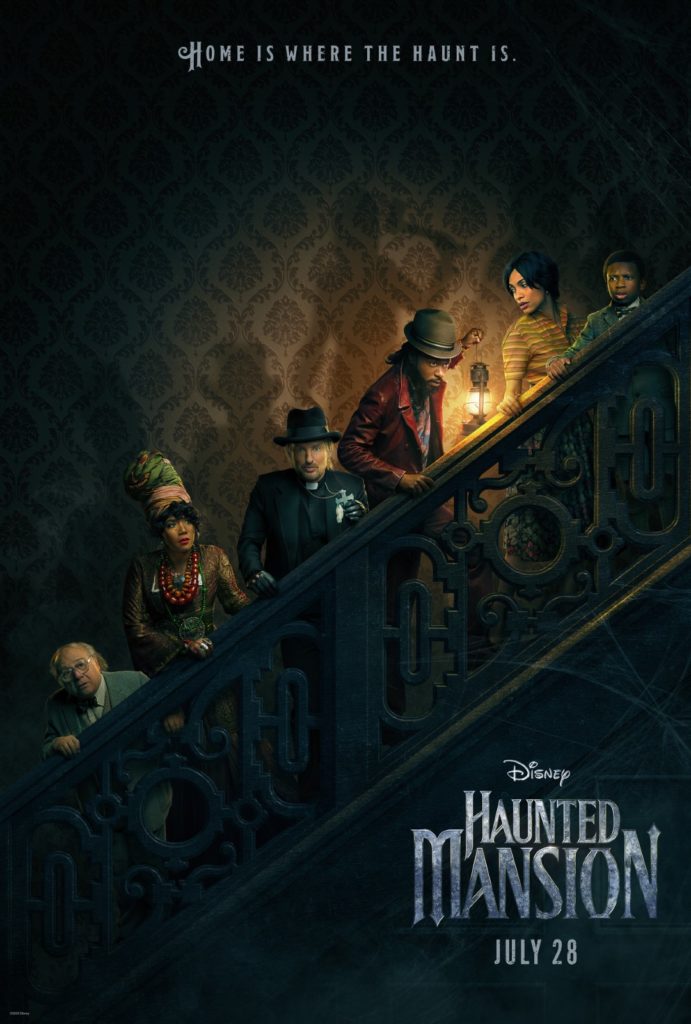 Release Date: July 28, 2023 (USA)
Director: Justin Simien
Executive Producers: Nick Reynolds, Tom Peitzman
Produced By: Dan Lin; Jonathan Eirich
Distributed By: Walt Disney Studios Motion Pictures
Based On: The Haunted Mansion; by Walt Disney
Budget: $157.8 million
Genre: Mysterious Comedic Adventure
Cast: LaKeith Stanfield, Tiffany Haddish, Owen Wilson, Danny DeVito, Rosario Dawson, Chase W. Dillon, Dan Levy, with Jamie Lee Curtis and Jared Leto as The Hatbox Ghost

Logline:
Inspired by the classic theme park attraction, "Haunted Mansion" is about a woman and her son who enlist a motley crew of so-called spiritual experts to help rid their home of supernatural squatters.
Are you excited about Walt Disney Studios' Haunted Mansion? How many times have you visited the attraction and ridden the ride at Disneyland or any other Disney park? Which easter eggs were you able to spot from the teaser trailer? Let us know your thoughts, feelings, and theories about the film on social media!
SOURCE: Disney
KEEP READING: Thunderbolts: Steven Yeun To Play Marvel's Astounding Golden Man, The Sentry