Puss in Boots: The Last Wish is a must-have movie the family will watch again and again.
There's always a staggering question when it comes to movies, especially movies from studios that come from major studios that also have streaming services. is it worth buying the movie when it is going to end up on streaming? Is it worth buying when the bonus features end up on YouTube? Does the 4K/Blu-Ray/DVD provide anything of actual value and worth the space it takes up? All perfectly valid questions and one that has no single right answer. But in the case of Puss in Boots: The Last Wish, I believe it is wholeheartedly worth the investment to have this at the ready in your personal home and/or digital library.
Why Buy Puss in Boots: The Last Wish?
RELATED: TMNT: Mutant Mayhem Release Magnificent Teaser Trailer
If you like the movie, and just want to watch the movie. There is no real need to buy the movie. It will be streaming exclusively on Peacock beginning March 10, 2023. Aside from not having/wanting/needing a Peacock subscription, impatience, or lack of a stable internet connection, there is no reason to buy Puss in Boots: The Last Wish on any form of home media. But, if you love the movie and want more, want to get into the minds of the creatives that brought this glorious film to life, then yes, it is 100% worth buying a home media version of the film. There are hours of extra content:
ALL-NEW EXCLUSIVE SHORT "THE TRIDENT" – When you're the legendary Puss in Boots, life and death go paw in paw. In this epic original short, Puss recalls one of his most daring deaths yet.
DELETED SCENES

POTTY BREAK
LOVE AND DEATH
WALL O'SNAKES

A CAST OF CHARACTERS – You know their voices, now see the faces behind all the beloved PUSS IN BOOTS characters.

PUSS IN BOOTS
KITTY SOFTPAWS
PERRITO
GOLDILOCKS AND THE THREE BEARS
JACK HORNER
WOLF

IN THE BEGINNING – Go behind the scenes with the filmmakers of PUSS IN BOOTS: THE LAST WISH to discover how they brought this great tale to life.
JACK HORNER'S LINE-O-RAMA – Jack Horner says it all in this comedic line-o-rama.
"FEARLESS HERO" LYRIC VIDEO – Sing along from home!
HOW TO DRAW THE PURRFECT PAWTRAIT – Join Director Joel Crawford and Co-Director Januel Mercado as they teach us how to draw our favorite characters.

PUSS IN BOOTS
KITTY SOFTPAWS
PERRITO

HOW TO MAKE A PAPER PERRITO – Every hero needs a sidekick and this 'how to' will help you create your very own.
KITTY CAM – Sit back, relax and enjoy a festive cluster of kittens as they frolic and play. This cat-stravaganza is sure to entertain for hours.
FEATURE COMMENTARY – with Director Joel Crawford, Co-Director Januel Mercado, Producer Mark Swift, Editor James Ryan and Head of Story Heidi Jo Gilbert
Examples of Who Should Own a Copy of Puss in Boots: The Last Wish
RELATED: Violent Night and Sonic the Hedgehog Writers Reveal What Games to Replay Before Sonic 3
The Fun Aunty/Uncle

As the fun uncle, I can not recommend the "How to Draw" videos enough! It keeps kids focused and engaged, and mostly not on a screen. Also, all that focus tends to tire them out. Plus, there's artwork you can make their parents hang around the house. Then, to annoy their parents, you have them watch the "Fearless Hero" lyric video. Even if those little scamps can not read, the amount of times they will play the song over and over again will get those words stuck in anyone's head. As a fun uncle, you get to drop that bomb and watch it go off at a safe distance. It is wildly satisfying.

Movie Nerd

If you're like me and like to know the stories and thoughts of the creatives of the film, Puss in Boots: The Last Wish has a very thorough selection of behind-the-scenes content from performers, producers, directors, artists, and more. If you're a fan of a particular aspect of the film, or maybe looking for inspiration, there is something for everyone and every department. Minus maybe the PA's.

Love the Movie, Don't Want a Peacock Subscription
Physical/IRL Movie Collectors and Ultra Nerds Who Like Full Feature Commentary

There is something about owning a physical copy that will always trump a digital copy. Plus the physical copy comes with a digital copy, so it's the best of both worlds and basically the same price. Plus the only way to access the "Feature Commentary" from Director Joel Crawford, Co-Director Januel Mercado, Producer Mark Swift, Editor James Ryan, and Head of Story Heidi Jo Gilbert is from the physical disc.
RELATED: The Simpsons: Get Your First Look at Lizzo's Outrageous New Characters in Season 34 Finale
If you fall into those categories, there are a lot of reasons to get a copy of the movie. The extras are very much worth the investment. Not only is there a ton of bonus content, but it is also good. Hearing the creatives' passion and thoughts was very insightful and only adds to the love of the film and the franchise.
As an ultra movie nerd who loves feature commentary, Puss in Boots: The Last Wish Home Media is a perfect 5/5 must-have.
Puss in Boots: The Last Wish is available on 4K UHD, Blu-Ray, DVD, and Digital on Demand. It will also stream exclusively on Peacock beginning March 10, 2023
About Puss in Boots: The Last Wish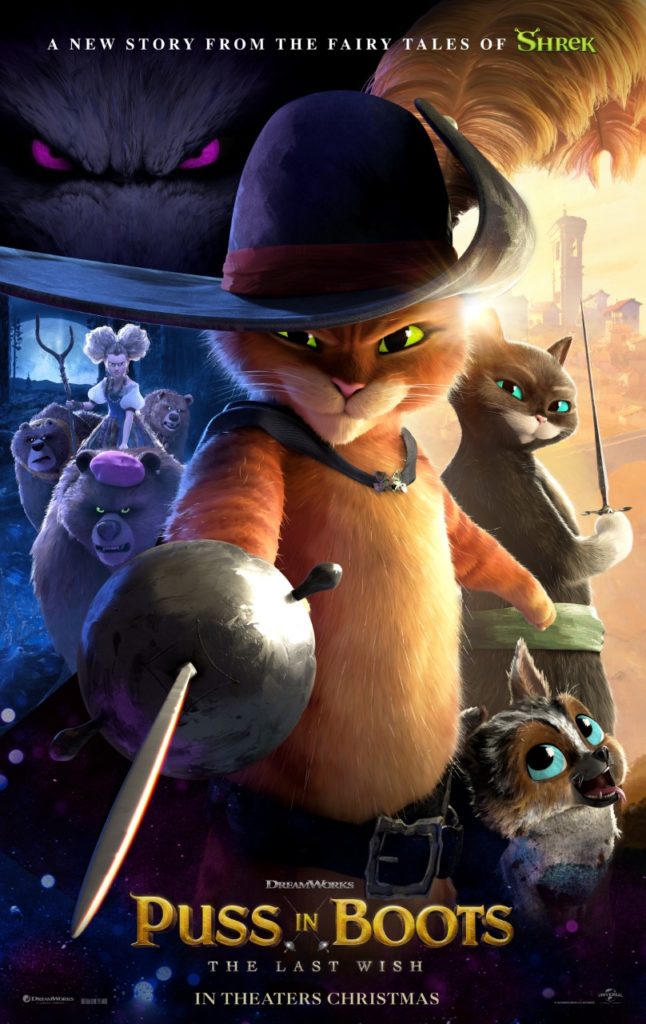 Release Date: December 12, 2022 (Theaters), January 6, 2023 (Digital HD), February 28, 2023 (Home Media), March 10, 2023 (Peacock)
Director: Joel Crawford
Producer: Mark Swift
Writer: Paul Fisher, Tommy Swerdlow
Production Company: Dreamworks
Distributed By: Universal Pictures
Cast: Antonio Banderas, Salma Hayek, Harvey Guillen, Florence Pugh, John Mulaney
Runtime: 1h42m
After-Credits: 1 Mid-Credit After Title Card, 1 Post-Credit

Synopsis:
Everyone's favorite leche-loving, swashbuckling, fear-defying feline, Puss in Boots, returns in a new adventure from the Shrek universe as the daring outlaw discovers that his passion for peril and disregard for safety have taken their toll. Puss has burned through eight of his nine lives, though he lost count along the way. Getting those lives back will send Puss in Boots into the Black Forest to find the mythical Wishing Star on his grandest quest yet. With only one life left, Puss will have to humble himself and ask for help from his former partner and nemesis: Kitty Softpaws.

In their journey they are joined by a chatty and cheerful mutt named Perro. Together, our trio of heroes will need to stay one step ahead of fairy tale realm's craftiest crooks including Goldilocks Locks and the Three Bears.
What did you think of Puss in Boots: The Last Wish? Will you be getting a copy of the film for yourself? Do you think we'll soon hear about news for a new Shrek movie? Let us know what you think on social media!
KEEP READING: Super Mario Bros. Movie Posters and Reimagining of the 90s Super Mario Bros. Rap