The writers of Violent Night are also the writers of Sonic the Hedgehog 1, 2, and 3, so I asked them what games should fans replay to prepare for the third movie.
The writers of the greatest Christmas movie of all time, Universal Studios' Violent Night, are also writers of the Sonic the Hedgehog films. Patrick Casey and Josh Miller famously wrote Sonic the Hedgehog 2 and Violent Night in the same year! Two very good films, both to critic and audience acclaim. An amazing feat but one that likely creates crazy expectations. So I had to ask them about it.
Violent Night Writers on Crazy Expectations Set after Writing 2 Hit Movies in One Year
The Illuminerdi: Speaking of how fast you wrote the film, especially with it kind of overlapping a bit with Sonic 2, has sharing that story put some unreasonable pressure on you guys to turn around scripts faster?
Josh Miller: YES!

[Laughter]

Patrick Casey: Absoulitely.

Josh Miller: Definitely. Yeah. 'You guys write so quickly? 'And we're like, 'Well, I mean, it's nice that people think that but maybe a bad precedent to start.'

Patrick Casey: Yeah, we just wrote Sonic 2 and Violent Night right at the beginning of lockdown. So we couldn't leave the house or do anything else. It forced us to focus. But also like, writing two movies at the same time so quickly, nearly killed us. We don't want to do that again.

Josh Miller: Yeah

[Laughter]

Patrick Casey: We just a little bit more time. That's all we ask.

Josh Miller and Patrick Casey, Writers of Violent Night and Sonic the Hedgehog 1, 2, and 3
RELATED: Violent Night Writers Detail Incredible Process of Writing Action Scenes
Hopefully, they were able to get plenty of rest and recover. Especially since the third Sonic film is already in development and set to release date send set to release in December of 2024. This means there is quite a bit of time for fans to catch up on the franchise by watching the first two films, and also playing the games. But for those busy and can't play through all the games, I found out which games specifically should be replayed before Sonic 3.
Which Games The Writers of Sonic the Hedgehog 3 Suggest Replaying Before Watching the Movie
The Illuminerdi: We know you're currently working on Sonic the Hedgehog 3 and we were just wondering what video games do you think fans should revisit?
Patrick Casey: I guess it wouldn't hurt to revisit Sonic Adventure 2

[Laughter]

Patrick Casey: Yeah

Josh Miller: But not required!

Patrick Casey: The movie will give you everything you need to comprehend the movie as well.

Josh Miller and Patrick Casey, Writers of Violent Night and Sonic the Hedgehog 1, 2, and 3
RELATED: Violent Night Writers Share Their Secrets About Going from Fans to Creators
Sonic Adventure 2 is the first game I bought and didn't finish because life started getting in the way. First, my copy from the Philippines would not work past the second level… Then when I got it on GameCube, life got in the way. Luckily I did buy it during a Steam sale so I just have to install it. I'll be sure to share when the game goes on sale so everyone has a chance to play the game before it Sonic the Hedgehog 3 releases.
Violent Night is available now on Blu-Ray, DVD, and digital on demand. Sonic the Hedgehog 3 is scheduled to release on December 20, 2024.
About Sonic the Hedgehog 3
Release Date: December 20, 2024
Director: Jeff Fowler
Screenplay: Josh Miller, Patrick Casey
Producer: Neal H. Mortiz
Production Companies: Sega Sammy Grou, Paramount Pictures, Original Film, Blur Studio, Marza Animation Planet
Distributors: Paramount Pictures (USA), Toho-Towa (Japan)
Cast: (assumed) Ben Schwartz, Colleen O'Shaughnessey, Idris Elba, James Marsen, Tika Sumpter

Synopsis:
All plot details are underwrap.
ABOUT VIOLENT NIGHT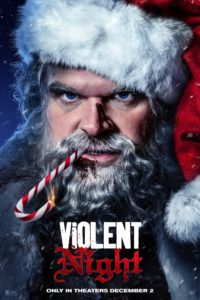 Availability: Currently available on Blu-Ray, DVD, and digital on demand
Director: Tommy Wirkola
Screenplay: Josh Miller, Patrick Casey
Producers: David Leitch, Kelly McCormick, Guy Danella, Annie Marter
Production Companies: 87North Productions, Perfect World Pictures, 87North
Cinematography: Matthew Weston
Cast: David Harbour, John Leguizamo, Cam Gigandet, Alex Hassell, Alexis Louder, Edi Patterson, and Beverly D'Angelo
Synopsis:
When a team of mercenaries breaks into a wealthy family compound on Christmas Eve, taking everyone inside hostage, the team isn't prepared for a surprise combatant: Santa Claus (David Harbour, Black Widow, Stranger Things series) is on the grounds, and he's about to show why this Nick is no saint.
How in awe are you that Patrick Casey and Josh Miller wrote Violent Night and Sonic 2 in the same year? Have you played Sonic Adventure 2? Did you have a Dreamcast? Share your reactions to the film and your thoughts on Christmas movies with us on social media.
KEEP READING: Violent Night Review – Everyone's New Favorite Christmas Movie