Hulu's Boston Strangler is a retelling of the investigation behind the murders that terrorized the city of Boston, particularly its female population, from 1962 to 1964. Keira Knightley and Carrie Coon star as Loretta McLaughlin and Jean Cole, respectively, the two journalists who brought the case to the public's attention and raised the warning signs to the entire city. Both had to put up with the city's sexism, inside and outside their offices, as the police proceeded with the investigation, requesting some input from them from time to time.
RELATED: PREY: HOW NARU AND THE PREDATOR PARALLEL IN HULU'S ACCLAIMED EPIC FILM
During the press conference for the film, which The Illuminerdi attended, lead actress Keira Knightley explained her own backstory with the case of the Boston Strangler:
"Well, I think for me, I had heard of the Boston Strangler. I really didn't know anything about it. So I really came to it from Matt's wonderful script. And I just thought it was a really interesting way of telling the story of a serial killer but through the point-of-view of these two female journalists. And the fact that you've kinda got a case where most people didn't know that it was two women who broke the story, that they've largely sort of been erased from the history of this case, I thought was really interesting."
Carrie Coon also chipped in:
"Yes, that was the most shocking part of it for me, that these women were so integral to breaking the case and to forcing the police departments to share information. And their names are never mentioned in association with it. That was really shocking to me."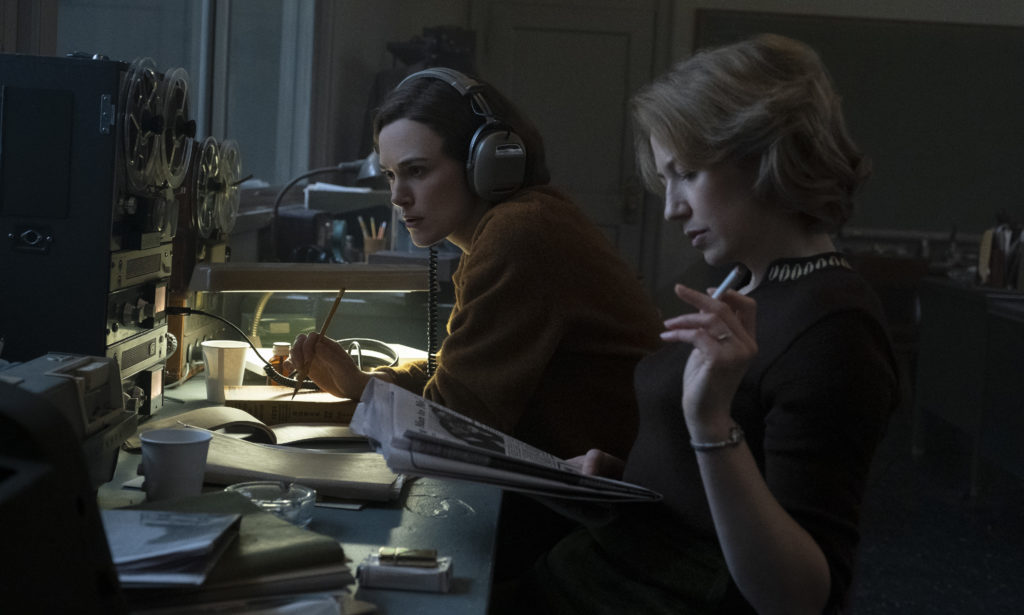 BOSTON STRANGLER IS A LOVE SONG TO FEMALE JOURNALISTS
One of, if not the central core of the film is the sexism that female journalists suffered at the time; fifty years later, history had practically forgotten about Loretta and Jean, who were single-handedly responsible for the case to be part of the conversation of the time, as well as the name "Boston Strangler". Keira Knightley weighed in on this topic as well:
"Well, I think for me, this whole film is really a love song to female investigative journalists. And really highlights how important it is to have women in position of power in storytelling because it was these two women that really went, 'This is an important story. This is information that needs to be in the public in order to keep women of Boston safe.' And I think, largely, it was a story that had been, at that point, ignored by the male establishment.

And I don't know that their male colleagues would have seen the importance of it. So I think it's wonderful to be part of something that is really highlighting how important it is to have as many good female journalists as you possibly can for the safety of our communities."
RELATED: WATCH THE ORVILLE: NEW HORIZONS HULU TRAILER DELIVER INTERGALACTIC COMEDY AND LAUGHS
Carrie Coon also touched upon this later, adding that not everyone around them was sexist towards them. She exemplified it with an example:
"There's a great story about Jean, you know, she wanted to get a raise because she was making $30 a week and her childcare was costing $25. And she went in to appeal for a raise, and all of the men in the newsroom went in with her to back her up and suggest that she needed a raise.

And it kind of highlights the importance of having male allies in a space like that. And I think Jean was a very practical feminist who put her head down and did her work well. And that's all they could do [laugh] in that setting is try not to ruffle any feathers. And so it's extraordinary that these women put themselves out on a limb the way they did. And then were exploited for it by, you know, having their photos taken."
Keira Knightley on the tenacity of Loretta McLaughlin
When asked about what features of her character she found most admirable, and she's affected the way she lives her own life, Keira Knightley said the following:
"I think she's completely inspiring. And I think partly, my answer is in the question, it was her tenacity that I found most inspiring, you know. I've been speaking to quite a few women who've seen the film, and this word keeps coming up, which I find fascinating, which is it was 'cathartic' to watch it. And I think probably I experienced that when I read it, you know, all of the things that she came up against, whether it's the male-dominated workplace or desperately trying to have a home life and a job and trying to raise children at the same point as trying to get justice for these women."
Carrie Coon then expanded on that, saying how it was the duality of their two characters, vastly explored by their on-screen friendship, that made them all the more dangerous to the looming sexism threat:
"You know, I think there is a story built in that is about female allyship. There's the broader story that these were the women who warned the women of Boston that there was a danger to them and cautioned them on how to protect themselves, which is not the story that we often tell. It's often about, 'Well, there's only room for one, and we already have one, so we don't need another one,' right, for women in the workplace.

And I think that you do see in the film Jean's perhaps conventional way of moving through that world be challenged by Loretta's doggedness, by her willingness to create controversy, which is something that I think Jean has avoided outside of the arenas that she's investigating. And so I do think that what Matt has done, I think that thread is in the script, where you see Jean's reality being complicated by the presence of Loretta, and probably speaks to why they were friends going forward for the rest of their lives."
Boston Strangler is currently available to stream on Hulu. You can check out our rather positive review on the link below, and make sure to let us know on our social media if you're interested in checking it out, or if you already have, send us your thoughts on it!
KEEP READING: Boston Strangler Review: A Solid, Captivating Retelling of the Case Coming to Hulu Very Soon in 2023