The long-awaited, highly anticipated film adaptation of the popular Broadway musical, Wicked, is getting a change in release dates. Director Jon M. Chu recently announced that the film is actually moving its release date up a month ahead of schedule.
Wicked: Part 1 will now arrive in theaters a month ahead of schedule on Nov. 27, 2024. Meanwhile, Wicked: Part 2 will open on Dec. 25, 2025. You can view Chu's announcement below:
RELATED: WICKED THE MOVIE SCHEDULED TO BE BROKEN UP INTO 2 PARTS
WICKED: PART 1 SHIFTS UP ITS RELEASE DATE
Currently, the only other film release at that time is a placeholder date for a Walt Disney Animation release for Thanksgiving 2024. The good news for Wicked is that the move pushes it further away from James Cameron's Avatar 3. Also, Sonic the Hedgehog 3 is due out on Dec. 20, 2024.
Filmmaker Chu wrote on the release date change, "We are deep into production on 'Wicked' and every day we get more and more excited to share with u the mischief we've been up to. So…We've decided to get it to you all a little earlier than planned. He added, "A little Thanksgiving treat!"
A prequel and reimagining of The Wizard of Oz, Wicked reveals the story of Oz before Dorthy came to the land and went on a trip down the Yellow Brick Road. It showcases the story of the green-skinned young woman Elphaba becoming the Wicked Witch of the West and her relationship with Glinda, the Good Witch of the North in the original story. While they form an unlikely friendship, it's later torn apart.
The film will see Cynthia Erivo as Elphaba and Ariana Grande as Glinda. The film also stars Jonathan Bailey as Fiyero, Jeff Goldblum as The Wizard, Michelle Yeoh as Madame Morrible, and Ethan Slater as Bog.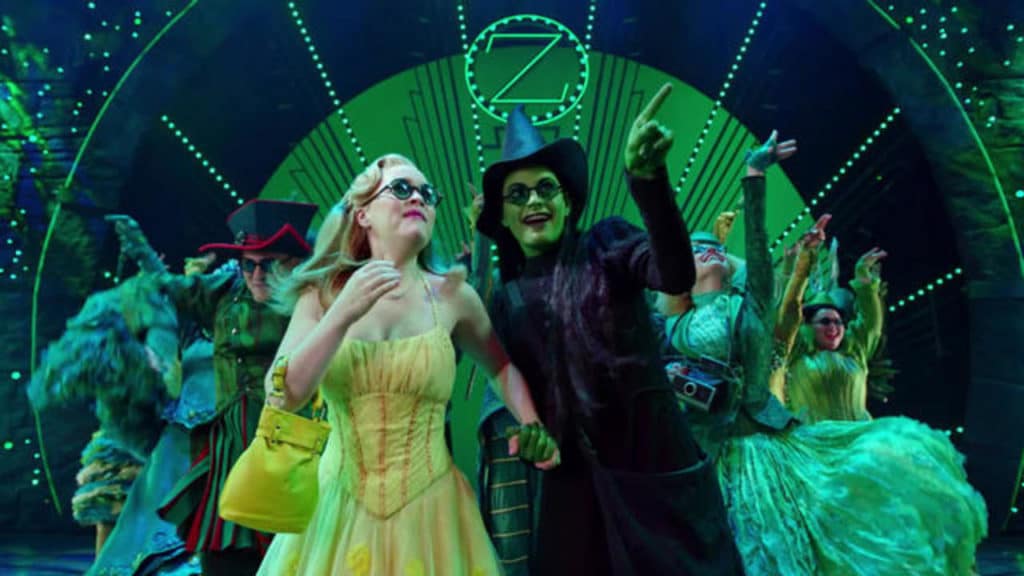 The Broadway production of the show first debuted in 2003, starring Idina Menzel and Kristen Chenoweth in the main roles. It's still one of the longest-running shows in Broadway history. The film sees Stephen Schwartz, who wrote the music and lyrics to the Broadway show adapting the screenplay with Winnie Holzman and Marc Platt, who was also a producer on the original musical. The movie version is also expected to feature two new songs, per Variety.
It's almost hard to believe that it took this long to make a film adaptation of the musical due to its massive popularity, and the film will finally be released in theaters just over 20 years after its original debut. Moving the release date away from such films as Avatar 3 and Sonic 3 was a wise choice, as there isn't much else around that Thanksgiving 2024 period as of yet, other than an unknown Disney Animation release. The film also boasts quite an impressive cast, and Goldblum as The Wizard of Oz should be a great deal of fun.
RELATED: ARIANA GRANDE AND CYNTHIA ERIVO TO LEAD WICKED FEATURE FILM ADAPTATION
Wicked: Part 1 now hits theaters on Nov. 27, 2024. It will be followed by Part 2 on Dec. 25, 2025.
What do you think of the news? Do you think the release date change is a good move for Wicked? Do you think the film will work better as a winter 2024 release? Do you have any other favorite Broadway musicals that were translated into films? Let us know your thoughts about the news on The Illuminerdi Twitter account.
KEEP READING: THE WICKED MOVIE HAS FINALLY FOUND A NEW DIRECTOR IN CRAZY RICH ASIANS' JON M. CHU