Dreamworks Animation and Universal Studios are going big this summer with Ruby Gillman: Teenage Kraken.
This summer, DreamWorks Animation dives into the turbulent waters of high school with a hilarious, heartfelt action comedy about a shy teenager who discovers that she's part of a legendary royal lineage of mythical sea krakens and that her destiny, in the depths of the oceans, is bigger than she ever dreamed. Directed by Academy Award® nominated filmmaker Kirk DeMicco (Vivo, The Croods) and produced by Kelly Cooney Cilella (Trolls World Tour, Trolls), with Faryn Pearl (The Croods: A New Age, Trolls World Tour) serving as co-director, the film features a comedic powerhouse and a concept of enormous size and depth.
Ruby Gillman: Teenage Kraken Official Trailer
RELATED: Puss in Boots: The Last Wish Home Media Review – The Family's Favorite Fairytale
There's something about a good magical coming-of-age story that really resonates with a lot of audiences. It's the most awkward time of most people's lives when they're too young to really be in control but too old to not feel the burden of responsibility. Not only is the constant inevitability of adulthood growing ever closer, but teens are also now old enough to deal with the problems of their families. That is what Ruby Gillman will face in Ruby Gillman: Teenage Kraken
Stills from the Ruby Gillman: Teenage Kraken Trailer
RELATED: Dragon Ball Super: Super Hero Home Media Review – HOW ARE THERE 0 SPECIAL FEATURES?
Not only does she have her own problems, she has to deal with the fact that she's a kraken, and also the lifelong battle her family has with the mermaids. It's not like she has had her whole life to prepare for this mega battle. Instead, she is being thrust into it at 16 years old because her mom forbade her from getting in the water because it would reveal her kraken heritage. Now on top of being a teenager and learning about her family and their duty/burden, Ruby has to take everything in and go up against the popular new girl at school, Chelsea, who is also a mermaid!
Find out how Ruby deals with this larger-than-life debacle in Ruby Gillman: Teenage Kraken, releasing Summer 2023
About Ruby Gillman: Teenage Kraken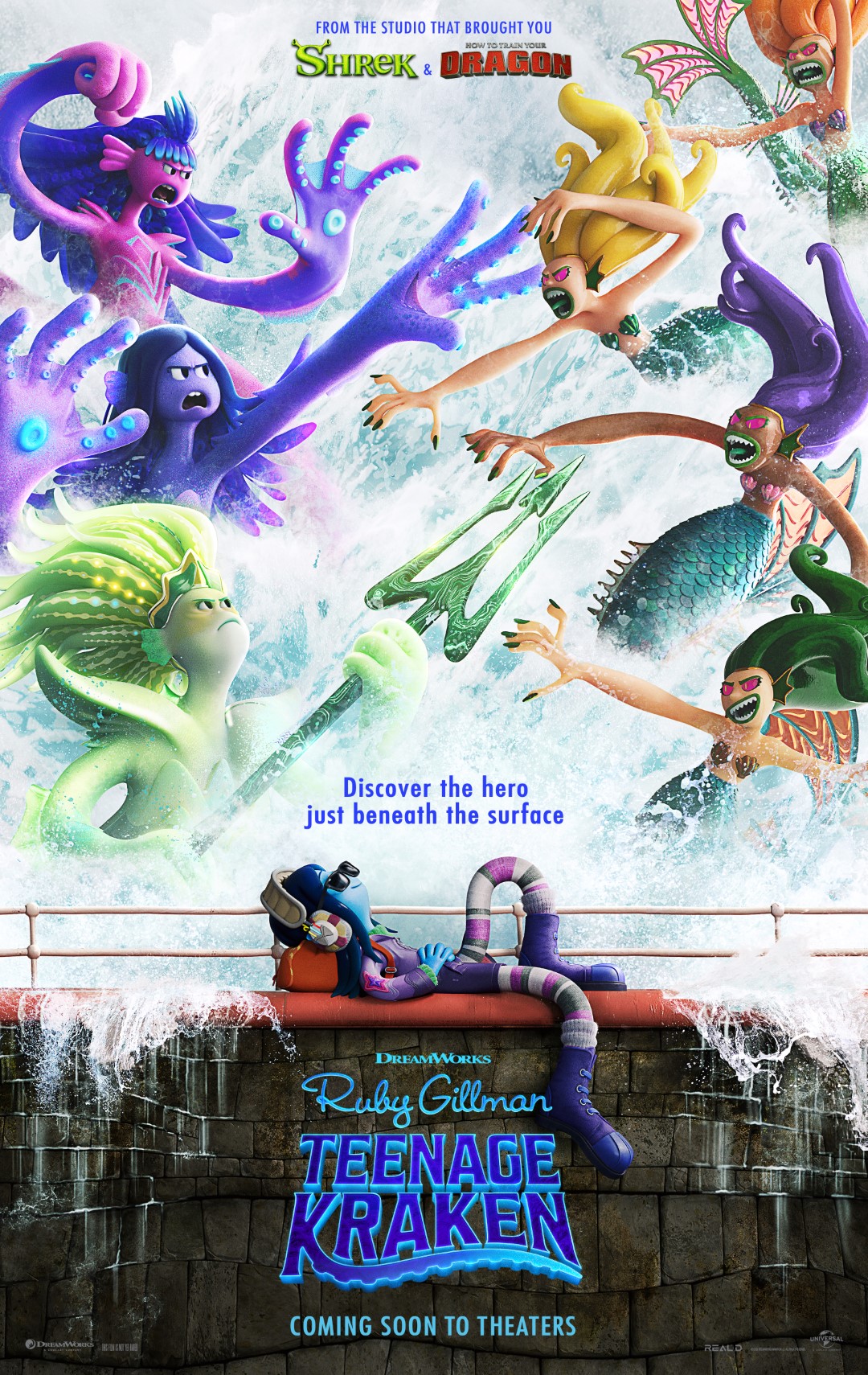 Release Date: Summer 2023
Director: Kirk DeMicco
Producer: Kelly Cooney Cilella
Co-Director: Faryn Pearl
Genre: Animated Action-Comedy
Produced By: Dreamworks Animation
Distributed By: Universal Pictures
Cast: Lana Condor, Toni Collette, Annie Murphy, Sam Richardson, Liza Koshy, Will Forte, Colman Domingo, Jaboukie Young-White, Blue Chapman, Eduardo Franco, Ramona Young, Echo Kellum, Nicole Byer, and Jane Fonda
Synopsis:
Sweet, awkward 16-year-old Ruby Gillman (Lana Condor, To All the Boys I've Loved Before franchise) is desperate to fit in at Oceanside High, but she mostly just feels invisible. She's math-tutoring her skater-boy crush (Jaboukie Young-White, Ralph Breaks the Internet), who only seems to admire her for her fractals, and she's prevented from hanging out with the cool kids at the beach because her over-protective supermom (Oscar® nominee Toni Collette, Knives Out), has forbade Ruby from ever getting in the water.

But when she breaks her mom's #1 rule, Ruby will discover that she is a direct descendant of the warrior Kraken queens and is destined to inherit the throne from her commanding grandmother (Academy Award® winner Jane Fonda), the Warrior Queen of the Seven Seas.
What are your thoughts about Ruby Gillman: Teenage Kraken? Do you think this movie's release is purely coincidental with another film that features a mermaid? Who would you root for in the battle against krakens and mermaids? Let us know what you think and expect about the film on social media!
Source: Universal Pictures
KEEP READING: Puss in Boots: The Last Wish Review – A Generational Masterpiece