Dreamworks' Puss in Boots: The Last Wish is a generational masterpiece that will be loved and shared until happily ever after.
Antonio Banderas and Salma Hayek return to lend their voices and immense talents to reprise their roles as Puss and Kity Soft Paws in this magnificent sequel. Puss has lost all but one of his nine lives and is now on a journey to make a wish on the fallen star deep within the enchanted forest. However, he is not the only one as Kitty Softpaws, Goldilocks and the Three Bears, and Little (now Big) Jack Horner are all gunning for the same. With only one wish, to be granted, it is a magical fairytale race that celebrates the vibrance of life, love, and family that is impossible not to love.
Puss in Boots: The Last Wish Fully Embraces the Beauty and Limitlessness of Animation
Animation is for everyone. Anyone who says it is only for children is narrow-minded, stupidly pretentious, and probably really dumb. It is a medium to tell stories that forgo the attempt to have the audience believes it is real, yet somehow still manages to capture them in the suspension of disbelief. While there is an inherent joy and life associated with animation, it does not prevent it from reaching all of the serious and impactful emotions of live action. In many ways, animation is able to hit them harder and faster as it does not need to worry about any of its imagery ruining the suspension of disbelief.
RELATED: Super Mario Bros. Movie Posters and Reimagining of the 90s Super Mario Bros. Rap
Puss in Boots: The Last Wish fully utilizes the medium to bring fairytale storybooks to life. By using classic fairytale characters, locations, and tropes, Dreamworks seamlessly blended CGI with old folk tales in a truly marvelous way. While the characters and world still very much fit the design and style of the world first introduced by Shrek, this film has a very unique visual flavor that takes the animation to new heights. The action is elevated, the humor hits harder, and the emotions are more impactful than they have ever been. I wish I was more versed in the technicalities of animation to break down how incredible it is.
But what I cannot explain, everyone who watched the film knows because of how they during and after the movie.
Purr-fect Cast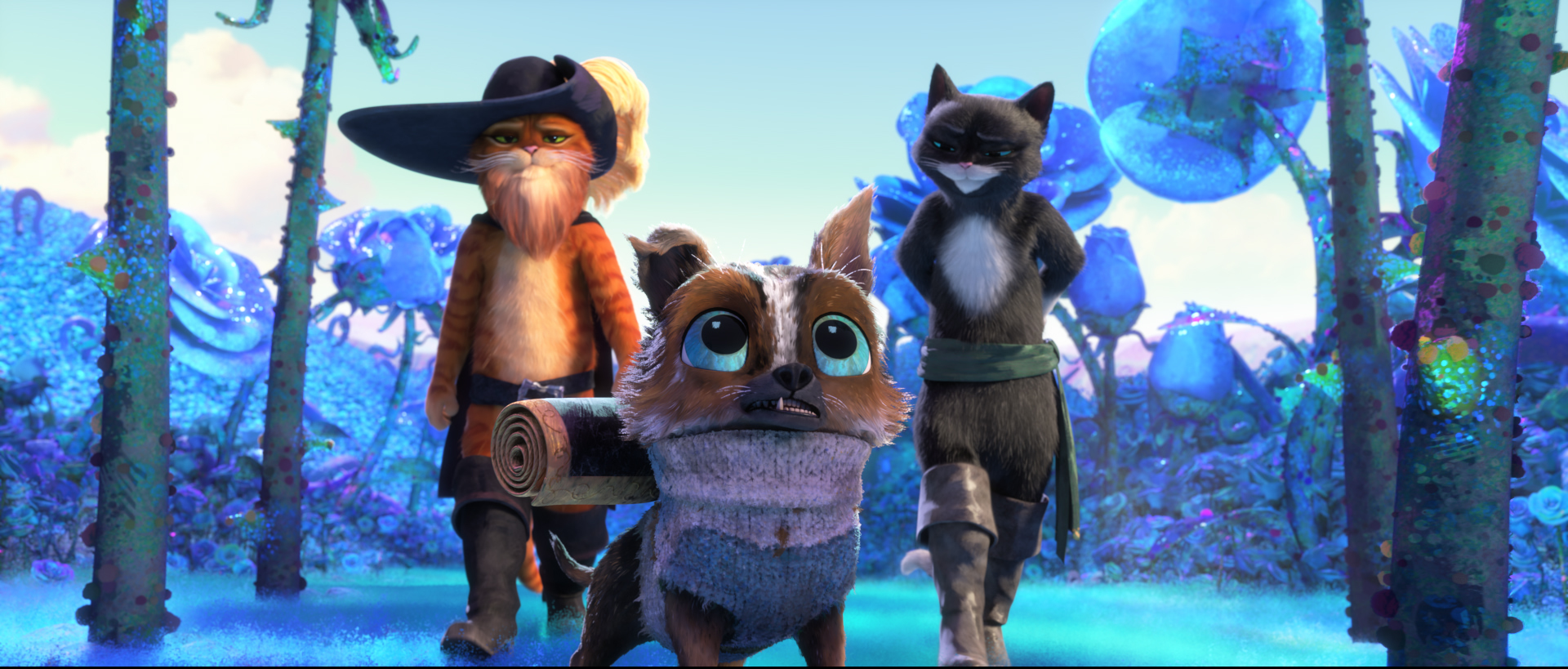 RELATED: Violent Night and Sonic the Hedgehog Writers Reveal What Games to Replay Before Sonic 3
I could gush over the performances of each character all day. But I'll try to keep it to the highlights. First, John Mulaney as Jack Horner is a truly stupendous villain that everyone will enjoy loathing. There is 0 redemption for the character, and Mulaney absolutely eats the performance up. Goldilocks and the Three Bears played by Florence Pugh, Olivia Colman, Ray Winstone, and Samson Kayo are a lovable bunch of misfits who are wholesomely menacing, mean, and merry. The back and forth among them is reminiscent of a family that cares deeply for each other but shows their love through teasing more so than traditional loving gestures and words.
Then there are our main protagonists, Puss, Kitty, and Perrito, portrayed by Atontion Banderas, Salma Hayek, and Harvey Guillén. Banderas' shift from a self-centered "fearless hero" to a scared and broken has-been, to a rising hero learning from his mistakes, is a masterclass in performance. To go through such a journey with just one's voice is astounding. Matching his energy and still finding her own stellar way to shine is Salma Hayek. Though Kitty seems to be in a better place when she reunites with Puss, we learn of her own troubles and issues to overcome, and Hayek masterfully does so with an elegant fierceness.
RELATED: Dragon Ball Super: Super Hero Home Media Review – HOW ARE THERE 0 SPECIAL FEATURES?
Lastly, are the breakout performances of Harvey Guillén as Perrito, and Wagner Moura as Wolf. Moura is terrifying as Wolf. Wolf is death ready to claim Puss's life after 8 lifetimes of laughing in his face. He is an unstoppable force that is always around, always ready, and always going to win. Moura's voice will likely linger and haunt many viewers. In contrast, Guillén is a pure ball of light and joy. Perrito is objectively the saddest of any character in the Shrek universe. But Guillén's radiant positivity in each and every one of Perrito's lines make not smiling impossible. It is rare so much positivity is not annoying, but Guillén found a way.
Puss in Boots Redefines The Fairytale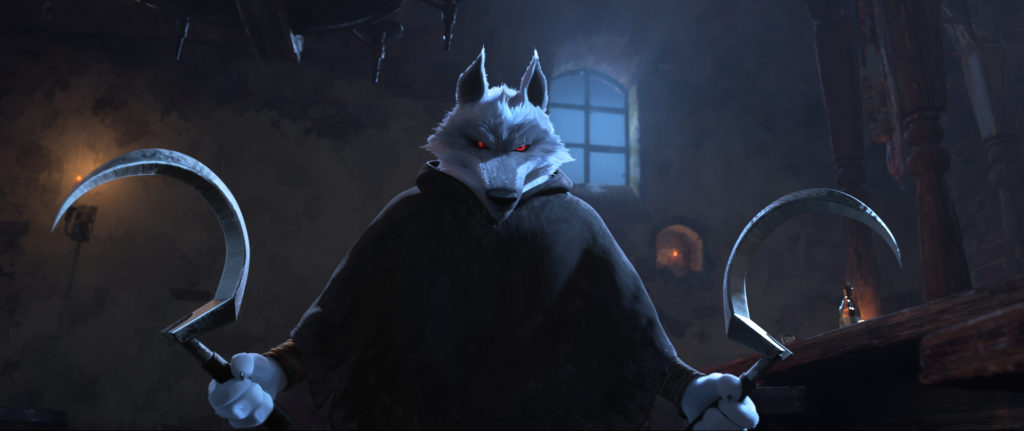 RELATED: TMNT: Mutant Mayhem Release Magnificent Teaser Trailer
Puss in Boots: The Last Wish is absolute purr-fection. At first glance, it is a story wonderful fairytale that everyone of all ages will enjoy. It is visually striking, there are jokes for everyone, and it's the perfect amount of time that even the antsiest of people can sit through. Then the more you think about it, the more you realize this film is pure brilliance on every level and in every aspect. The truly life-changing meaning, the complexities of desire and appreciation, the previously impossible visuals created and wielded as if by the creator themself. All brought to life by genius writing and godly performances. The movie is a masterpiece that will be loved by generations.
For being a movie that can be loved and enjoyed from Boomers to whatever is after Z, I give Puss in Boots: The Last Wish a 10/10.
Puss in Boots: The Last Wish is available on 4K UHD, Blu-Ray, DVD, and Digital on Demand. Also, now streaming exclusively on Peacock.
ABOUT PUSS IN BOOTS: THE LAST WISH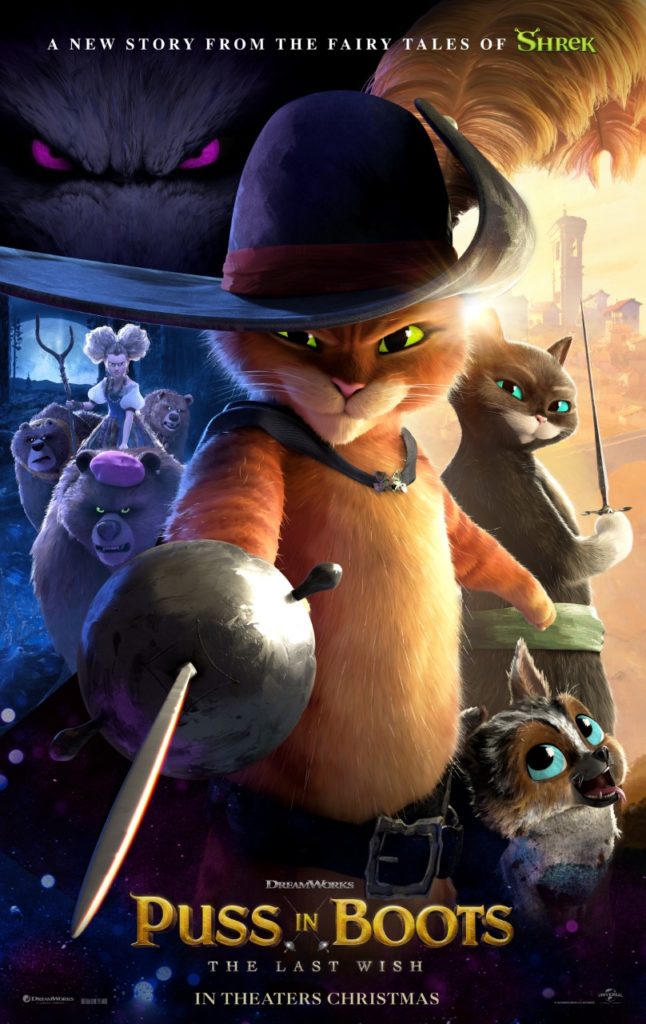 Release Date: December 12, 2022 (Theaters), January 6, 2023 (Digital HD), February 28, 2023 (Home Media), March 10, 2023 (Peacock)
Director: Joel Crawford
Producer: Mark Swift
Writer: Paul Fisher, Tommy Swerdlow
Production Company: Dreamworks
Distributed By: Universal Pictures
Cast: Antonio Banderas, Salma Hayek, Harvey Guillen, Florence Pugh, John Mulaney
Runtime: 1h42m
After-Credits: 1 Mid-Credit After Title Card, 1 Post-Credit

Synopsis:
Everyone's favorite leche-loving, swashbuckling, fear-defying feline, Puss in Boots, returns in a new adventure from the Shrek universe as the daring outlaw discovers that his passion for peril and disregard for safety have taken their toll. Puss has burned through eight of his nine lives, though he lost count along the way. Getting those lives back will send Puss in Boots into the Black Forest to find the mythical Wishing Star on his grandest quest yet. With only one life left, Puss will have to humble himself and ask for help from his former partner and nemesis: Kitty Softpaws.

In their journey they are joined by a chatty and cheerful mutt named Perro. Together, our trio of heroes will need to stay one step ahead of fairy tale realm's craftiest crooks including Goldilocks Locks and the Three Bears.
What did you think of Puss in Boots: The Last Wish? Do you think we'll soon hear about news for a new Shrek movie? How do you think they'll animate Shrek now after the amazing style used for Puss in Boots? Let us know what you think on social media!
KEEP READING: Puss in Boots: The Last Wish Home Media Review – The Family's Favorite Fairytale