Chapter 21 kicks off the second half of the third season of The Mandalorian, and does so in spectacular fashion. Jon Favreau seems to have finally figured out what he wanted out of a script, and Peter Ramsey (Spider-Man: Into the Spider-Verse) executed it to perfection. Titled "The Pirate", the plot features the return of a few characters and a subthread introduced in the season premiere, but unlike then, now it was actually relevant to the overarching story.
The new episode checks pretty much every box without feeling forced to do so. We get a little bit of Mandalorians, and enough to set the actual plot of the season in motion, a wonderful cameo that may be a series-best in terms of how it was pulled off (more on that later), more development on the New Republic subplot, and an A-plus action sequence that Peter Ramsey directed to borderline perfection.
The script, though much tighter and more cohesive than in previous episodes of the season, still felt like it needed another pass, as it's usual with the show. But that's something we're used to by now, and really, it's more about polishing some dialogue than about the actual structure, which was on point this week. Also, continuing on the downside of the episode, the main villain (Pirate King Gorian Shard) left much to be desired. After all, he was sitting in a chair most of the time.
Let's break it down.
Spoilers ahead for The Mandalorian Chapter 21, "The Pirate"
The New Republic subplot is back, now fully integrated into the main story
RELATED: The Mandalorian Chapter 20 Review: More Familiar Stories And A Welcome Surprise
After meeting up with Greef Karga once again in the cold open, we cut to what could have easily been an episode of the since-canceled Rangers of the New Republic. Karga sends out a distress signal to his buddy Carson Teva (Paul Sun-Hyung Lee), who decides to act immediately on it. But is he sure? Well, he speaks his inner mind with none other than Star Wars: Rebels' own Zeb, who makes his live-action debut (as confirmed by the credits) in what is the definition of a perfect cameo — he didn't overtake the scene or the episode. His inclusion was perfectly integrated into the moment, but it also acts as set up for great things to come.
(People who may not have watched Rebels don't have to know who he is or won't be distracted by not recognizing him).
I personally had my doubts that he would be appearing in Ahsoka, given the perfect sendoff he was given during the Rebels epilogue, and also because he seemed very hard to pull off in live-action. Well, in just a few seconds, Favreau and Filoni put all of that to rest immediately. (Peter Ramsey, who directed the episode, is also directing at least an episode of Ahsoka.) That bar scene also featured multiple other cameos.
There's Dave Filoni as Trapper Wolf (who is wearing the filmmaker's signature hat, probably because he was dragged into the scene while he was on set and didn't want to change up his clothes), to Obi-Wan Kenobi director Deborah Chow and The Mandalorian director and executive producer Rick Famuyiwa. The three of them were chatting by the bar, but the credits also revealed that Max Lloyd-Jones, who played Luke's stand-in in the season 2 finale, also had a cameo there.
But this scene also perfectly integrates Chapter 19 and Dr. Pershing/Elia Kane subplot, with the latter acting as Moff Gideon's secret spokesperson. We will be seeing her again in the next episode, I'm sure.
Mandalorians, assemble!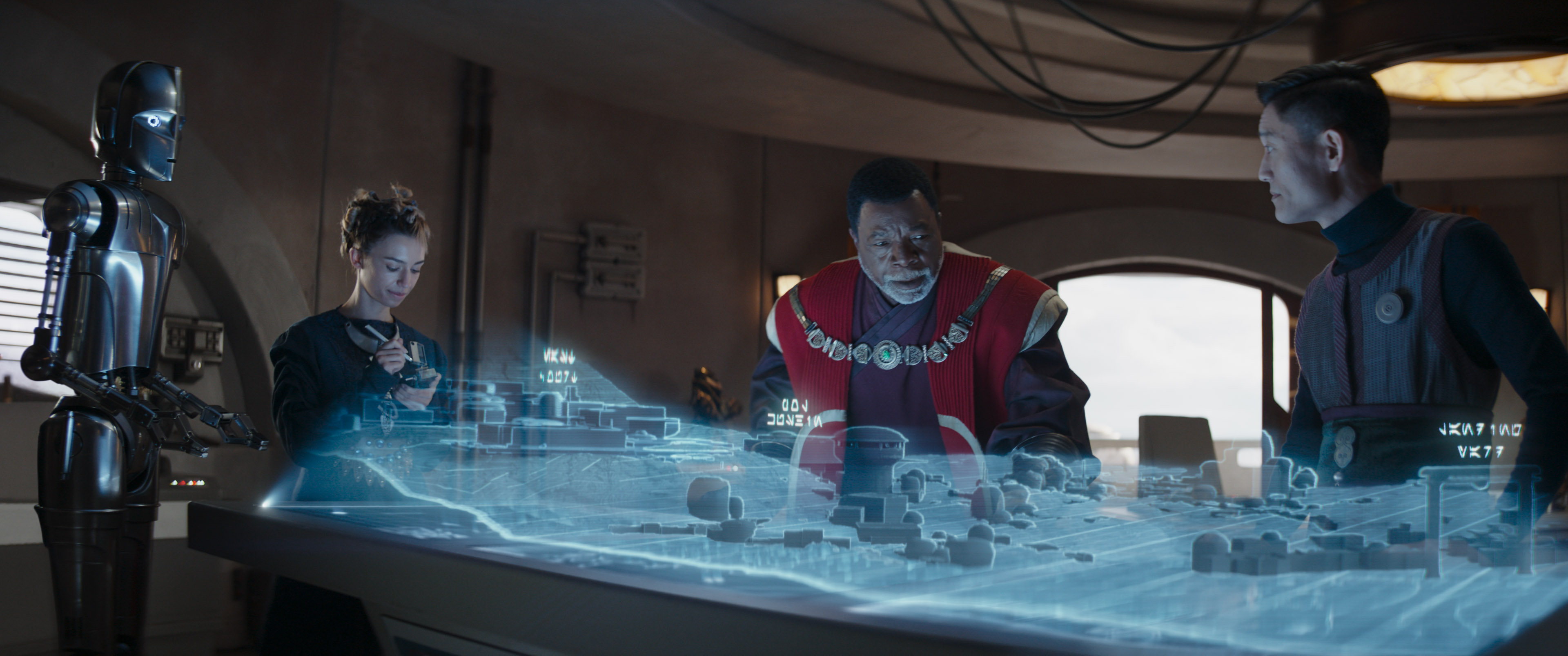 RELATED: The Mandalorian Chapter 19 Review: "The Convert" Features a Layered Performance from an Unlikely Protagonist
Carson Teva then for some reason knows that R5 is with the Mandalorians, and is able to track him down to the not-so-remote planet where they are "hiding" (and getting attacked by a giant beast every other day). This moment already tells us that Din Djarin is holding a new position inside the Children of the Watch, because even though he was expelled from the cult just a few months ago, he now is able to convince his former rival after what happened in the last episode.
That all leads to the Mandalorians staging a huge action sequence that was very well staged by Ramsey, who never allowed the audience to feel lost by putting our heroes at the very forefront, and being very meticulous about describing to us the geometry of the space so that we would be conscious at every time of where they are and where they are heading next; this even involved a moment where the Mandalorians are surrounded by pirates on both flanks, something that is not easy to film successfully. Also, this sequence finally included the Armorer getting her hands dirty, which was one of the best parts of the entire episode.
What is coming next in The Mandalorian?
Once the dust has cleared and the Pirate King has been killed, we get a two-part resolution to the episode. First, we see that the Armorer now understands that to unite all Mandalorians, everyone must make sacrifices for the greater good of their people. She has to accept that there may be people that do not accept The Way, but that doesn't mean they are not worthy of going back to their home planet. They must put aside their differences if they are to prosper, and to do that, she (as the leader of this group) is in a position to send an envoy that would act as the bridge between worlds.
This is something that I fully expected at the beginning of the season to happen, though I thought that it would require two characters, Din and Bo, to do so. I'm sure Din will also be a part of this quest, but it's interesting to note how the Armorer didn't handpick him at first.
I believe that the recruiting of Mandalorians to take back their planet will happen in Chapter 23, the episode after next week's. Chapter 22, which will debut next Wednesday, will probably pay off the final moments of this episode, and finally, give us Moff Gideon in full form. We now have confirmed that he escaped from his New Republic imprisonment, and I have a feeling we will be seeing just that next week. He was helped by Mandalorians, but who? Well, here's my educated guess — I think next week we are getting guest star Christopher Lloyd, whose involvement in the third season was reported a year ago, but who's been kept from all the promos for the show.
I have a feeling he will be the leader of a rogue Mandalorian group that is fond of the Empire and Gideon himself. A group that Bo-Katan herself might want to recruit sooner rather than later. (She will also be looking for Sabine Wren, who I would bet a lot of money is making her live-action debut in Chapter 23.)
What did you think of Chapter 21? Did you enjoy it as much as I did, or do you still think this season has been a bit of a letdown? Or do you believe it's been great, and this was the cherry on top of the cake? What did you make of that Zeb cameo? Did you recognize him at first or did you have to wait for the credits to make sure it was him? Where do you think the next couple of episodes are going? Let us know on our social media and stay tuned for more coverage on The Mandalorian!
KEEP READING: Get Your First Look at Liv Tyler in Captain America: New World Order