Lokesh Kanagaraj's Kaithi was a massive success in India and launched the Lokesh Cinematic Universe (LCU), with Vikram also set in the same world. Kaithi was an extreme version of Henri-Georges Clouzot's The Wages of Fear as it saw Dilli (Karthi) forced to transport a truck full of poisoned police officers to a hospital while chased by a group of thugs whose mission is to kill the police officers inside the truck. It's a simple premise executed so brilliantly that it was quickly remade in Hindi with Ajay Devgn's Bholaa.
In Bholaa, Devgn takes the basic plot of Kaithi, an ex-convict (Devgn) forced to help the police after their entire force was poisoned by a mole in their operation. Devgn plays Bholaa, tasked to drive a truck for IPS Diana Joseph (Tabu), who was badly injured during a drug bust.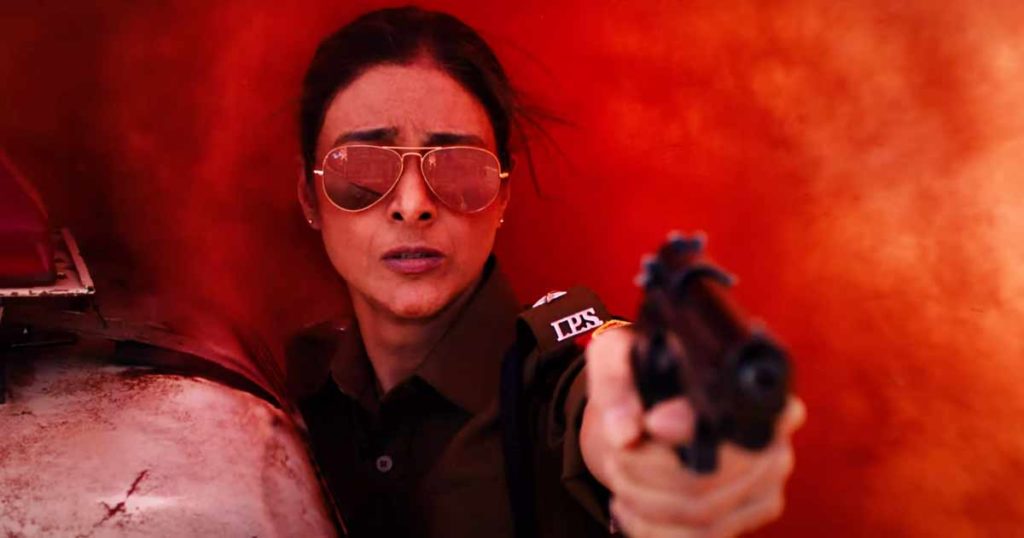 Joseph seized 900 core worth of cocaine and imprisons the Sikka Gang's leader Nithari (Vineet Kumar), in a remote police station. Nithari's brother, Ashu (Deepak Dobriyal), a drug-crazed psychopath, puts a plan in motion. During a party, all the police officers who drank got poisoned. They didn't know Joseph did not drink since she was still recovering from her injury and was on antibiotics.
She puts all police officers in a truck and drives with Bholaa and Kadchi (Amir Khan). Ashu's gang starts to intercept the truck, but they don't know that Bholaa is a notorious assassin with superhuman-level strength and dedication. The next hour-and-a-half or so is pure maximalist entertainment, which you've probably never seen before.
Bholaa's Biggest Drive is Ajay Devgn
The biggest difference between Kaithi and Bhoola is that Devgn remythologizes the story and turns it into a Superhero tale. It's probably the main reason why the film alienated audiences when it was released, and the criticisms of the film being an unfaithful adaptation of Kaithi are extremely valid. Perhaps the ending is far more rushed than Kaithi's and feels extremely anticlimactic at being set during the day. But it ends in the same way: Devgn takes a minigun and fires at every bad guy in front of the locked-down police station, having had enough of these people preventing him from seeing his daughter for the first time.
RELATED: AIR REVIEW – GREATNESS OUT OF THIN AIR
But it doesn't have the same cathartic effect as when Karthi pulled that minigun during the night and fired on all cylinders. Devgn also adds a tremendous amount of backstory to the character of Bholaa, making him a more mythological and heroic figure than Dilli in Kaithi. We get to see his past life before the film's events and dealing with a mysterious-looking gangster (Abhishek Bachchan) that caused his imprisonment (he's got The Terminator's arm!), with the film completely veering off from the LCU by teasing him as the sequel's antagonist. It remade Kaithi only for it to launch its own universe, which I'm honestly not too mad about.
But I'd be lying if I said I didn't have a hell of a time watching Bholaa. The film has a rough start but stays on a fine line between serious human drama and a ridiculous, bonked-out actioner. There isn't a single dull action setpiece in Bholaa, and each one becomes more impressive than the last.
Kanagaraj's filmmaking techniques in Kaithi didn't have the same verve as Vikram's — the camera was far more erratic and less focused than in his second installment. As such, many of Kaithi's core action setpieces weren't as impressive as they should've been. However, the film made up for its lack of visual skill with expert performances from Karthi, Narain, and Arjun Das. The latter became an absolute super sayian if he snorted cocaine. No joke.
Bholaa's Action Sequences Need to be Seen in 3D
There's lots of thought put into Bholaa's action setpieces. From a motorcycle brawl that ends with Devn doing bullet time to avoid a motorcycle tire hitting his face to a battle with different gangs that ends with Bholaa cracking a bad guy's spine wide open by slapping his chest, Devgn's eye for full-throttle, no-holds-barred over the top action is unparalleled. It may be one of the main reasons why people didn't vibe with Devgn's approach to Kaithi: the action is far more maximalist and exuberant than Kaithi.
However, it's so damn fun. Who doesn't want to see a superhero-like person kill a group of muscular thugs with his bare hands? The dude literally slaps someone, his teeth come out of the screen (in 3D!), he flies (through a backflip) to a car, smashes into it, and dies. Or he frequently smashes someone in his chest to release his spine from his back. He's not just your average assassin. He is Bholaa. And he's pissed off.
The best action sequence occurs near the end of the movie, with Bholaa at his weakest, killing the whole Sikka Gang with the Trident of Lord Shiva. Even after being stabbed multiple times, his resolve to see his daughter can't be overstated, and the entire scene was a visual feast for the eyes. I'm not big on 3D, but Bholaa needs to be seen in that format, especially regarding the direction of the action scenes.
RELATED: FULL RIVER RED MOVIE REVIEW: ZHANG YIMOU'S HISTORICAL WHODUNIT IS A TRIP TO APPRECIATE IN 2023
Devgn crafts fully-realized action setpieces that take complete advantage of the format and completely bask you into its world. No words will ever accurately describe the pure euphoria I felt while watching Bholaa dodge motorcycles, kill a group of thugs with his bare hands, and topple an entire gang with a trident. It's pure mythological action done brilliantly.
Ajay Devgn has built his entire Bollywood persona as an ultimate Alpha male who can take an entire army with a single slap. This was apparent in Rohit Shetty's Singham and even clearer in Bholaa. Comparing it to Kaithi seems pointless. Devgn creates his own world through Kanagaraj's original source material and delivers an action film that's purely unique and ultra-kinetic. It's got a great sense of skill and visual panache and must be seen on the biggest screen possible in 3D. If you've seen John Wick: Chapter 4 and are on the lookout for the next big action movie, look no further. Bholaa is right here.
4.5/5
Bholaa is now playing in select theatres. What did you think of the movie? What were your thoughts on Kaithi and the LCU? Let us know in the comments below, and be sure to follow us on social media!
KEEP READING: DUNGEONS & DRAGONS: HONOR AMONG THIEVES REVIEW – THIS MOVIE IS CHAOTIC GOOD