Dungeons & Dragons: Honor Among Thieves is a thoroughly entertaining campaign that rolls with advantage.
How do you make a movie about the defining tabletop RPG experience that has no strict lore or story? Who do you base your party and stars on when most of the characters are made up by the players and dungeon masters? Is it even possible to adapt a game that literally takes place in the individual's theater of the mind? The answer is a resounding yes! Paramount Pictures and eOne have teamed up to seemingly do the impossible, and made a good DnD movie with their grand fantasy adventure, Dungeons & Dragons: Honor Among Thieves. It's a hilarious romp through a fantasy world many love and adore, while most only know by name.
A Movie that Wonderfully Captures the Spirit of a Great Session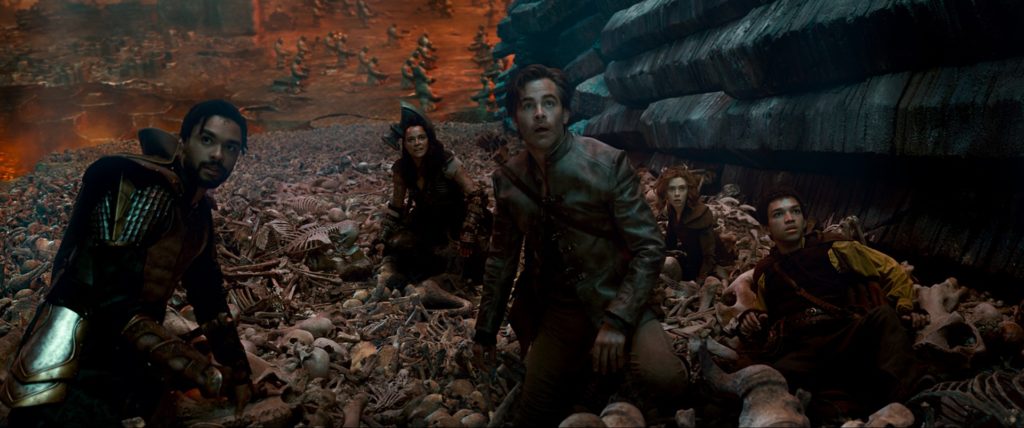 RELATED: John Wick: Chapter 4 Review – John Wick Continues to Captivate and Elevate Action Movies
As a formerly avid player who wants to restart his party, Dungeons & Dragons: Honor Among Thieves has added a lot of fuel to my dice-rolling desires. The film wonderfully captures the spirit of playing a game and trying to maximize the reward. While the characters do happen to have heavy backstories that have led to them being in the positions they are in, their actions are very much based on the present and the possibility. In terms of capturing the spirit of a DnD session, the film does an amazing job of fully embracing the lore for the campaign, but throwing it to the side for the adventurers' own goals.
Misfits in All the Right Places
The key to a great campaign is often a lot more about the party than the destination, or even the journey. Dungeons & Dragons: Honor Among Thieves assembled a great party led by Chris Pine, Michelle Rodriguez, Sophia Lillis, and Justice Smith. Four misfits come together in their times of need and help each other to greatness. Chris Pine is a begrudgingly honorable bard, who hates how long the right way takes but will eventually do the right thing. Michelle Rodriguez is a badass barbarian. Justice Smith is a self-doubting mess that learns to get out of his own way. And Sophia Lillis learns to love how successfully messy her new team is.
RELATED: Scream VI Review – So Much Fun, I Feel Guilty
In parallel to them is Hugh Grant, a charming scoundrel who you know not to trust, but probably did at great cost. There is a lot of fighting, bickering, and small jabs at each other, but overall there is a very familiar sense of support. Even from Grant's character, who while dastardly and objectively screwed over everyone else, is really just a selfish blowhard that just happens to like money more than his friends. It makes for a fun dynamic that brings a lot of energy and humor, but also heightens the emotion when the energy goes does down and the vulnerability is amped up.
Lastly, there's Regé-Jean Page and Daisy Head. Page is an absolute scene-stealer. His ardent straight man joyously contrasts against the emotionally charged dynamic of the group and adds a wonderful new layer of comedy and awe. Daisy Head is a subtle, yet frightening presence that adds a lot of gravitas to the situation. Without giving too much away, she is a driving force of the film. However, the film doesn't quite allow Head's character, Sofina, to fully develop. She serves her part spectacularly, but her part isn't given enough dimension to be more than an archetype.
Some Low Rolls Make for Near Misses
RELATED: Creed 3 Review – Michael B. Jordan Lands a Stunning Knockout with Directorial Debut
While the film is thoroughly enjoyable, and a lot of fun for all, it never quite goes beyond that. Dungeons & Dragons: Honor Among Thieves diligently fulfills the fun action-movie adventure formula, not unlike a superhero flick. If anything it does akin to a band of intergalactic misfits turn family, but not quite to the same degree. While it does not require the same suspension of disbelief as say an infinite airplane runway, it also never noticeably tugs at the heartstrings even when obviously trying to. The film doesn't miss, but it definitely isn't a natural 20.
Dungeons & Dragons: Honor Among Thieves is Chaotic Good
Dungeons & Dragons: Honor Among Thieves wonderfully recreates the energy of a good campaign, and in less than half the time a good campaign usually takes. While it doesn't quite break the mold of a good action-adventure movie, it is an impressive first outing for an IP and hopefully the first of more to come. The cast has amazing chemistry that never wavers and the story is only limited by the imagination of the writers. It's hard to imagine anyone coming out of the theaters without a smile on their face, as the film is genuinely fun, funny, and entertaining. I don't see how a film that geniusly wields a fat dragon can disappoint anyone.
For being a thoroughly fun film that embodies the spirit of a great tabletop campaign, I give Dungeons & Dragons: Honor Among Thieves a 7/10.
Dungeons & Dragons: Honor Among Thieves releases exclusively in theaters on March 31, 2023.
ABOUT DUNGEONS & DRAGONS: HONOR AMONG THIEVES
Release Date: March 31, 2023, exclusively in theaters.
Director: Jonathan Goldstein & John Francis Daley
Music Composed By: Lorne Balfe
Screenplay: John Francis Daley, Jonathan Goldstein, Michael Gilio
Adapted From: Dungeons & Dragons
Production Companies: Paramount Pictures, Entertainment One
Rating: PG-13
Runtime: 1h47m
Post-Credits: 1 Mid-Credit
Cast: Chris Pine, Michelle Rodriguez, Regé-Jean Page, Justice Smith, Sophia Lillis, Chloe Coleman, Daisy Head, and Hugh Grant

Logline:
A charming thief and a band of unlikely adventurers undertake an epic heist to retrieve a lost relic, but things go dangerously awry when they run afoul of the wrong people. Dungeons & Dragons: Honor Among Thieves brings the rich world and playful spirit of the legendary roleplaying game to the big screen in a hilarious and action-packed adventure.
Do you already have your tickets to Dungeons & Dragons: Honor Amongst Thieves Big Game Spot? Are you excited about the movie? When was the last time you got your party together? Let us know your thoughts and alignments on social media!
KEEP READING: Air Review – Greatness Out of Thin Air