Way back at Disney Investors Day 2020 in December of that year, Lucasfilm President Kathleen Kennedy announced that a new event Star Wars event series, Lando, was in the works that would see the return of the galaxy's favorite scoundrel Lando Calrissian. Kennedy confirmed that Dear White People creator Justin Simien was working on the show, which was in its early development stages. The show was also expected to see Donald Glover reprise his SOLO: A Star Wars Story role as the younger Lando Calrissian.
However, there hasn't been much movement on that project since it was announced. Simien went on to work on The Haunted Mansion theatrical reboot for Disney, and Glover also appeared to move on to other projects. However, during a new video where he breaks down his most iconic roles with GQ, it looks like Glover finally shed some light on his future as Lando.
DONALD GLOVER SHARES AN UPDATE ON THE LONG-DEVELOPING LANDO TV SERIES
Speaking on returning to the role, Glover stated, "I mean, I would love to play Lando again. It's a fun time to be him. It just has to be the right, it just needs to be the right way to do it. I'm all about like, now it's like, you know, like time is precious. I think everybody's like, you know, in the past couple of years this pandemic ****, like, really, had people experience time in a way where they're like well why am I? I should be around oranges."
RELATED: ALL THE STAR WARS CELEBRATION 2022 DISNEY PLUS ANNOUNCEMENTS YOU NEED TO KNOW!
Glover continued, "Like, and people, you know, like people kind of realize like their time is valuable, you know, you only get so much. So like, I'm not interested in doing anything that's just gonna be like a waste of my time or just a paycheck. I'd much rather like, you know, spend time with people that I like, enjoy. So it just has to be the right thing which I think it could be. I mean like Lando is definitely somebody I'd like to hang out with."
He did confirm there are talks with Lucasfilm on his future as the legendary scoundrel. He added, "So yeah, I mean we're talking about it. That's as much as I can say, you know, without Kathleen Kennedy like hunting me down."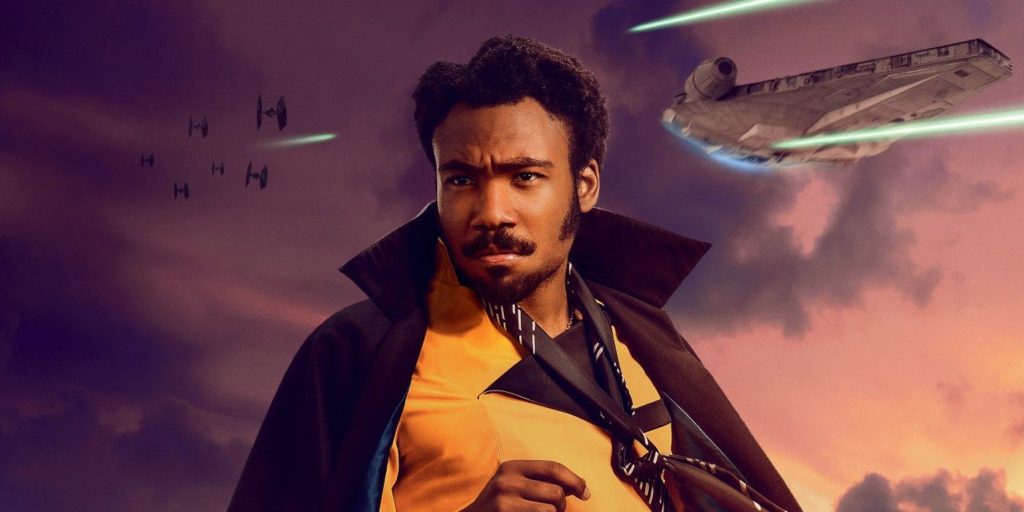 So, it appears the Lando Calrissian event miniseries is still in some stage of development, and Glover is interested in returning to the role and portraying the character again. Currently, Star Wars Celebration is happening now in London, UK. There have not yet been any announcements during the celebration regarding the Lando show. So, it appears the series and Glover returning to the role could still be a ways off.
Meanwhile, filmmaker Justin Simien will see his big-screen reboot of The Haunted Mansion, released by Disney, hit theaters on July 28. The film stars Rosario Dawson, who is also a Star Wars veteran now and the live-action actress for Ahsoka Tano in the upcoming Ahsoka series, which debuts in August. It also stars Owen Wilson, Winona Ryder, LaKeith Stanfield, Jared Leto, and Jamie Lee Curtis.
RELATED: DONALD GLOVER RUMORED FOR A LANDO RETURN
It's unknown if Simien will be back on board for the Lando Calrissian TV series once The Haunted Mansion hits theaters. Meanwhile, Donald Glover is currently working on a new television series, Mr. & Mrs. Smith, which is based on the 2005 film of the same name. Glover is serving as creator, executive producer, and star of the new show. He will star in the series as John Smith opposite Maya Erskine as Jane Smith.
Glover's hit television series, Atlanta, recently wrapped up after a four-season run in 2022. The series earned Glover four Primetime Emmy Award nominations for his work on the show. Additionally, Glover is also expected to reprise his role as Troy for the upcoming Community movie that's currently in the works. Series creator Dan Harmon, who is also working on the new film, stated his belief to Variety that Glover is coming back, but the deal has likely not yet been finalized.
What do you think of the news? Do you think Donald Glover's comments mean his return as Lando is right around the corner? Do you expect the television series to still happen? Do you hope it will be Justin Simien collaborating with Donald Glover? Let us know what you think about the potential series and the news on The Illuminerdi's social media.
KEEP READING: COMMUNITY THE MOVIE: WHO WILL DIRECT & IS DONALD GLOVER RETURNING AS TROY?
SOURCE: GQ.com