Brock Lesnar talks about how wrestling wouldn't be what it is today without Paul Heyman.
Lesnar is coming off a big win over Omos at WrestleMania this past weekend and beat the crap out of Cody Rhodes on Raw. Lesnar has proven time and time again that he can do anything all by himself without any help. He has faced and beaten some of the best wrestlers in WWE today without the need for help like the current WWE champion needs.
RELATED: DDP THINKS CHRIS JERICHO IS THIS GENERATION'S RIC FLAIR
However, Lesnar did reveal that one man did help him a lot and he wouldn't be where he is today with him. Lesnar was recently a guest on ESPN and was asked about Heyman and Lesnar shared how much respect he has for his former mentor.
"Man, that guy," Lesnar said. "You know, it's been a crazy ride [with Heyman], too, when you think about it. I broke into the business with Paul Heyman as my mouthpiece, and here I am 23 years later and I'm carrying my own stick. It's crazy how things have evolved and I'm glad. Without Paul Heyman, this business wouldn't be what it is, it truly wouldn't. Especially in the last year, Paul, behind the scenes, carries and does and wears a lot of hats for this company. And he's greatly respected and greatly appreciated." H/T To Wrestling Inc. For Transcription
Impactful Doesn't Even Scratch The Surface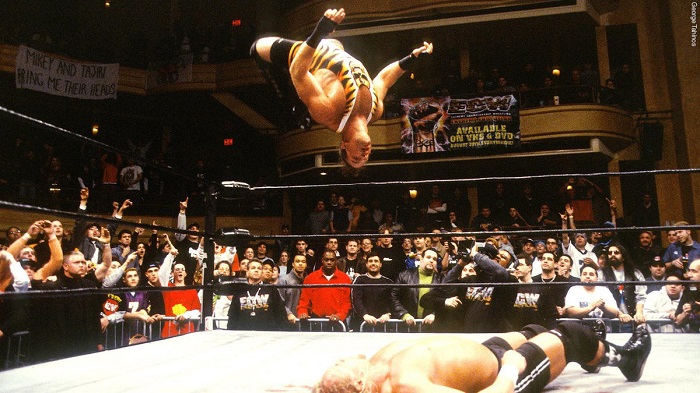 Saying Heyman has been important to wrestling would be a huge understatement. He is regarded as one of the greatest managers of all time and without a doubt the best of the modern era. His skills on the mic are unparalleled in current wrestling and not just in regards to managers but wrestlers as well.
However, Heyman's greatest contribution to wrestling may be introducing the hardcore wrestling style to the general wrestling fan and a new in-your-face attitude to wrestling. He did this through his old promotion ECW.
Extreme Championship Wrestling Aka The Coolest Promotion Around
ECW lasted from 1993 to 2001. It showcased future stars like Rob Van Dam, Tajiri and the Dudley Boyz. It was also a place many huge names went just prior to becoming huge stars. Some of those names include Steve Austin, Mick Foley, Chris Jericho, Dean Malenko, Rey Misterio Jr. and Eddie Guerrero among many others.
RELATED: FINN BALOR SHOWS AFTERMATH OF BRUTAL WRESTLEMANIA 39 INJURY
ECW was the cool place to wrestle during the '90s. WCW was what your dad would watch, WWF was what your little brother would watch and ECW was what the cool kids watched. Wrestling became cool again in the '90s which led into the Monday Night Wars, but that only happened because ECW and Heyman took a chance on young talent and made wrestling edgy and cool.
The Mouthpiece For WWE's Top Guy
Heyman is still heavily involved in WWE and sees a lot of TV time. Currently Heyman acts as the manager or as he likes to call himself the special counsel to Roman Reigns. Prior to Heyman teaming up with Reigns, Reigns was struggling. He had a hard time finding where he fit best on the card. WWE would book him as a babyface, but he would get booed. Even when he started acting as a heel it still didn't quite work.
However, WWE made a very smart choice and teamed Reigns up with Heyman and Reigns became the man the WWE Universe loves to hate today. Heyman's current role in WWE is to elevate people who need a little help on the mic. He did it for Lesnar as he mentioned and is doing it for Reigns and he is the best at it.
What do you think of Heyman's role as a mouthpiece for wrestlers? Has there ever been anyone better at it? Do you think wrestling would be what it is today without Heyman? Would ECW have become such an influence on wrestling without Heyman taking it over? Let us know what you think is Heyman's biggest lasting legacy on pro wrestling.
KEEP READING: BAYLEY HOPES TO FACE SASHA BANKS AT WRESTLEMANIA ONE DAY
Sources: Wrestling Inc., ESPN