The opening scene of Amazon Studios' Citadel, from executive producers Joe and Anthony Russo, is the perfect example of what a cold open should accomplish. It sets us in the world, introduces the main characters, and their dynamics, and ends on a note that serves as the kickoff for the main story of the show. And more importantly, it's a good insight into what we are about to see, in that if you are on board for it, you will probably enjoy what comes next, but if you didn't enjoy it, the series might just not be for you. That doesn't mean it's a good scene, though.
The plot of Amazon Studios' Citadel
The first shot already had our heads spinning, and not for the reasons the director intended, and it never really recovered from it. The series is headlined by Priyanka Chopra Jonas and Richard Madden, who play the top-of-the-top spies for the best organization in the world, which is also apparently considered a myth in the business. But one day, another clandestine organization with evil purposes takes down one-by-one each of their members, except for three of them.
Chopra Jonas and Madden are two of them, with Stanley Tucci's Q ripoff completing the team. Here's the twist — the former two, field agents, had their memories erased. Does that sound like a story a ten-year-old came up with after watching The Bourne Identity for the first time yet?
Apparently, Amazon Studios head Jennifer Salke intends for Citadel to be the launching point of a new franchise that comprises multiple interconnected series set in and produced by different countries and in different languages. Well, let's see how that goes.
RELATED: Guardians of the Galaxy Vol. 3 Review – Bookends the Best Super Hero Trilogy Ever
Overall thoughts on the first two episodes
It's not only about a poorly-conceived story, but the writing on the opening scene is also cringe-worthy at best, and strikes off as something that someone wrote on a napkin after a Hollywood executive said "I want to see a spy thriller with two hot people looking sexy while shooting at bad guys". Well, that's never been done before. It also didn't help that neither one of them seemed capable of acting in that scene.
After the credits, we jump forward eight years in time, and meet Madden's character with a wife and a kid; Chopra Jonas reappears in the second episode. Their acting significantly improved after that cold open, though it still left much to be desired. Tucci, as usual, stands out — he was the only watchable part of I Wanna Dance With Somebody, and he brought some of that energy here.
Besides the writing, the series suffers from very clunky editing, that left the first episode in utter disarray. It lacks any sense of structure, and while the second episode recovered from that, it was a bit too late.
With all of that being said, though, Citadel is probably going to gather some fans, especially people looking to escape from their daily routine and see some mindless action with hot people looking sexy and not try to think about it for a second once the credits roll. Having 40-minute episodes also helps keep the pace up and they don't really feel like they've overstayed their welcome.
RELATED: Beau is Afraid Movie Review: Ari Aster's 179-Minute Long Absurdist Farce Will Piss You Off. Good.
Citadel simply fails to stand out in the crowd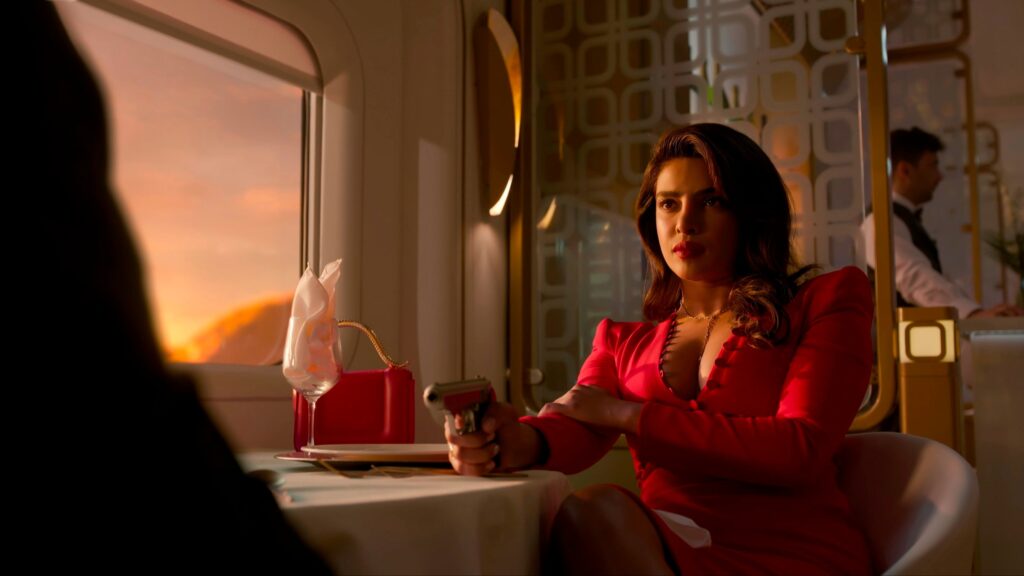 The big problem that Citadel faces is how to stand out in a year where we had amazing spy-thrillers like Andor, and especially in one where we will have Mission: Impossible — Dead Reckoning Part One, which, despite its lengthy title, could end up being the best movie of the summer. While the synopsis is definitely inspired by Jason Bourne, the actual story and the looks of the show are much more Mission: Impossible-like. In a way, though, they could definitely benefit from the early buzz surrounding the upcoming Tom Cruise movie, and having a new trailer about to drop within days/weeks could be good news for the producers.
The difference between the two, though, is that Mission: Impossible likes to put a clever spin on the cilchés of the genre, while Citadel seems like a rundown of them, in order. Can we get more Russians shooting guns in the middle of a freeway and being unable to hit our main character 10 feet away, please? Oh, and make sure they are speaking English among themselves, as people from other countries usually do.
RELATED: Ghostbusters 4: Ernie Hudson Reveals Winston Is Taking "Ghostbusting To The Next Level" In New Sequel: Exclusive
All in all, the first episode of the new series Citadel is quite a mess, though the series improved a little with the second one. Is that enough to get me to watch the third one next week? Well, that will definitely depend on the mood I'm in.
New episodes of Citadel are released weekly on Prime Video.
Have you seen any of the first two episodes of Citadel? If not, were you looking forward to it? Let us know what you think of them once you've done it on our social media!
KEEP READING: Love and Death Episodes 1-3 Review: An Acting Tour de Force for Elizabeth Olsen and Jesse Plemons