Mantis, the lovable and endearing character from the Guardians of the Galaxy, has quickly become a fan favorite among Marvel Cinematic Universe (MCU) enthusiasts. Played by Pom Klementieff, Mantis has an endearing quality that makes audiences fall in love with her quirky personality and unique abilities. Her empathic abilities and innocence provide a refreshing contrast to the other Guardians and their more rough-edged personalities. Mantis's charming and quirky nature also makes her a popular choice for cosplay and collectibles, with her signature antennae and green and black attire becoming iconic among MCU fans.
How Mantis and James Gunn Changed Pom Klementieff's Life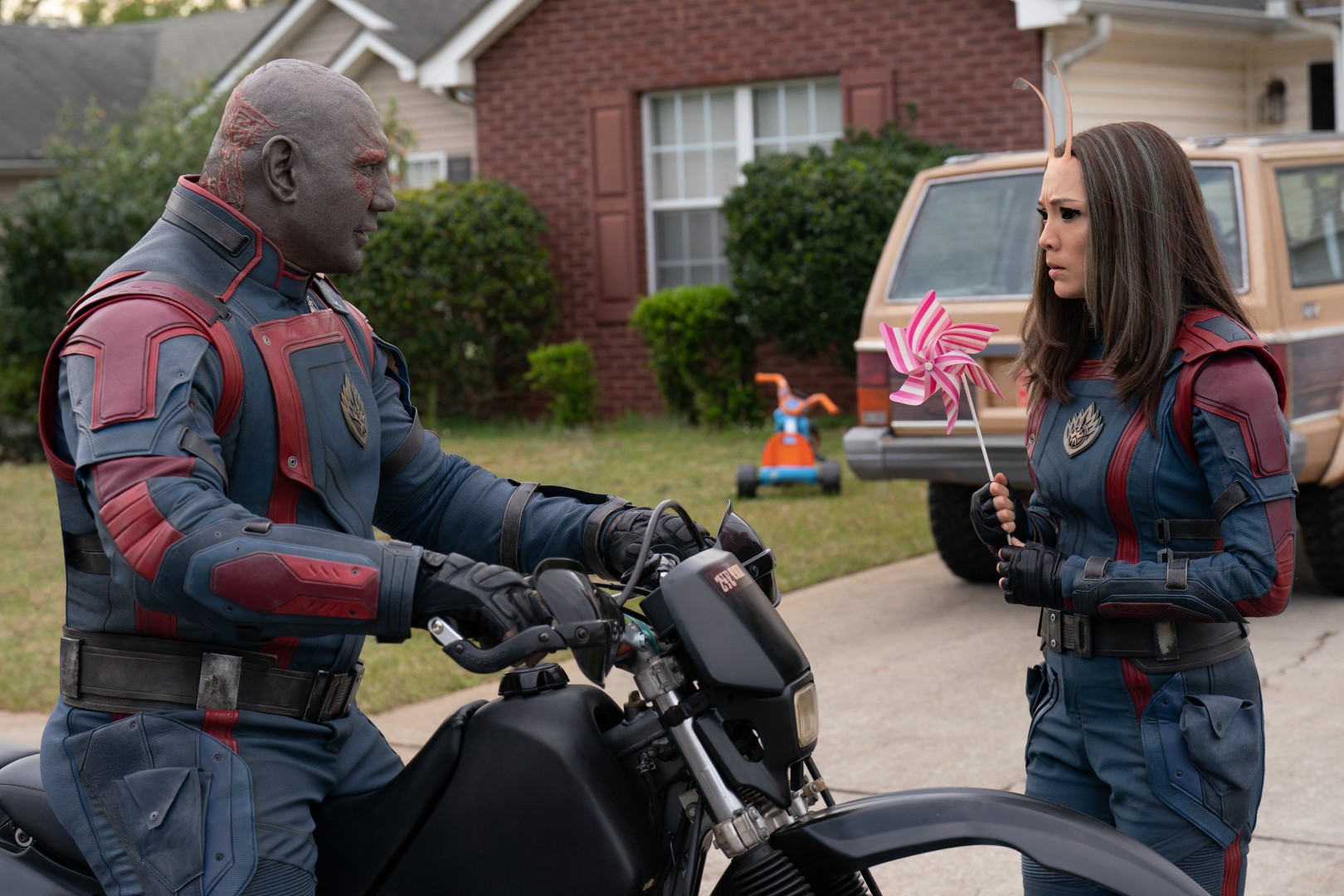 While Mantis has given the fans so much, it also gave a lot to her performer, Pom Klementieff. During the Guardians of the Galaxy Vol. 3 press conference, Nathan Fillion asked Klementieff what Mantis has brought to her as an actress and also as a person.
RELATED: Guardians of the Galaxy Vol. 3: Chris Pratt Would Jump at the Opportunity to Do 3 New Movies With James Gunn
Nathan Fillion: Pom, Mantis is a fan favorite, to say the least. You really landed on something incredibly pure and sincere… I'm really, I'm always rooting for her. What has Mantis brought to you, both as an actress playing the role and as a real-life person actually walking down the streets? What has Mantis brought to your life?
Oh my God! I mean, for me, it's not Mantis, it's like Mantis and James Gunn, you know? Like working, James changed my life. And get to play Mantis, I got, I mean, she's an empath, you know? So you have to have a deeper connection with everything and everyone. So it's beautiful to tap in, like really deep, profound and layered emotions, you know?

And yeah, and then I got to be super weird, which is really fun to do too. It comes naturally to me, I heard.
No, I love playing this character and I'm so grateful for James to have, you know, given me this opportunity and to get to play with all these incredible actors. And I think like each character, and I complete each other too, you know?

And I remember James telling me that Mantis was kind of like the glue that kept the gardens together in some ways, you know? And I think it's beautiful and I think, you know, the world lacks a lot of empathy too, you know? Yeah, so it's a beautiful message too.

Pom Klementieff at the Guardians of the Galaxy Vol. 3 Press Conference
RELATED: James Gunn is Always Nervous About Bringing Comic-Book Characters to the Movies
Pom Klementieff is nothing short of fantastic as Mantis. Watching her kick names and take ass has been one of the highlights of the entire MCU.
Guardians of the Galaxy Vol. 3 releases exclusively in theaters May 5, 2023.
About Guardians of the Galaxy Vol. 3 (GOTG Vol 3)
Release date: May 5, 2023 (USA)
Director: James Gunn
Writer: James Gunn
Executive Producers: Kevin Feige, Victoria Alonso, Louis D'Esposito, Simon Hatt, Nikolas Korda, Sara Smith
Co-Producers: David J. Grant, Lars P. Winther
Cinematography: Henry Braham
Music by: John Murphy
Production Company: Marvel Studios
Distributed by: Walt Disney Studios Motion Pictures
Cast: Chris Pratt, Zoe Saldana, Dave Bautista, Karen Gillan, Pom Klementieff, featuring Vin Diesel as Groot, Bradley Cooper as Rocket, Sean Gunn, Chukwudi Iwuji, Will Poulter, Maria Bakalova

Synopsis
In Marvel Studios' "Guardians of the Galaxy Vol. 3" our beloved band of misfits are settling into life on Knowhere. But it isn't long before their lives are upended by the echoes of Rocket's turbulent past. Peter Quill, still reeling from the loss of Gamora, must rally his team around him on a dangerous mission to save Rocket's life—a mission that, if not completed successfully, could quite possibly lead to the end of the Guardians as we know them.
What do you think about Guardians of the Galaxy Vol. 3? Do you already have your GOTG Vol 3 tickets? Where does Mantis rank among your favorite Guardians? Let us know your thoughts and reactions on social media!
KEEP READING: Guardians of the Galaxy Vol. 3 Review – Bookends the Best Super Hero Trilogy Ever