American Born Chinese is a thrilling new series that takes viewers on an epic adventure. With a captivating storyline that seamlessly blends action, comedy, and Kung Fu, this coming-of-age tale is sure to be a hit with audiences of all ages. At the heart of the series is a young man's journey to discover his own identity, a journey that is complicated by his unlikely friendship with the son of a mythological god.
The series boasts an impressive cast that includes some of the biggest names in cinema, including Academy Award winners Michelle Yeoh and Ke Huy Quan, this show is not to be missed. With its unique blend of humor, heart, and martial arts, American Born Chinese is a must-see for fans of action-adventure and coming-of-age stories alike.
The Journey to the West Went So Far It Came Back Around
The story Sun Wukong and Journey to the West is one of the most popular tales of East Asia and has been adapted and referenced countless times across all artistic mediums. It is arguably the most famous story in East Asia and has been a significant influence on the culture for hundreds of years. The influence has also spread globally. The US has a number of abstract adaptations and even some direct ones of the tale, and countless games and stories include the character of Sun Wukong.
What is interesting, especially in the case of the US, is how the story and the character have become part of the culture from not just the arts and media, but also the immigrants who carry the influence with them.
RELATED: Tetris Review – The Blocks Drop Into A Perfect Fit
American Born Chinese is a wonderful culmination of the power and influence of the story. Created by Gene Luen Yang, a child of immigrants who grew up with stories told by his parents and primally inspired by the great stories being told in America, he was "guided" to a more practical career before he realized his calling as a storyteller. The irony of being told stories of the Monkey King by his parents yet being "restricted" by them is a theme many can relate to but also runs very strong in the American Asian community.
In American Born Chinese, much like the layers of the original tale, the story symbolically, narratively, and directly captures the events and values of the culture. Now Sun Wukong is the elder close-minded figure, while his son's rebellious nature challenges him. This is mirrored by Jin, a child of immigrants who is stuck between puberty and Asian and American culture. Jin and Sun Wukong's son, Wei-Chen, must take what they have learned, and what they know, and figure out who they are in order to save the world.
The series beautifully adapts the themes of Journey to the West for modern times, reflects the experience of American Asians in a way that has never been done, and beautifully brings it together in an extremely meta way. The previously influenced listener, Gene Luen Yang, is now an active influencer in the culture that inspired him.
An Orange Chicken Burrito
The most impressive aspect of American Born Chinese, that I can not stop gushing over, is how layered the story is. There is a lot going on in the series, and it is a lot to take in at first. There is the father and son story between Wukong and Wei-Chen, the story of Jin just trying to fit in at school, the story of Jin's parents trying to rediscover themselves after years of subduing their aspirations, the story of Freddy Wong the reemerging television star, the broken friendship of Niu Mowang and Sun Wukong, and a good number of others.
RELATED: Renfield Review – This Movie Absolutely Abuses Its R-Rating
Seeing it laid out like that is overwhelming, and in the beginning, it does seem like that. However, it does not take long before it instantly settles in. It's like a spice cabinet, as soon as you open it it just seems like a bunch of random ingredients. But as soon as you start cooking, you grab what you need and put it back and grab the next one. It's this deliciously intricate story that is beyond the sum of its parts.
But outside of just being a narrative marvel, it is a literal encapsulation of the culture. Teenage angst is relatable to most American teens, but this is the first time I, and probably countless other American Asians, can directly relate to the experiences of Jin. I can't begin to talk about how much it means to me, but I know how much it will benefit our culture. While others might not get the exact examples, they'll know the feeling and connect it to themselves, as other minorities have done with all the other stories until now. It shows how we are unique yet also the same.
Plus there is also Ke Huy Quan's Fredd Wong, whose story is almost a direct interpretation of Quan's career.
Sticking with my cooking symbolism, if the stories are the spices, the genres of content are different styles of cuisine. American Born Chinese is a fusion dish. There is comedy, drama, romance, action, 80's B-movie, martial arts epic, sports, and more. While each genre is distinct in its influence and homage, it all feels cohesive as a single product. I would equate it to an orange chicken burrito. It has foreign influences, but it is also uniquely American.
And like the orange chicken burrito, which is available at the Panda Express Innovation Kitchen, American Born Chinese uses fiction to create reality and is more delicious than it has any right to be. While it seems abstract and too much, it is very much a perfectly packed and wrapped cinematic masterpiece.
This Team is Everything and Everywhere All At Once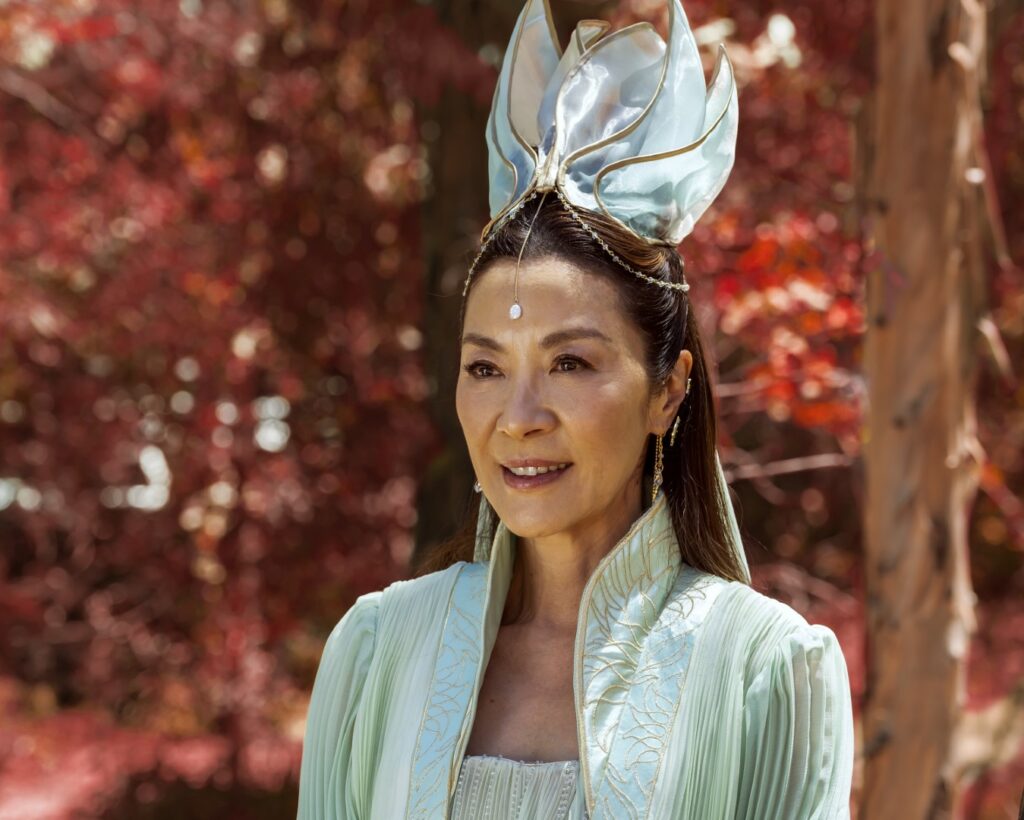 American Born Chinese has one of the most talented teams assembled. While it is hard to pinpoint the exact contributions of showrunners, producers, directors, etc., it is felt from the impact of the series. The incredible sets, the thrilling cinematography, and the magical costumes are all signifiers that the team is extremely good at their jobs.
RELATED: The Super Mario Bros. Movie Review – A New Generation of Fun
In front of the camera, we see two stars in the early parts of their careers. Ben Wang and Jim Liu are incredible leads that guide audiences through this astounding journey. Their chemistry with each other is the heart of the series. Their relationship is also a wonderful reflection of 1.5-generation versus second-generation immigrants. Seeing them clash is comedic and poignant, then seeing them overcome their differences but also not lose who they are is just great television.
Outside of the leads, is everybody else. The entire Wang family from Everything Everywhere All at Once is in the series, and all deliver their award-worthy performances. Daniel Wu as Sun Wukong is a dream casting that is absolutely perfect in execution. Leonard Wu as Niu Mowang wonderfully toes the line between fun and fearsome. Ronny Chieng as a drunken monk is hilarious and surprisingly touching.
Then there's Yeo Yann Yann and Chin Han as Jin's parents, who go through their own journeys as they parent Jin during his. While personally, I feel they weren't as strict as I am accustomed to, I think they brilliantly portrayed parents who are struggling but remain strong for their children. The way a parent can communicate the punishment you will get if you don't stop misbehaving with a look, is the energy Yann and Han radiate at all times in the series.
Greatness Takes Time
While I am obviously a fan, American Born Chinese might not be for everyone. While the baseline of the series is traditional and relatable, the genre-hopping might be too much for some. In a single episode, you can have a boy who has trouble talking to a girl he likes, then you have a martial arts epic taking place in the hallways of a school, with one of them being an amorphic monkey. It can be a lot to process.
RELATED: BEEF Review – When Rage is This Rare and Well Done It Is Delicious
On top of the genre-hopping, there are numerous storylines going on. Some that really do not seem to relate, or make no sense to relate, at least initially. How does an angry bull demon connect to the resurgence of a classic sitcom that is available on a streaming service? Why is there a TV show within a TV show? How does a kid in modern times with full internet access not realize his favorite manga has more books that haven't been translated yet?
Plus, the first few episodes open with text, which does set up a lot of the story, but is also really slow compared to the pacing of everything else in the series. So adjusting from a leisurely read to the series can also be jarring.
American Born Chinese all comes together and makes sense, pretty much by the end of the second episode. However, I feel because the series isn't quite locked into itself until the third episode, and the pilot episode does throw a lot at viewers, it could potentially cause many to shy away from the series. That's my only "critique" but since it is so early into the series I worry that might be what audiences latch onto first. And there's no kid falling out of a tall tower to hook audiences into the next episode.
American Born Chinese Is American AF
The cultural significance is a major part of my appreciation of American Born Chinese. To see the second-generation immigrant experience captured and shared is one I am always grateful for. Then to see the clash of second-generation and 1.5-generation was almost too much, as I have never related to the experience so much before. Plus knowing the story of Gene Luen Yang and American Born Chinese, and how it has come full circle narratively and culturally, is truly inspiring.
But outside of my personal connection, American Born Chinese is unlike anything on television. It is an incredible culmination of culture, story, and wonder that goes beyond the imagination but also enhances the real-life aspects of the series. While there are gods and demons, genre-hopping, and numerous storylines, it all still resonates as a very straightforward and poignant coming-of-age story. American Born Chinese is a magnificent tale of two teens who come together and learn to embrace what aspects of their parents and culture make them better and also which parts to let go of.
American Born Chinese is a mixture of genres, cultures, and generations, perfectly wrapped into one delicious story. Even with all of its genre and story hopping, the series is unequivocally a great American television show that families can watch together, talk about, and learn from. American Born Chinese has all the heart, light-handed but very real drama, and unifying humor of your family's favorite television show. Plus magic and jaw-dropping fight sequences.
I give American Born Chinese a 9/10.
American Born Chinese is set to premiere on May 24, 2023, on Disney+. Until then fans can read Gene Luen Yang's graphic novel for free with Kindle Unlimited.
ABOUT AMERICAN BORN CHINESE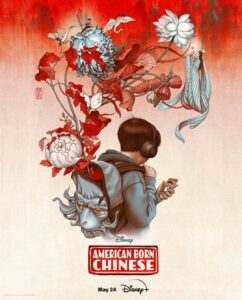 Based on the graphic novel by Gene Luen Yang
Release Date: May 24, 2023, on Disney+
Showrunner: Kevlin Yu
Director: Destin Daniel Cretton
Executive Producers: Kelvin Yu ("Bob's Burgers," "Central Park"), Destin Daniel Cretton (Marvel's "Shang-Chi and the Legend of the Ten Rings," "Short Term 12"), Melvin Mar and Jake Kasdan (both of "Doogie Kamealoha, M.D." for Disney+, "Fresh Off the Boat" and "Jumanji: Welcome to the Jungle" and "Jumanji: The Next Level" feature films), Erin O'Malley ("Doogie Kamealoha, M.D."), Asher Goldstein ("Short Term 12," "Just Mercy") and Gene Luen Yang

Cast: Michelle Yeoh as "Guanyin," Ben Wang as "Jin Wang," Yeo Yann Yann as "Christine Wang," Chin Han as "Simon Wang," Daniel Wu as "Sun Wukong," Ke Huy Quan as "Freddy Wong," Jim Liu as "Wei-Chen" and Sydney Taylor as "Amelia"

Description:
Based on the graphic novel by Gene Luen Yang, "American Born Chinese" tells the story of Jin Wang, an average teenager juggling his high school social life with his home life. When he meets a new foreign student on the first day of the school year, even more worlds collide as Jin is unwittingly entangled in a battle of Chinese mythological gods. The genre-hopping action-comedy explores identity, culture, and family.
Are you excited about American Born Chinese? Have you read the graphic novel? Why must we wait until the end of the month? Let us know your thoughts about the series on social media!
KEEP READING: Guardians of the Galaxy Vol. 3 Review – Bookends the Best Super Hero Trilogy Ever