Elemental is an all-new, original feature film set in Element City, where Fire-, Water-, Earth- and Air-residents live together. The story introduces Ember, a tough, quick-witted and fiery young woman, whose friendship with a fun, sappy, go-with-the-flow guy named Wade challenges her beliefs about the world they live in. Directed by Peter Sohn, produced by Denise Ream, p.g.a., and executive produced by Pete Docter, "Elemental" features a screenplay by John Hoberg & Kat Likkel and Brenda Hsueh with story by Sohn, Hoberg & Likkel and Hsueh. The film's original score was composed and conducted by Thomas Newman.
Elemental Welcome to Element City Featurette
4 New Posters
The film is going to be a visual marvel that begs to be seen on the big screen. But not all screens are the same, and all of the different formats offer unique viewing experiences. The four posters released today highlight some of the different offerings in which Elemental can be experienced, Real D 3D, 4DX, and Dolby Cinema. All of these options can be accessed conveniently regardless of the theater and sorted by location via Fandango.
RELATED: The Elemental Experience is Bringing the Captivating Element City On A Nationwide Tour
Regardless of how you choose to experience the film, Pixar fans are in for a treat as the highly anticipated film "Elemental" unveils four captivating new posters, offering a glimpse into the vibrant world of Element City where fire, water, earth, and air residents coexist, accompanied by an exciting featurette that introduces the talented voice cast and provides insight from director Peter Sohn. Get ready to be immersed in this original adventure
Elemental premieres on June 16, 2023, exclusively in theaters. Tickets are on sale now.
About Elemental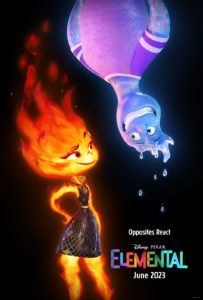 Release Date: June 16, 2023
Director: Peter Sohn
Executive Producer: Pete Docter
Producer: Denise Ream
Screenplay: John Hoberg & Kat Likkel and Brenda Hsueh
Story By: Peter Sohn, John Hpberg & Kat Likkel and Brenda Hsueh
Score: Thomas Newman
Produced By: Pixar, Walt Disney Pictures
Distributed By: Walt Disney Studios Motion Pictures
Cast: Leah Lewis, Mamoudou Athie, Ronnie del Carmen, Shila Ommi, Wendi McLendon-Cobey, Catherine O'Hara, Mason Wertheimer, Joe Pera

Synopsis:
Disney and Pixar's "Elemental" is an all-new original feature film that transports moviegoers to an extraordinary place called Element City, where a host of elements live and work. The trailer showcases each element—air, earth, water and fire—and what sets them apart according to Ember, a quick-witted and fiery woman who's always stayed close to home in Firetown. In "Elemental," which opens in theaters on June 16, she finally ventures out of her comfort zone to explore this spectacular world born from the imaginations of Pixar's filmmakers and specifically crafted for the big-screen experience.
What do you think about Disney and Pixar's Elemental? Which element do you think you would be? Are you excited to visit Element City'? Let us know your thoughts and expectations on social media!
Source: Pixar
RELATED: Spider-Man: Across the Spider-Verse Review – Every Frame is A Masterpiece, Every Note is a Symphony, Everything is Out of This World