The opening shot of HBO's The Idol tells us as much about the main character as we need to know. Director-writer-producer Sam Levinson puts us right in the middle of a photoshoot with pop icon Jocelyn (Lily-Rose Depp), where she effortlessly moves from laughing to innocent, to mischievous, to pure sex, to vulnerable, to purely emotional tears. The first thing we learn about this character at the center of the photo shoot is that she is famous, and she's also seen enough in life to be able to move naturally from one feeling to the next.
The Idol Was Off to a Great Start…
The first half of the first episode is everything I dreamed the series would be. It's neither asking for permission nor forgiveness in its depiction of the music industry and the multiple players involved with their personal interests. During this 30-minute sequence, we follow Jocelyn on a normal day for her leading up to the release of her new single, due out in two weeks.
RELATED: Spider-Man: Across the Spider-Verse Review – Every Frame is A Masterpiece, Every Note is a Symphony, Everything is Out of This World
It's the first piece of music she will be putting out ever since canceling her tour due to a nervous breakdown (this comes from the logline of the show, but the actual episode never explicitly says it, though does enough to imply that is in fact the case). She goes from a fight with her intimacy coordinator for showing too much boob to the camera to practicing a dance number to trying to cover up a minor nervous breakdown.
In the meantime, a new crisis emerges on social media after a highly-sensitive picture of Jocelyn is posted to the public, raising all types of alarms among her staff, who are also trying to keep it up from her as long as possible.
Levinson does an excellent job at making us understand the many layers of what's going on here and is able to smoothly transition from one storyline to the next and never lose focus of the throughline of the story. We get a good characterization of who Jocelyn is — a very layered character who is trying to be herself but having a hard time finding out what that actually means.
Publicly, she tries to convey a mysterious profile in a way where she is highly sexualized, but on her own terms. She is very secure in a lot of things, and tries very hard to hide her insecurities.
RELATED: Reality Review: Sydney Sweeney Shines in Gripping and Thought-Provoking HBO Film
It doesn't help when she's surrounded by a bunch of yes-people who want the release of the single to go as normal as possible. They are trying to blow up the entire narrative around her, but in a very controlled manner, which is why the aforementioned photo has stirred them up so badly. Think of Miley Cyrus a decade ago, where she went from pop icon to teenage girl to burn-the-house-down sex symbol to young adults.
Lily-Rose Depp absolutely annihilates the role. She had me glued to the screen for the entire runtime and is able to portray the depth of the character with single facial expressions. She is definitely a star in the making here, even if by her own last name she already had a foot in the industry by the time she started auditioning for her first role. But this is no nepo baby argument.
… Then The Weeknd Showed Up
However, all the positive momentum the episode was carrying is slowly killed off by the arrival of Abel Tesfaye, aka The Weeknd, as Tedros. He plays a mysterious figure who shows up out of the blue in Jocelyn's life to flip it upside down.
She finds in him exactly the person she was looking for — someone who presents a bit of a challenge and who she believes might finally help her understand herself. He is a mirror to her, a figure that portrays an aura of mystery and keeps his actual troubled past to himself. But there's more than meets the eye to Tedros, as it's hinted in the episode we will find out later in the season.
RELATED: Andy Muschietti Tapped To Direct The Brave And The Bold: 3rd DCU Director Discovered?
The character of Tedros probably worked very well in the script as a slick figure who could actually open up some doors for Jocelyn, but Tesfaye's portrayal comes across as paper-thin and probably diminishes the impact he could have had with any other actor portraying him.
In a show like The Idol, Sam Levinson is relying on actors to bring to life his characters in ways that are very hard to describe on the page; they are something that you need to see to believe. They found the perfect actress in Depp to accomplish this, but Tesfaye is not someone you believe when seeing.
What started off as a sexy and daring show that didn't want to apologize for bringing up topics that may have been considered taboo by another network, to show the viewer the ins and outs of the music industry, eventually morphs into a final scene that is uncomfortable to see for the reasons the filmmakers intended. However, those intentions are definitely not in the right place.
I am all for showing how screwed up everyone in a world like this is, and it's certainly something that other HBO shows like Industry and even Succession have not been shy about. But there's something odd about letting Tesfaye play that role, and I was able to visualize exactly why after watching the last scene.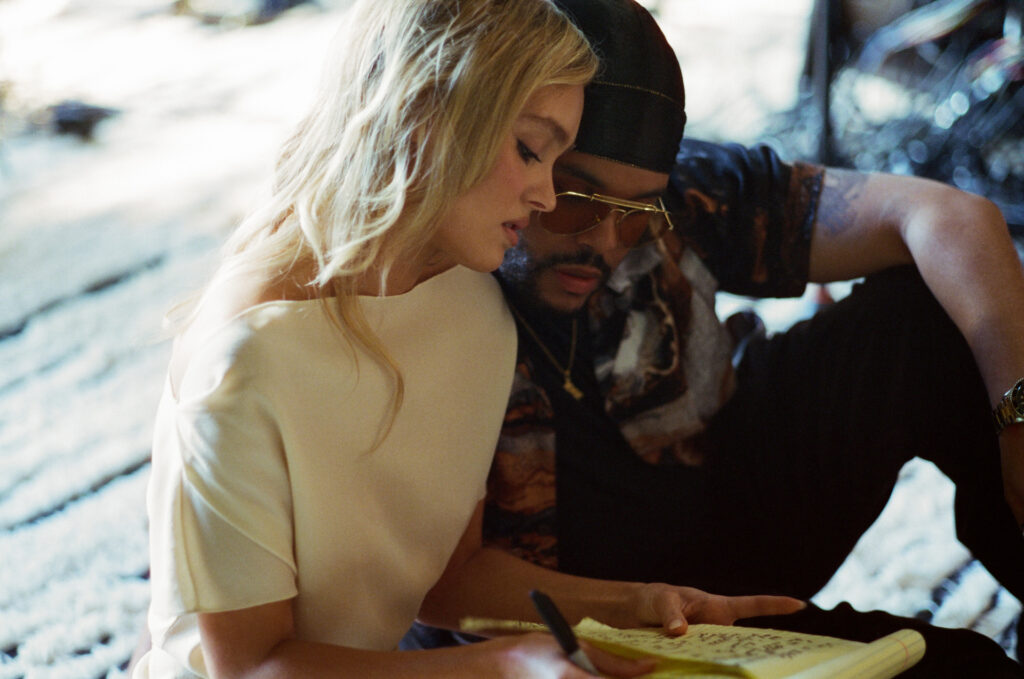 I've always kept an open mind about that nerve-wracking Rolling Stone story that portrayed The Idol as torture porn from the mind of The Weeknd and Sam Levinson, especially since Lily-Rose Depp seemed to be so happy about the show, but now I'm starting to fear what the rest of the series may have in store for us.
Regardless, the first 35 minutes of the episode were enough for me to give The Idol a thumbs up. I just fear that what happened at the end might derail it for good. I will keep watching just to see what fantastic performance Lily-Rose Depp is able to deliver next week.
But what about you? Have you seen the first episode of The Idol yet? If not, are you looking forward to it? Let us know your thoughts on the series on our social media, and stay tuned for next week's review!
KEEP READING: Unidentified Objects Review: A Completely Unapologetic Film About Belonging