Get ready to power up with the biggest film of the year as The Super Mario Bros. Movie 'Power Up Edition' arrives home on June 13th, available to own on Digital, 4K Ultra HD, Blu-ray™, and DVD. With its impressive global box office earnings exceeding one billion dollars, this Nintendo and Illumination-produced pop-culture extravaganza comes packed with all-new bonus features, providing fans with an elevated experience. Boasting an A CinemaScore® and an impressive 96% Audience Score on Rotten Tomatoes, this film is set to delight Super Mario Bros. enthusiasts of all ages.
Bring The Super Mario Bros. Movie Home
Featuring a star-studded lineup of voice talent, The Super Mario Bros. Movie brings together renowned actors to portray iconic pop culture characters. The cast includes Chris Pratt, Charlie Day, Anya Taylor-Joy, Keegan-Michael Key, Seth Rogen, Jack Black, and Fred Armisen, among others, lending their voices to these beloved figures. With their exceptional performances, they breathe new life into the timeless characters that have captivated audiences for over three decades.
RELATED: The Super Mario Bros. Movie Review – A New Generation of Fun
The movie takes viewers on a thrilling adventure that begins with two Brooklyn plumbers who are brothers and best friends: the brave and enthusiastic Mario, and the perpetually anxious Luigi. As the story unfolds, the Super Mario Brothers find themselves navigating Mushroom Kingdom, encountering a host of familiar and lovable characters along the way. Their mission is to unite and defeat the power-hungry villain, Bowser. The Super Mario Bros. Movie seamlessly translates the beloved video game franchise into a breathtaking cinematic experience that will leave fans exhilarated.
The POWER UP EDITION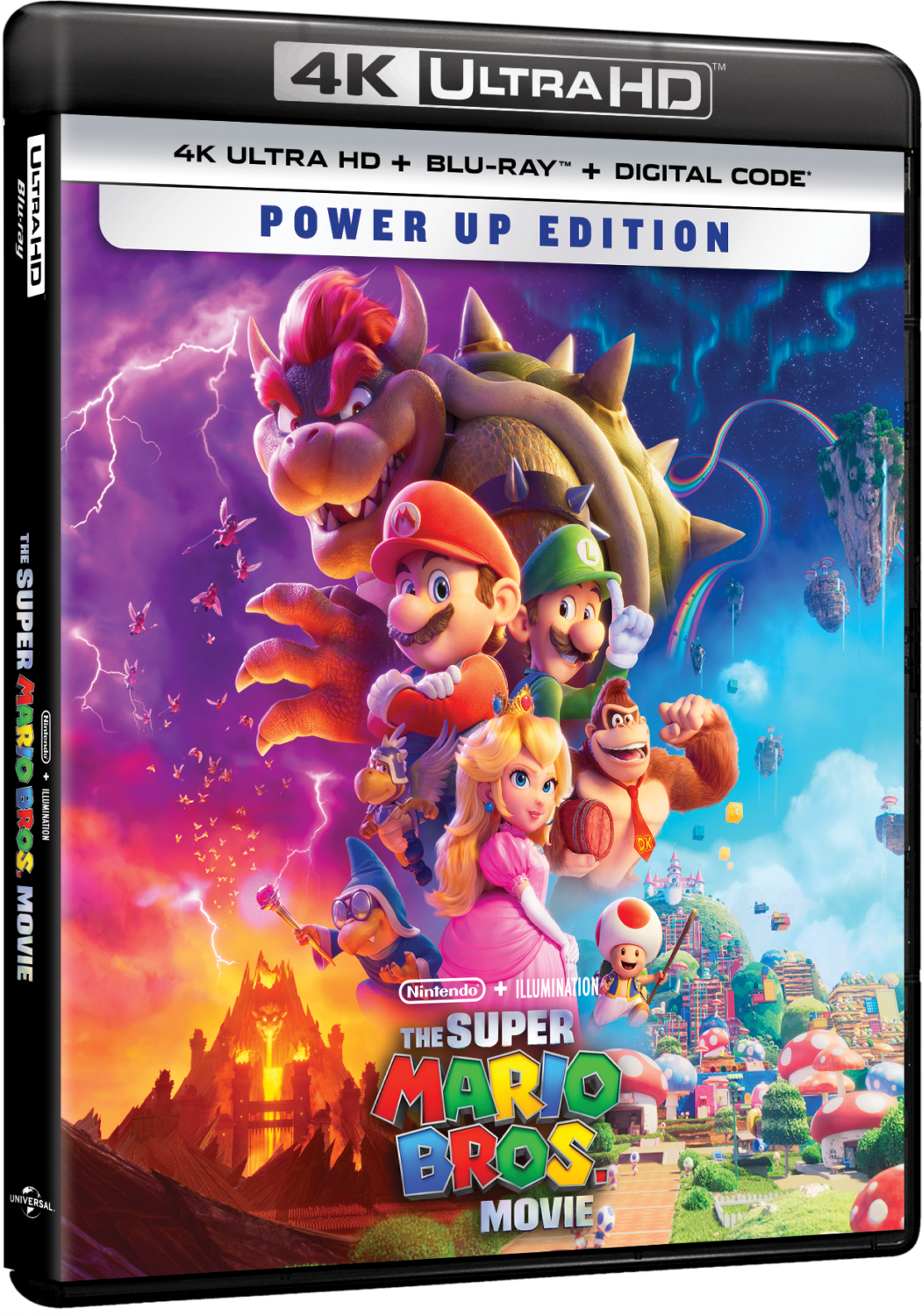 The 'Power Up Edition' release comes with over 30 minutes of bonus content, providing fans with an in-depth look behind the scenes. Viewers can get to know the cast on a more personal level through intimate behind-the-scenes features, explore the making of the film in "Leveling Up: Making The Super Mario Bros. Movie," and join the cast as they provide a guided tour of the various Power-Ups and Bonuses in "The Super Mario Bros. Movie Field Guide." Additionally, fans can sing along with the lyric video for Jack Black's catchy musical number, "Peaches," and learn valuable leadership lessons from Anya Taylor-Joy's Princess Peach.
RELATED: Marvel's Moon Girl and Devil Dinosaur Adds Legendary Actor as Main Villain for Season 2
Directed by Aaron Horvath and Michael Jelenic, and produced by Chris Meledandri and Shigeru Miyamoto, The Super Mario Bros. Movie 'Power Up Edition' promises a next-level experience for both fans and newcomers alike. The film's technical specifications ensure an immersive viewing experience, with options for DVD, Blu-ray™, and 4K Ultra HD formats. Available in multiple languages and featuring various audio formats, viewers can fully immerse themselves in the captivating world of Super Mario Bros. The film carries a PG rating for action and mild violence, making it suitable for all audiences.
Don't miss the opportunity to own The Super Mario Bros. Movie 'Power Up Edition' on June 13, 2023, and embark on an extraordinary adventure with Mario, Luigi, and their friends. Universal Pictures Home Entertainment presents this spectacular release, which promises to bring joy, excitement, and nostalgia to Super Mario Bros. enthusiasts everywhere. Get ready to power up and join the Super Mario Bros. on their journey through Mushroom Kingdom.
ABOUT THE SUPER MARIO BROS. MOVIE
Release Date: Now available on Digital, on Home Media June 13, 2023.
Directors: Aaron Horvath, Michael Jelenic
Producers: Shigeru Miyamoto, Chris Meledandri
Screenplay: Shigeru Miyamoto, Matthew Fogel
Production companies: Nintendo, Illumination, Universal Pictures
Cast: Chris Pratt, Anya Taylor-Joy, Charlie Day, Charles Martinet, Jack Black, Seth Rogen, Keegan-Michael Key, Kevin Michael Richardson, Sebastian Maniscalco, Fred Armisen
Logline:
A plumber named Mario travels through an underground labyrinth with his brother, Luigi, trying to save a captured princess. A feature film adaptation of the popular video game.
What did you think of all of The Super Mario Bros. movie posters? Do you remember the "Super Mario Bros. Rap" from the 90s series? Will we get a Donkey Kong Country spin-off? Let us know your thoughts and theories on social media!
Source: UPHE
KEEP READING: Spider-Man: Across the Spider-Verse Review – Every Frame is A Masterpiece, Every Note is a Symphony, Everything is Out of This World