Anthony Mackie posted on Tuesday the first official behind-the-scenes photo from the set of Captain America 4, featuring a new look at his Captain America suit, Harrison Ford sitting on a chair, and perhaps most importantly, the new logo for the film which confirms it is now subtitled Brave New World.
Captain America: Brave New World was officially announced back in July 2022 as Captain America: New World Order, a name that was inherited from the first episode of The Falcon and the Winter Soldier. Cameras started rolling earlier this year in Atlanta (they are now approaching the end of the third month of production), and there have been some rumors circulating online for a few weeks about New World Order not being the final title of the film. That is now official.
Captain America's Brave New World
RELATED: The Batman 2 Production Reportedly Pushed Into 2024 Due To Writers' Strike
If Mackie's picture wasn't clear enough, the actor also captioned it with the following text:
When Harrison Ford tells you how kicking ass should look, you listen! LoL… Thanks for the on set wisdom and laughs my friend!
Can't wait to do it again… Marvel Studios' Captain America: Brave New World in theaters May 3, 2024
The official Marvel Studios Twitter account also picked up on it and reposted it.
Captain America 4 Is Keeping Its Original Release Date
This picture is no coincidence, and there is definitely more than meets the eye. This is not only a way to (partially) show us Mackie's new suit to try to prevent further set leaks from ruining the experience for some fans. It's also another reminder that Harrison Ford is in the MCU now that Indiana Jones 5 is about to debut at the box office.
This is a proclamation that, despite what may be happening with other productions, Captain America: Brave New World is proceeding as normal and will be released on the date Marvel Studios always intended. The WGA strike has not affected filming for this film, and the studio is keeping the schedule; with this, they are trying to get ahead of any speculation about possible delays for the film or anything like that.
RELATED: Jon Bernthal Rumored To Get New Solo Punisher Series After Daredevil: Born Again
And it is especially relevant to remind us that some Marvel productions are going as planned, as just in the past month filming has been delayed on the studio's other two 2024 films, Thunderbolts and Blade. Principal photography has also been halted on Wonder Man and Daredevil: Born Again in LA and New York, respectively.
Additionally, the stoppage is likely affecting other projects we are not even aware of yet. Fantastic Four hired Josh Friedman earlier this year to work on some rewrites on the script, and if that hadn't been concluded by May 1, it's definitely on hold now. The script for Avengers: The Kang Dynasty is definitely in limbo at the moment, as Jeff Loveness has apparently left the project and no other writer should be allowed to work on it while the guild is on strike. Other Disney Plus projects are likely affected as well.
What Do We Know About Captain America: Brave New World?
Julius Onah (Cloverfield: Paradox) is directing from a script by Malcolm Spellman and Dalan Musson. Anthony Mackie is reprising his role as Sam Wilson, who assumed the mantle of Captain America after picking up the shield from a retired Steve Rogers at the end of Avengers: Endgame and undergoing a character transformation in The Falcon and the Winter Soldier (later rebranded as Captain America and the Winter Soldier).
Harrison Ford is also joining the ensemble as Thunderbolt Ross, who is now President of the United States. While it hasn't been confirmed, it's expected that Julia Louis-Dreyfus' CIA director Val will appear as well in some capacity. Val will later play a pivotal role in Thunderbolts, where Ford is also assumed to appear.
RELATED: Madame Web: Sydney Sweeney Confirms She Is Playing Julia Carpenter's Spider-Woman
Other members of the Brave New World cast include Tim Blake Nelson returning as The Leader from 2008's The Incredible Hulk, and also Liv Tyler as Betty Ross from that film as well. Returning from The Falcon and the Winter Soldier are Carl Lumbly as Isaiah Bradley and Danny Ramirez as Joaquin Torres, who is expected to play a new iteration of the Falcon in the film. Shira Haas is also in the film in an undisclosed role.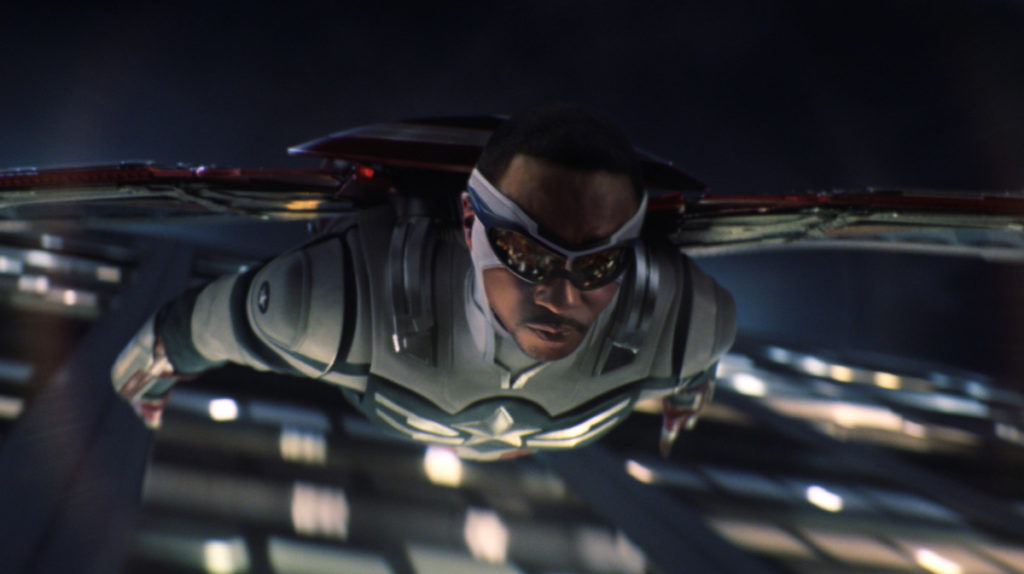 Captain America: Brave New World opens in theaters on May 3, 2024. What do you think of the new Brave New World title? How excited are you about the film? Did you enjoy The Falcon and the Winter Soldier? What are your thoughts on Sam Wilson's new suit? Let us know on our social media, and stay tuned for more Marvel news coming soon!
KEEP READING: Andy Muschietti Tapped To Direct The Brave And The Bold: 3rd DCU Director Discovered?