Experience the transformative power of love and self-discovery in With Love Season 2, now available for streaming on Prime Video. Under the creative vision of Gloria Calderón Kellett, this captivating series explores the multifaceted nature of love. Join the talented Emeraude Toubia as Lily Diaz, as she embarks on a journey of romantic love, torn between Santiago and Nick, while also uncovering the importance of self-love. Alongside Lily, Benito Martinez delivers a remarkable performance as Jorge Senior, Lily's father, who navigates parenthood and forever love with his wife Beatriz, played by Constance Marie.
RELATED: With Love S2 – Mark Indelicato Highlights the Power and Beauty of Platonic Love Between Gay and Straight Men
With its relatable characters and compelling narrative, With Love Season 2 masterfully illustrates the profound impact of familial love, romantic connections, and the transformative nature of self-love, ultimately celebrating the many forms love can take in our lives.
Benito Martinez Shares His Favorite Act of Love in a Scene that Was Almost Cut from the Series
The world of film production is a complex and intricate process, where countless elements come together to bring stories to life. It is fascinating to witness how even the simplest scenes, which may not appear exceptional on paper, can be transformed into something truly magical on the screen. The collaboration between directors, cinematographers, actors, and the entire crew plays a pivotal role in capturing the essence of a scene and elevating it to new heights.
Through the skillful use of lighting, camera angles, sound design, and the actors' performances, a seemingly ordinary moment can be infused with depth, emotion, and resonance. It is a testament to the artistry and craftsmanship involved in filmmaking, reminding us that the true magic of cinema lies in the ability to create something extraordinary from the seemingly ordinary. Benito Martinez talks about the a scene from With Love that is just that and thankfully made it into the show.
RELATED: With Love Season 2 Interview – Emeraude Toubia Shares Her Favorite Act of Love from the Series
That's a tricky one for me. There's a lot of wonderful scenes. There's a lot of wonderful moments. But I keep, you know, I keep going back to this moment that we had, it actually was a scene that was going to get cut. The director was running out of time and it's in, I think the fourth episode, fifth episode, and we've had a party at our house and we're cleaning up afterwards.

And, and in that scene, the director was running out of time and we were just about to go in and do the first rehearsal so we could block it out. And Gloria came in with Andy and the director and they said, hey guys, do you know the scene we're about to film? And we're like, yeah.

And we're literally putting on our mic packs and getting the final touches. They said, do you mind if we run it real quick before we go and that nobody ever asks us to do that. So luckily, because we're both really driven professionals, we had been running the lines earlier and we were very comfortable with the scene. So they came in and they said, can we just see it real quick? And we ran the lines and while we're getting dressed, we ran it with feelings. And it just was a beautiful scene, even in this messy thing that we were putting together.

And all three of them looked at each other like, oh yeah, we're keeping it. And they walked away and then we shot the scene and it was really simple, right? Nice and easy. Two people cleaning up and they said, hey, I forgot to tell you something. And it's just a beautiful, beautiful, natural thing. And that comes from great writing. That comes from working with wonderful people opposite you. And I can go on and on. There's a bunch of that. That's just a great example of one of my favorite moments of just two artists being prepared and getting out of the way of the work and just doing it. It's wonderful. And great writing.

Benito Martinez, Jorge Diaz Sr. in Prime Video's With Love
You can see the scene Benito Martinez is talking about in With Love now streaming on Prime Video.
About With Love Season 2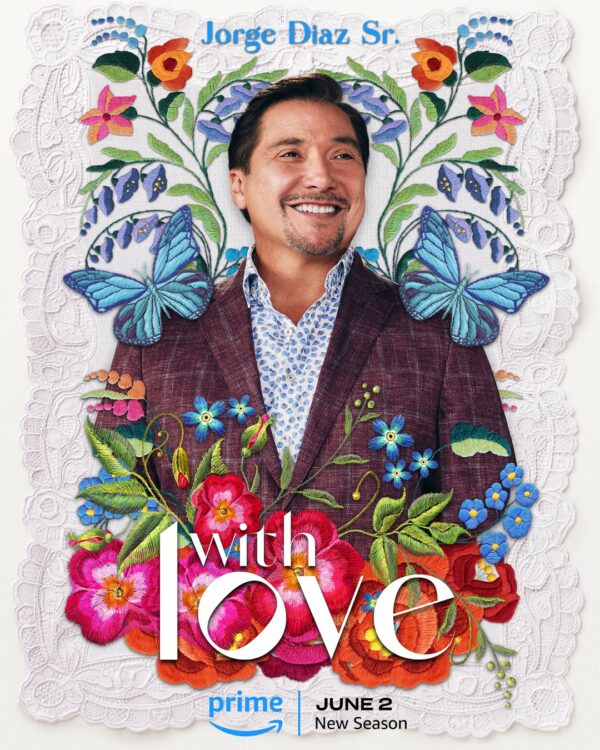 Release Date: Now Streaming on Prime Video
Created By: Gloria Calderón Kellett
Executive Producers: Gloria Calderón Kellett, Andy Roth
Production: GloNation and Amazon Studios
Distribution: Prime Video
Cast: Emeraude Toubia as Lily Diaz, Mark Indelicato as Jorge Diaz Jr., Rome Flynn as Santiago Zayas, Desmond Chiam as Nick Zhao, Vincent Rodriguez III as Henry Cruz, Isis King as Sol Perez, Todd Grinnell as Dr. Miles Murphy, Constance Marie as Beatriz Diaz, and Benito Martinez as Jorge Diaz Sr.

Synopsis
With Love is a romantic dramedy centered on siblings Lily and Jorge Diaz as they navigate big life changes and rely on their equally big family to get them through. Following her whirlwind romance with Santiago, Lily decides to focus all her energy on a personal journey of self-love by growing her makeup styling business and looking into homeownership. But when both Santiago and Nick profess their feelings for her, Lily wrestles with what is best for her future. Meanwhile Jorge begins to question whether he and Henry are truly compatible. When he meets Henry's proud Texan parents, he can't decide whether the relationship is a fairy tale or a nightmare.
Have you watched Season 2 of With Love? Do you know which scene Benito Martinez is referring to? Are you going to look up the With Love episode now? Let us know your thoughts on social media!
KEEP READING: Transformers: Rise of the Beasts Review – The Spark Has Never Been Stronger Despite Not Maximizing the Maximals