Get ready for the highly anticipated premiere of Hailey's On It!, an original animated comedy-adventure series from Disney Branded Television. Created and executive produced by Devin Bunje and Nick Stanton, this exciting show follows the fearless teenager Hailey Banks, voiced by Auli'i Cravalho, as she embarks on a mission to save the world by completing an ambitious list of challenging tasks. With the support of her best friend Scott, voiced by Manny Jacinto, and the futuristic AI system Beta, voiced by Gary Anthony Williams, Hailey will face her fears, tackle extraordinary circumstances, and discover her own hidden greatness.
How Did Devin Bunje and Nick Stanton Come Up with Hailey's On It!?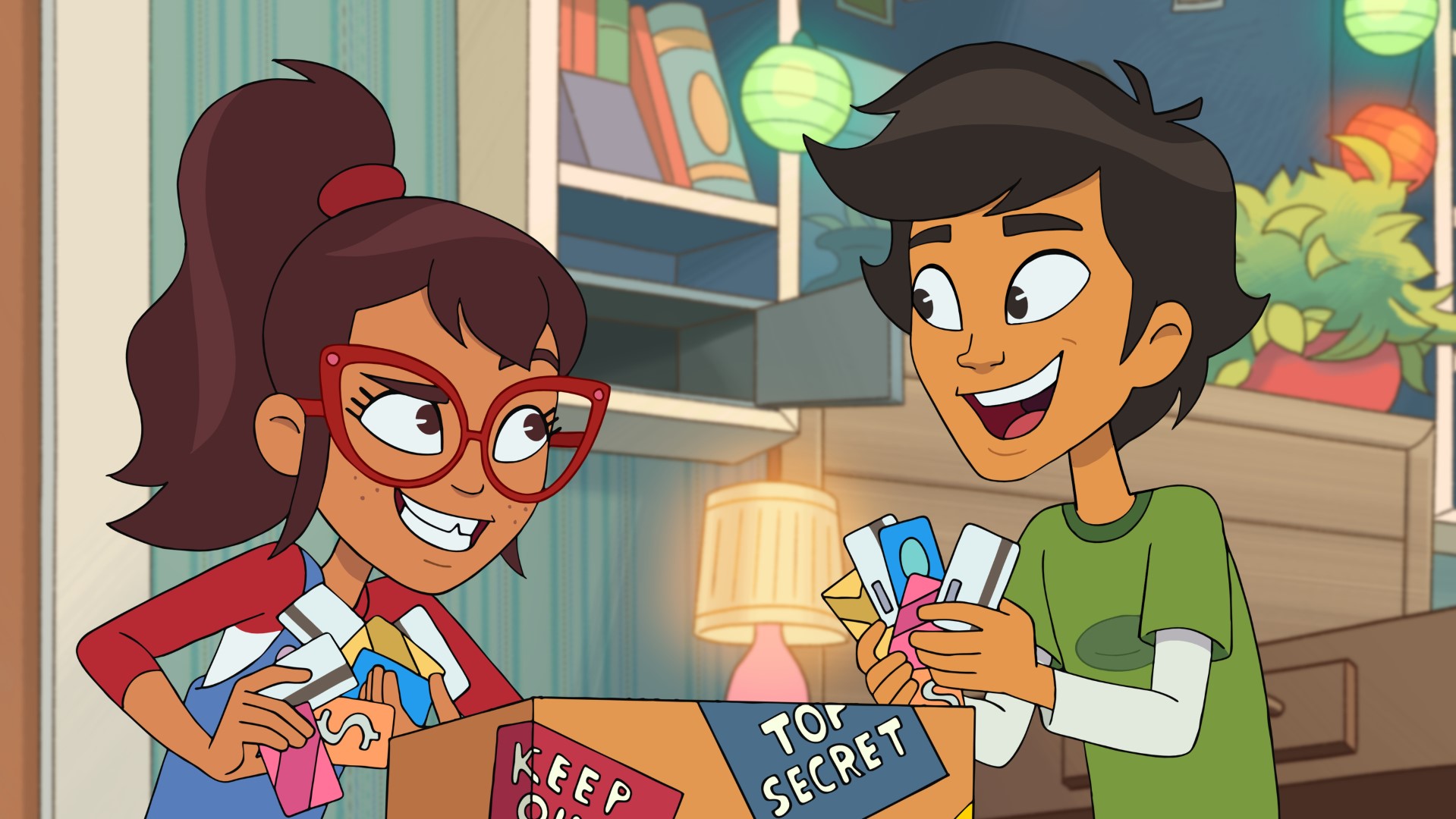 RELATED: American Born Chinese Brilliant Creator Talks About Becoming Influential to Your Influences
I was fortunate to get an opportunity to not just see the first few episodes of Hailey's On It! but also speak with the creators, Devin Bunje and Nick Stanton. Hailey is just a regular teenager who finds out she's destined for greatness. She goes from anxious and afraid to act teen, to anxiously ready to try anything teen. It's a very grounded yet simultaneously out-there series that is fun and inspiring for all ages. So I had to ask Bunje and Stanton how they came up with the series and this is what Stanton shared.
Yeah, it all started with just an idea for really a scene and that scene ended up in the first episode or a version of that scene did. And it was the idea of this crazed professor from the future bursting into this regular 14-year-old girl's room and basically doing this big information dump of like you're going to be destined for great things and all this stuff's going to happen but you got to do this.

Almost talking at an auctioneering speed but the idea that we had at the time was that their conversation keeps getting distracted or going off on tangents and they never get the information out. I don't know, we just kind of had it as a scene and from that we kind of built a world around it. We thought, well this girl's Hailey, what do we know about her as a character?

And then her neighbor Scott Danoga, we thought well it'd be neat if she had this best friend who they might become more than friends, kind of a Jim and Pam in The Office kind of relationship. And we just kind of built the world out from there and built a series around it.

Nick Stanton, Co-Creator/Executive Producer of Hailey's On It!
RELATED: The Ghost and Molly McGee Creators Reveal How They Get Universal By Being Specific
It's astonishing how the premise began with a single scene and expanded into a series. But now, with a talented team behind the scenes, including co-executive producer Howy Parkins and producer Wade Wisinski, Hailey's On It! seems to have the perfect team to tell heartfelt stories and unforgettable adventures. However, I'm really surprised that there is no mention of Halley's Comet having any connection to at least the title of the show. Maybe it'll come up in later episodes.
Find out for yourself when Hailey's On It premiers Thursday, June 8, 2023, at 8 PM on the Disney Channel and Disney XD, and the next day on Disney+.
About Hailey's On It
Release Date: June 8, 2023
Creators/Executive Producers: Devin Bunje, Nick Stanton
Co-Executive Producer/Supervising Director: Howy Parkins
Producer: Wade Wisinski
Story Editor: Karen Graci
Art Director: Lee Ann Dufour
Directors: Cat Harman-Mitchell, Leslie Park
Songwriters/Composters: Matthew Tishler, Andrew Underberg
Production: Disney Television Animation
Network: Disney Channel, Disney XD, and Disney+
Cast: Auli'i Cravalho, Manny Jacinto, Gary Anthony Williams, Cooper Andrews, Julie Bowen, Josh Brener, Sarah Chalke, Nik Dodani, Judy Alice Lee, Amanda Leighton, Joy Osmanski, Nico Santos

Synopsis
Animated comedy-adventure "Hailey's On It!" follows Hailey, a risk-averse but resourceful teenager on a mission to complete every item on her long list of challenging — and sometimes impractical — tasks in order to save the world. Whether she's tackling every ride at the county fair, performing in a musical, reuniting a singing duo or facing her ever-growing and complicated feelings toward her best friend Scott, Hailey is always encountering new challenges ― and more opportunities to conquer her fears.
Are you excited for the premiere of Hailery's On It!? Do you think you can handle the overwhelming cuteness of Gary Anthony Williams voicing a cuddly little robot? Will you be disappointed that Manny Jacinto will likely never say Bortles in the series? Let us know your thoughts on social media!
KEEP READING: Spider-Man: Across the Spider-Verse Review – Every Frame is A Masterpiece, Every Note is a Symphony, Everything is Out of This World