Get ready for an exciting night of laughter and adventure as the highly anticipated Hailey's On It! premieres tonight at 8 PM on Disney Channel. Created and executive produced by Devin Bunje and Nick Stanton, this original animated comedy-adventure series follows the brave and anxious teenager Hailey Banks, voiced by Auli'i Cravalho, as she embarks on a mission to save the world by completing an ambitious list of challenging tasks. With the support of her best friend Scott, voiced by Manny Jacinto, and the futuristic AI system Beta, voiced by Gary Anthony Williams, Hailey will face her fears, tackle extraordinary circumstances, and discover her own hidden greatness.
Hailey's On It! is a Monumental Example of Getting Out of Your Comfort Zone and the Journey of Success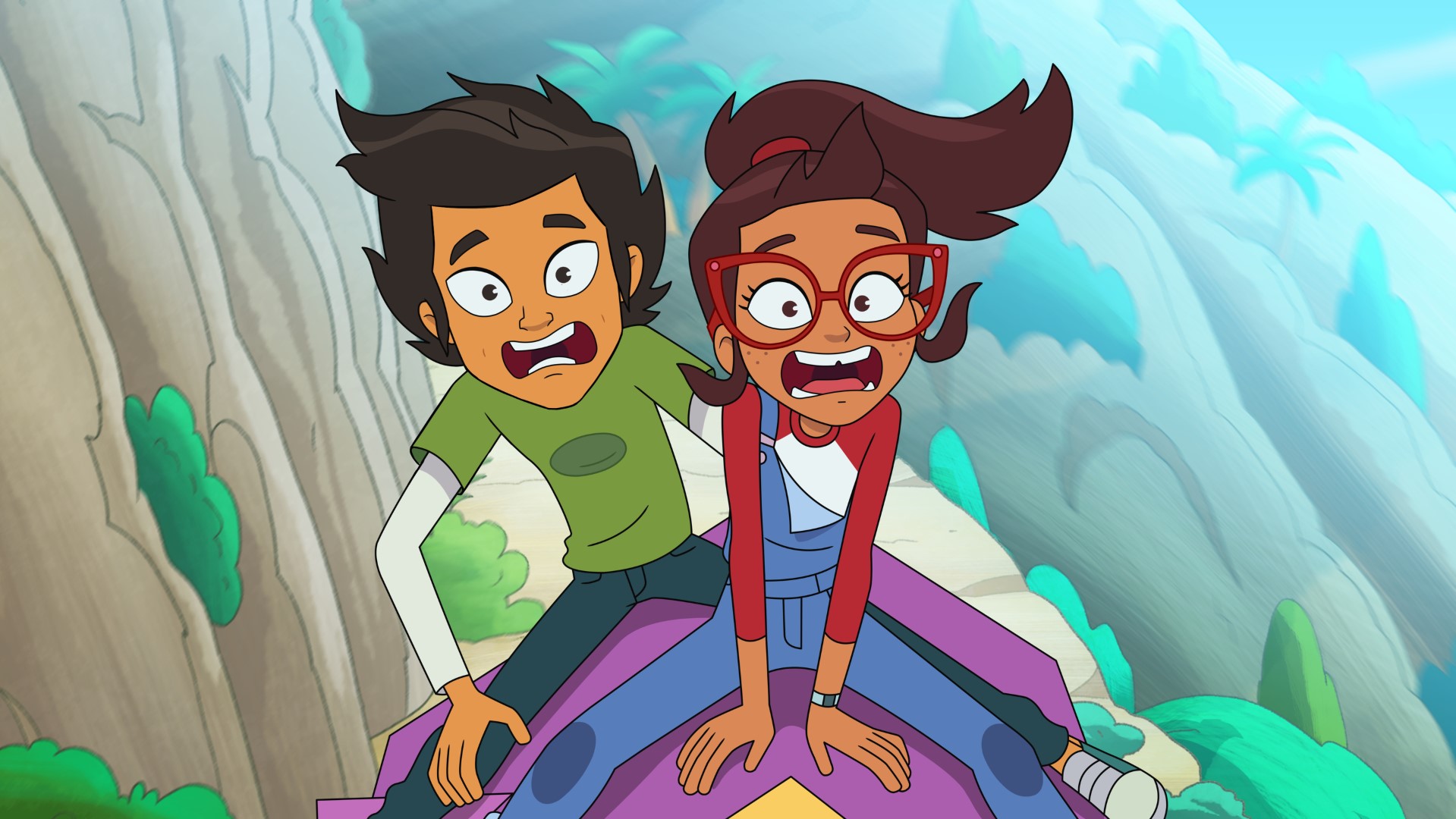 One of the most charming, and I believe most powerful, elements of the series is the fast yet prolific turn Hailey undergoes from an anxious and fearful teen who is too afraid to take any action, to a brave, though still anxious, teen that always takes action. All it takes is belief and support from one person, and Hailey goes from over-analysis-paralysis to "I got this!… I think."
RELATED: How 'Hailey's On It!' Creators Came Up With The Brilliant Self-Prophecizing Series
It's a powerful message of support building confidence, confidence and effort beating out thought and theories, and experience being worth more than simply imagining. The way the series does it is not heavy-handed at all in its approach, but hefty in impact. It's a very powerful message and I think it will really inspire everyone who watches the series.
So I asked Devin Bunje and Nick Stanton if it was always the plan to do so or did it come about organically from their creative process.
Yeah, as we were fleshing them out, we sort of realized that's kind of the stories that we wanted to tell. Thematically, we liked the idea of having a takeaway of anyone can make a difference and then you can be the change you want to see in the world. So we liked the idea that this girl who seems a little hesitant to do things is fully capable of doing great things. And sort of combining with that, we've always loved shows where it's sort of ordinary characters that are thrust into these crazy, extraordinary circumstances.

So thinking back to like Bill and Ted's or Futurama or Back to the Future kind of shows
the movies that kind of have that element. We thought that'd be a really fun dynamic for
someone like Hailey that is too scared to go off the high dive at the beginning of the show.

Devim Bunje, Co-Creator/Executive Producers of Hailey's On It!
Yeah, it's sort of an exercise in opposites too. We didn't want to be a show where we just kind of reset every episode. We wanted the characters, in particular, Hailey, to evolve as the series
went on. There's a serialized story arc and there's a character growth that happens. She starts off
having a hard time stepping outside of her comfort zone. But we know that in the future,
she is going to accomplish these great things.

So we're like, you know, what does that journey look like? And how can we start her from this place and get her to here, basically, was an interesting exercise.

Nick Stanton, Co-Creator/Executive Producers of Hailey's On It!
RELATED: The Ghost and Molly McGee Creators Wanted to Make A Show About Friends Not 2 People Who Hate Each Other
One thing a lot of people kind of neglect to realize or acknowledge when changing, improving, or achieving is all of the little things that are required to make it happen. Hailey's On It! very obviously but very lightheartedly shows how a person can change the world by doing a bunch of small things. It's a great lesson that Bunje and Stanton have embedded into the DNA of the series and one that is sure to entertain and inspire the audience.
See for yourself when Hailey's On It premiers tonight, Thursday, June 8, 2023, at 8 PM on the Disney Channel and Disney XD, and the next day on Disney+.
About Hailey's On It
Release Date: June 8, 2023
Creators/Executive Producers: Devin Bunje, Nick Stanton
Co-Executive Producer/Supervising Director: Howy Parkins
Producer: Wade Wisinski
Story Editor: Karen Graci
Art Director: Lee Ann Dufour
Directors: Cat Harman-Mitchell, Leslie Park
Songwriters/Composters: Matthew Tishler, Andrew Underberg
Production: Disney Television Animation
Network: Disney Channel, Disney XD, and Disney+
Cast: Auli'i Cravalho, Manny Jacinto, Gary Anthony Williams, Cooper Andrews, Julie Bowen, Josh Brener, Sarah Chalke, Nik Dodani, Judy Alice Lee, Amanda Leighton, Joy Osmanski, Nico Santos

Synopsis
Animated comedy-adventure "Hailey's On It!" follows Hailey, a risk-averse but resourceful teenager on a mission to complete every item on her long list of challenging — and sometimes impractical — tasks in order to save the world. Whether she's tackling every ride at the county fair, performing in a musical, reuniting a singing duo or facing her ever-growing and complicated feelings toward her best friend Scott, Hailey is always encountering new challenges ― and more opportunities to conquer her fears.
Will you be tuning into the premiere of Hailey's On It!? Have you come to understand the power of incremental change? How would you be different if you learned about it at an early age? Let us know your thoughts and reaction to the series on social media!
KEEP READING: Marvel's Moon Girl and Devil Dinosaur Adds Legendary Actor as Main Villain for Season 2