Lionsgate is set to release the highly anticipated comedy film About My Father on Premium Video on Demand on June 16. Written by Austen Earl and the comedic sensation Sebastian Maniscalco, who also stars in the film, it promises to deliver a hilarious exploration of relationships and the intricate dynamics of family.
Accompanying Maniscalco is the legendary Robert De Niro, known for his remarkable performances and multiple Academy Award wins. Directed by Laura Terruso, the film brings together an ensemble cast featuring Leslie Bibb, Anders Holm, Brett Dier, David Rasche, and Kim Cattrall.
About My Father Trailer
RELATED: Pixar Debuts the Charming "Carl's Date" Trailer
In About My Father, generations collide as Sebastian (Maniscalco) is persuaded by his fiancée (Bibb) to introduce his Italian hairdresser father, Salvo (De Niro), to her affluent and idiosyncratic family. As the weekend unfolds, the clash of cultures and personalities leads to uproarious and unforgettable moments. With Maniscalco's comedic brilliance and De Niro's seasoned talent, the film promises a laugh-out-loud experience that explores the complexities and joys of family.
The star-studded cast includes Sebastian Maniscalco, who has become a household name with his captivating performances in films like The Irishman and Green Book. Robert De Niro, a two-time Oscar winner and a cinematic icon, brings his unparalleled charisma to the role, reminding audiences of his extraordinary range. Leslie Bibb, known for her roles in Iron Man and TV's Love Life, adds to the film's charm. Anders Holm, David Rasche, and Brett Dier join the ensemble, bringing their own comedic flair to the mix. Notably, Kim Cattrall, best known for her role in TV's Sex and the City, showcases her talent in this highly anticipated comedy.
RELATED: Broken Lizard Gives Us a Hopeful Update on the Beer Fest Sequel, Pot Fest
About My Father offers a delightful blend of humor and heart as it explores the beauty and challenges of familial connections. The film is poised to captivate audiences with its witty script, outstanding performances, and relatable themes. With the convenience of Premium Video on Demand, viewers can enjoy this comedy gem from the comfort of their homes. Get ready for an uproarious journey through family dynamics, cultural clashes, and the enduring bonds that define us all.
About My Father is available on Premium On Demand beginning June 16, 2023.
About About My Father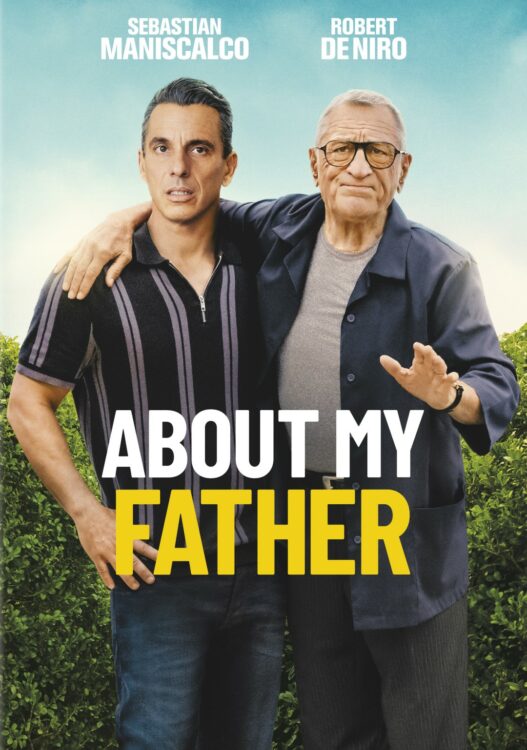 Release Date: June 16, 2023 (USA) Premium On Demand
Director: Laura Terruso
Screenplay: Sebastian Maniscalco, Austen Earl
Producers: Chris Weitz, Paul Weitz, Andrew Miano, Judi Marmel
Production: Depth of Field
Distributed By: Lionsgate Films
Cast: Sebastian Maniscalco, Robert De Niro, Leslie Bibb, Anders Holm, Davis Rasche, Kim Cattrall

Synopsis
Generations collide in this hysterical comedy starring Sebastian Maniscalco and two-time Oscar® winner Robert De Niro (including Best Actor, Raging Bull, 1980). Sebastian (Maniscalco) is encouraged by his fiancée (Leslie Bibb) to bring his Italian hairdresser father Salvo (De Niro) to a weekend get-together to meet her wealthy and eccentric family (Anders Holm,  David Rasche, Brett Dier, and Kim Cattrall). As the weekend turns into an outrageous clash of cultures, Sebastian and Salvo discover that the great thing about family is everything about family.
Have you already watched About My Father? What did you think of Sebastian Maniscalco and Robert De Niro's father-son chemistry in the film? Did you enjoy the dynamics of adults and their parents? Let us know your thoughts and reaction to the film on social media!
Source: Lionsgate
KEEP READING: Seth Rollins' Captain America: Brave New World Role Possibly Revealed