Pixar Animation Studios is bringing back one of its most beloved characters with the upcoming short film Carl's Date. Opening exclusively in theaters on June 16 in front of Disney and Pixar's highly anticipated film Elemental, this new short marks a return to the studio's cherished tradition of pairing animated shorts with its feature films on the big screen
Carl Fredricksen and Dug are iconic characters from Pixar's heartwarming film Up. Carl, a retired balloon salesman, is a curmudgeonly yet endearing widower who embarks on a remarkable adventure to fulfill his late wife's lifelong dream. With his house lifted by thousands of balloons, Carl sets off to the wilderness of South America, accompanied by an unexpected stowaway, Dug.
RELATED: Spider-Man: Across the Spider-Verse Creators Reveal How to Avoid Superhero Fatigue
Dug is a lovable and talkative golden retriever who wears a special collar that allows him to speak English. Despite his distractible nature, Dug is fiercely loyal and becomes an indispensable companion to Carl throughout their journey. Together, Carl and Dug capture the hearts of audiences with their touching bond, humor, and unwavering spirit of adventure.
Carl's Date Trailer
Written and directed by the talented Bob Peterson, an Academy Award nominee and Emmy Award winner, and produced by Kim Collins, Carl's Date takes audiences back into the heartwarming world of Carl Fredricksen (voiced by Ed Asner) and his lovable talking dog, Dug (voiced by Bob Peterson himself). Fans will be delighted to catch up with Carl as he embarks on a reluctant date with a lady friend, navigating the complexities of modern dating.
Luckily, Dug steps in to offer his comical yet insightful advice on making friends, lending a paw to his human companion. Get ready for a heartwarming and hilarious adventure as Pixar once again brings its magic to the screen with Carl's Date.
Pixar Animation Studios brings back the beloved tradition of pairing its feature films with animated shorts on the big screen. This Friday, June 16, audiences can enjoy the all-new short film Carl's Date and Disney and Pixar's highly anticipated film Elemental together. This will be the first time since Incredibles 2 was released in 2018.
RELATED: Warner Bros. Pictures To Revamp Animation Division With New Content And A New Boss Who Prioritizes Filmmakers
While Pixar has never stopped making shorts, and in fact made much of them more accessible on Disney+, some magic has been missing from their films without their beloved shorts accompanying them. Don't miss the chance to witness the return of this cherished tradition and experience the joy of Carl's Date and Elemental on the big screen.
Elemental and Carl's Date premieres on June 16, 2023, exclusively in theaters. Tickets are on sale now.
About Elemental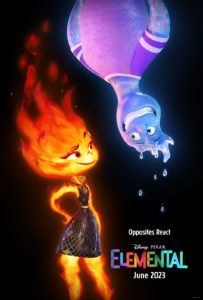 Release Date: June 16, 2023
Director: Peter Sohn
Executive Producer: Pete Docter
Producer: Denise Ream
Screenplay: John Hoberg & Kat Likkel and Brenda Hsueh
Story By: Peter Sohn, John Hpberg & Kat Likkel and Brenda Hsueh
Score: Thomas Newman
Produced By: Pixar, Walt Disney Pictures
Distributed By: Walt Disney Studios Motion Pictures
Cast: Leah Lewis, Mamoudou Athie, Ronnie del Carmen, Shila Ommi, Wendi McLendon-Cobey, Catherine O'Hara, Mason Wertheimer, Joe Pera

Synopsis:
Disney and Pixar's "Elemental" is an all-new original feature film that transports moviegoers to an extraordinary place called Element City, where a host of elements live and work. The trailer showcases each element—air, earth, water and fire—and what sets them apart according to Ember, a quick-witted and fiery woman who's always stayed close to home in Firetown. In "Elemental," which opens in theaters on June 16, she finally ventures out of her comfort zone to explore this spectacular world born from the imaginations of Pixar's filmmakers and specifically crafted for the big-screen experience.
Source: Pixar
KEEP READING: Hailey's On It! Creators Reveal Inspiration That Takes Hailey From 0 Action to Action Hero