The inspired by true events, but definitely not exactly true, Cocaine Bear is available to watch at home! This wild wilderness adventure about a bear on that booger sugar and fiending for more is a great time. A little horror, a little action, and a bunch of comedy, it's a great film to watch with a group. But do the film's bonus features make it worth adding to your collection? Let us help you decide.
Cocaine Bear Home Media
Cocaine Bear offers quite a few bonus features with the home media edition. These bonus features include an alternate ending, deleted scenes, extended scenes, a gag reel, and three featurettes that take viewers behind the scenes of making the film. The gag reel is particularly hilarious and the "UnBEARable Bloodbath: Dissecting the Kills" featurette is as educational about making movie-quality deaths as it is hilarious to see everyone work so hard to be in character for those bloody scenes.
RELATED: Cocaine Bear Review – A Pure Bump of Joy
Where Cocaine Bear's physical home media gets a bonus, it has a commentary track featuring director/producer Elizabeth Banks and Producer Max Handelman. Elizabeth Banks is not only hilarious but also shares her unique perspective on filmmaking which is funny and insightful. If you learn/understand things better when it's funny, Banks offers a masterclass on this commentary track.
Does Cocaine Bear Cut It?
Cocaine Bear was an incredibly fun movie to watch. If you really like the movie and want to know about the stories, shenanigans, and work that went into bringing this comedically macabre film to life, it is a must-own on home media. If you're a super nerd when it comes to bonus features, the physical home media is the way to go. The commentary track is well worth it. The only downside is that there is no 4K version on home media.
RELATED: Dungeons & Dragons: Honor Among Thieves Home Media Review – A Magical Addition to the Collection
Cocaine Bear home media gets a 3/5 for digital as it has most of the bonus features, but a 4/5 on physical home media for having the commentary track. It lost a point for not having a 4K version.
Cocaine Bear is available now on digital April 14 and Blu-Ray & DVD on April 18. It is also streaming on Peacock.
ABOUT COCAINE BEAR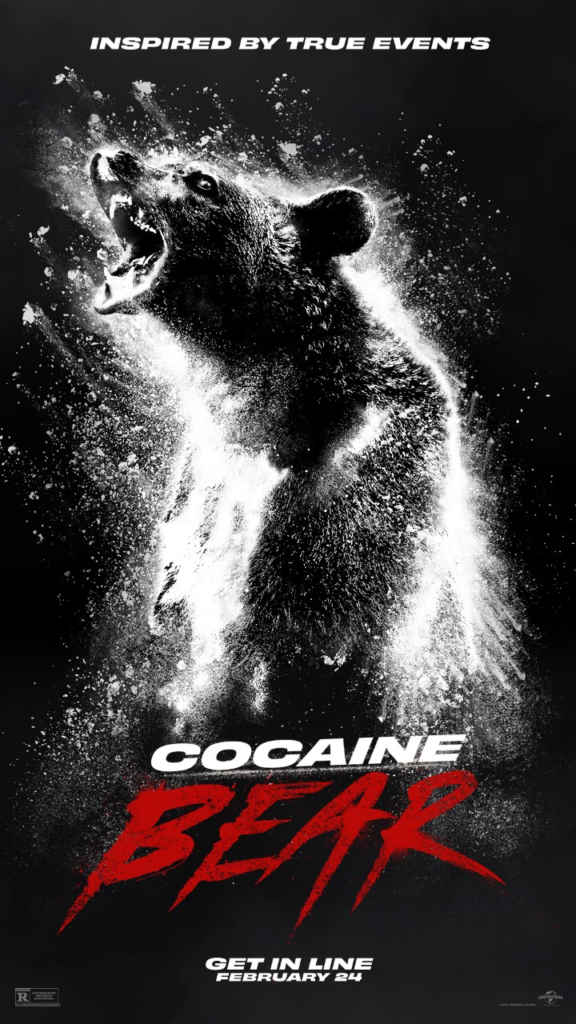 Release Date: April 14, 2023, on digital and April 18, 2023, on Blu-Ray & DVD
Director: Elizabeth Banks
Producers: Elizabeth Banks, Max Handelman, Phil Lord, Aditya Sood, Brian Duffield, Chris Miller
Art Director: Christine McDonagh
Cinematography: John Guleserian
Costume Design: Tiziana Corvisieri
Production Companies: Lord Miller Productions, Brownstone Productions, Jurassic Party Productions
Distributed By: Universal Pictures
Running Time: 95m
End Credits: 2 mid-credits
Cast: Keri Russell, O'Shea Jackson, Jr., Christian Convery, Alden Ehrenreich, Jesse Tyler Ferguson, Brooklynn Prince, Isiah Whitlock Jr., Kristofer Hivju, Hannah Hoekstra and Aaron Holliday, with Emmy winner Margo Martindale and Emmy winner Ray Liotta

Synopsis:
Inspired by the 1985 true story of a drug runner's plane crash, missing cocaine, and the black bear that ate it, this wild dark comedy finds an oddball group of cops, criminals, tourists and teens converging in a Georgia forest where a 500- pound apex predator has ingested a staggering amount of cocaine and gone on a coke-fueled rampage for more blow … and blood.
Are you ready to go off the rails with Cocaine Bear? You going to stream it or take it home? Do you think this is the beginning of a new animals on drugs horror-comedy franchise? Let us know what you think and share your reactions with us on social media!
KEEP READING: The Super Mario Bros. Movie Home Media Review