Elizabeth Banks goes off the rails and over the line in the best way possible with Cocaine Bear.
What happens when a bear does cocaine? In reality, the bear that inspired this movie got stuffed and is now in some mall and never harmed anyone. But in Universal Studios' dark comedy horror, Cocaine Bear, this Flaked-Up Fozzie Bear is on a mission for blow and it will bear down on anyone acting like a speed bump to its next bump. Unfortunately for the characters in the movie, their paths are destined to cross with the Tootin Teddy. Fortunately for the audience, it is a gloriously gory comedy horror that will have them laughing and screaming. Cocaine Bear is just a great time at the movies that capitalizes on the shared experience.
Powder Paddington Provides Passionate Performances
Before we talk about the Cocaine Bear, let's talk about the cast. This far-out concept is grounded and made alluring by this eclectic group of performers. While this movie may not get noticed by prestigious awards, every actor fully commits and make this far-out concept really work. All the characters seem like people who were just going about their day until it is absolutely ruined by the coked-out Care Bear. Every performer powerful plays their part until the end. Whether it is the character's end, or the film's, will be left for you to discover.
RELATED: 80 For Brady Review – Fun, Friendship, and Fierce Fandom
While every performance is perfect for the film, Ray Liotta's has to be mentioned. While by no means playing a character that is outside his wheelhouse, Liotta fully commits and looks to be having a lot of fun playing in Powder Paddington's Playpen. It's cool that one of his final films was such an obviously good time for all those involved. It is palpable in the chemistry, and I look forward to all the behind-the-scenes stuff.
Booger Sugar Boo Boo Busts Balls
But despite all of the award-winning performers, and their award-worthy performances, the star of Cocaine Bear is Booger Sugar Boo Boo. There is something adorable about seeing an animal act like a human, even if it is simply exhibiting signs of being high on cocaine. Seeing the bear head bang against a tree, lick its gums, and fiend for more is "aww"-inducing. Then there's the unlimited power the cocaine bestows upon the bear. It is terrifying. This bear breaks anyone and anything in its way. It needs more cocaine and will get it.
RELATED: Ant-Man and the Wasp: Quantumania Review – Marvel Begins A New Dynasty
Bears are naturally very powerful and capable creatures, but a Cocaine Bear is a menace. Seeing the bear tear through protections and people is gruesome. The team responsible for the visceral visuals deserves a lot of praise because the mangle bodies look very real. This is only enhanced by the team doing the foley. These foley artists bring the viscera to life in truly gruesome fashion. Getting a whole audio and video experience of should delight fans of the genre, without going overboard and deterring those who might not be able to stomach the gore.
Yeyo Yogi Yots Y'all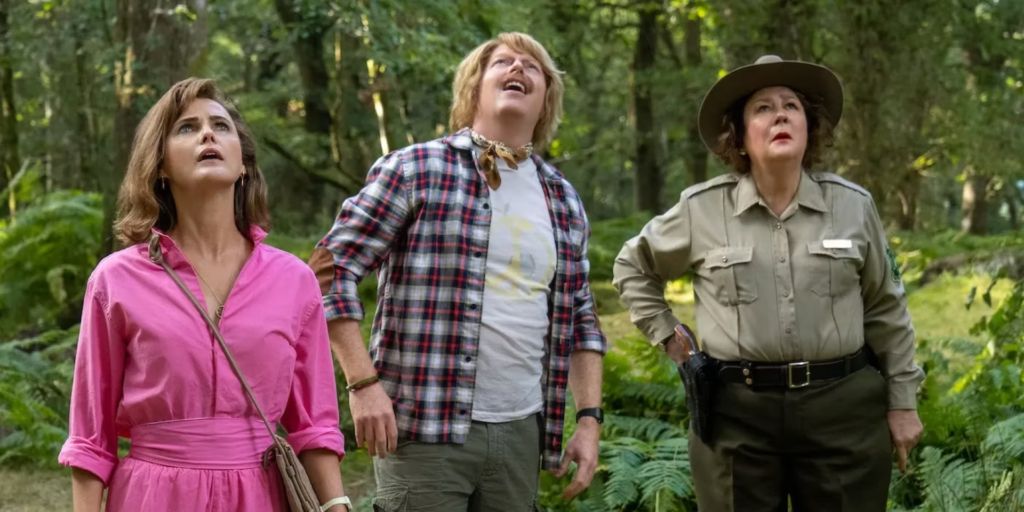 What seals the deal and ties the performances, the bear, and the whole experience together is the likability and instant attachment of each of the characters. Humans and bear. Each character is instantly likable. Even the unlikeable characters are presented in a way that you do not want them to die horribly. Each character has motivations and desires that come through almost immediately, and this adds a lot to the stakes of the film. Keri Russel plays a single mother who just wants to protect her daughter, Margo Martindale is just an under-appreciated forest ranger trying to get the dust off her beaver, and Ray Liotta is a drug dealer trying to keep his job and life.
RELATED: Missing Review – Deviously Delightful Digital Mystery
Each character has a motive and tangible things to lose, outside of their life. Even Yeyo Yogi has motive… more cocaine! Yes, the Cocaine Bear's motive for more cocaine is extremely simple, but it works. It allows the bear to be a force of nature that indiscriminately plows through barriers to its goal, while also adding conflict, intrigue, and terror, to the humans and members of the audience.
Rupert Rolling on Rails Rocks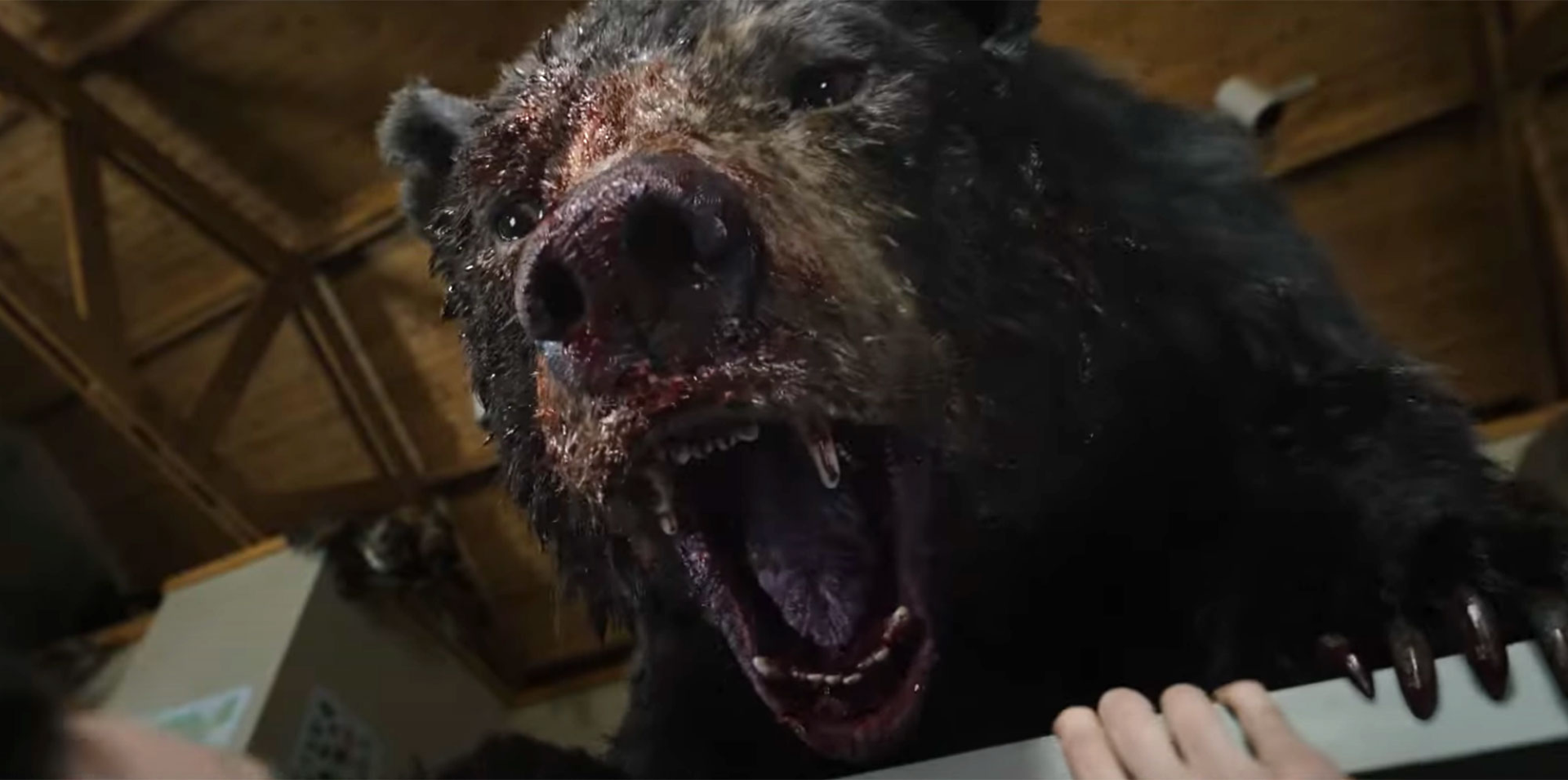 RELATED: Violent Night Review – Everyone's New Favorite Christmas Movie
The one critique I have for the film is that it is often obvious the bear is CGI. But it's never enough to ruin the suspension of disbelief. Knowing nothing about the movie except that it is a gory dark-comedy horror will guarantee of great movie experience.
Cocaine Bear is a wildly fun time at the theaters. It is one of those movies that is made better by the shared experience of everyone watching together. Elizabeth Banks leads a stellar cast through a truly wild drug trip. The film is as multi-hyphenated as its cast and perfectly embodies elements of horror and comedy to create this fun, funny, and frightening experience. Cocaine Bear will have audiences at the edge of their seat grinding their teeth waiting for more.
For the pure bump of joy, I give Cocaine Bear a 9/10.
Cocaine Bear releases exclusively in theaters on February 24, 2023.
About Cocaine Bear
Release Date: February 24, 2023 (USA)
Director: Elizabeth Banks
Producers: Elizabeth Banks, Max Handelman, Phil Lord, Aditya Sood, Brian Duffield, Chris Miller
Art Director: Christine McDonagh
Cinematography: John Guleserian
Costume Design: Tiziana Corvisieri
Production Companies: Lord Miller Productions, Brownstone Productions, Jurassic Party Productions
Distributed By: Universal Pictures
Running Time: 95m
End Credits: 2 mid-credits
Cast: Keri Russell, O'Shea Jackson, Jr., Christian Convery, Alden Ehrenreich, Jesse Tyler Ferguson, Brooklynn Prince, Isiah Whitlock Jr., Kristofer Hivju, Hannah Hoekstra and Aaron Holliday, with Emmy winner Margo Martindale and Emmy winner Ray Liotta

Synopsis:
Inspired by the 1985 true story of a drug runner's plane crash, missing cocaine, and the black bear that ate it, this wild dark comedy finds an oddball group of cops, criminals, tourists and teens converging in a Georgia forest where a 500- pound apex predator has ingested a staggering amount of cocaine and gone on a coke-fueled rampage for more blow … and blood.
Are you ready to go off the rails with Cocaine Bear? Did you already get your tickets? Do you this is the beginning of a new animals on drugs horror-comedy franchise? Let us know what you think and share your reactions with us on social media!
KEEP READING: Knock at the Cabin Review – Shyamalan's New Film Recreates Annoyance of Unwanted Solicitors