Attention all thrill-seekers and fans of high-octane espionage! Brace yourselves for the next adrenaline-pumping installment of the Mission: Impossible franchise. Paramount Pictures and Skydance proudly present Mission: Impossible – Dead Reckoning Part One, featuring the iconic Tom Cruise as the unstoppable Ethan Hunt.
Today marks an exciting milestone as tickets officially go on sale for this highly anticipated film, promising heart-stopping action, mind-bending twists, and a race against time that will leave audiences on the edge of their seats. To celebrate Paramount Pictures has released a behind-the-scenes featurette about the car chase in Rome.
Mission: Impossible – Dead Reckoning Part One
In Mission: Impossible – Dead Reckoning Part One, Ethan Hunt and his elite IMF team embark on their most perilous mission to date. Their objective: to locate and neutralize a nefarious new weapon capable of plunging humanity into chaos. As the fate of the world hangs in the balance, and with ominous forces from Ethan's past closing in, a harrowing global pursuit ensues. Faced with an enigmatic and all-powerful enemy, Ethan must grapple with the unthinkable—prioritizing his mission above all else, even the lives of those closest to him.
RELATED: Transformers: Rise of the Beasts Review – The Spark Has Never Been Stronger Despite Not Maximizing the Maximals
Under the masterful direction of Christopher McQuarrie, known for his work on previous films of the franchise, audiences can expect a thrilling and tightly woven narrative. McQuarrie also co-wrote the script alongside Erik Jendresen, ensuring a captivating and immersive experience that remains true to the beloved television series created by Bruce Geller.
Tom Cruise reprises his role as the indomitable Ethan Hunt, leading a star-studded ensemble that includes Hayley Atwell, Ving Rhames, Simon Pegg, Rebecca Ferguson, Vanessa Kirby, Esai Morales, Pom Klementieff, Mariela Garriga, Henry Czerny, Shea Whigham, Greg Tarzan Davis, Charles Parnell, Frederick Schmidt, Cary Elwes, Mark Gatiss, Indira Varma, and Rob Delaney. With such an impressive lineup of talent, the performances are sure to be electrifying and add further depth to the heart-pounding action.
RELATED: Shortcomings, Randall Park's Directorial Debut, Drops Gripping Official Trailer
The film is not only a Tom Cruise production but a testament to his dedication to delivering unparalleled action and entertainment. With Christopher McQuarrie by his side as producer, this dynamic duo has consistently pushed the boundaries of the genre, creating immersive experiences that have captivated audiences worldwide.
Gear up for the cinematic event of the year as Mission: Impossible – Dead Reckoning Part One prepares to take you on an exhilarating journey filled with danger, intrigue, and non-stop thrills. The mission awaits, and with tickets now on sale, it's time to secure your spot for this high-stakes adventure. Don't miss out on the pulse-pounding excitement—grab your tickets today and get ready for an unforgettable cinematic experience.
Mission: Impossible – Dead Reckoning Part One releases exclusively in theaters on July 12, 2024
About Mission: Impossible Dead Reckoning Part One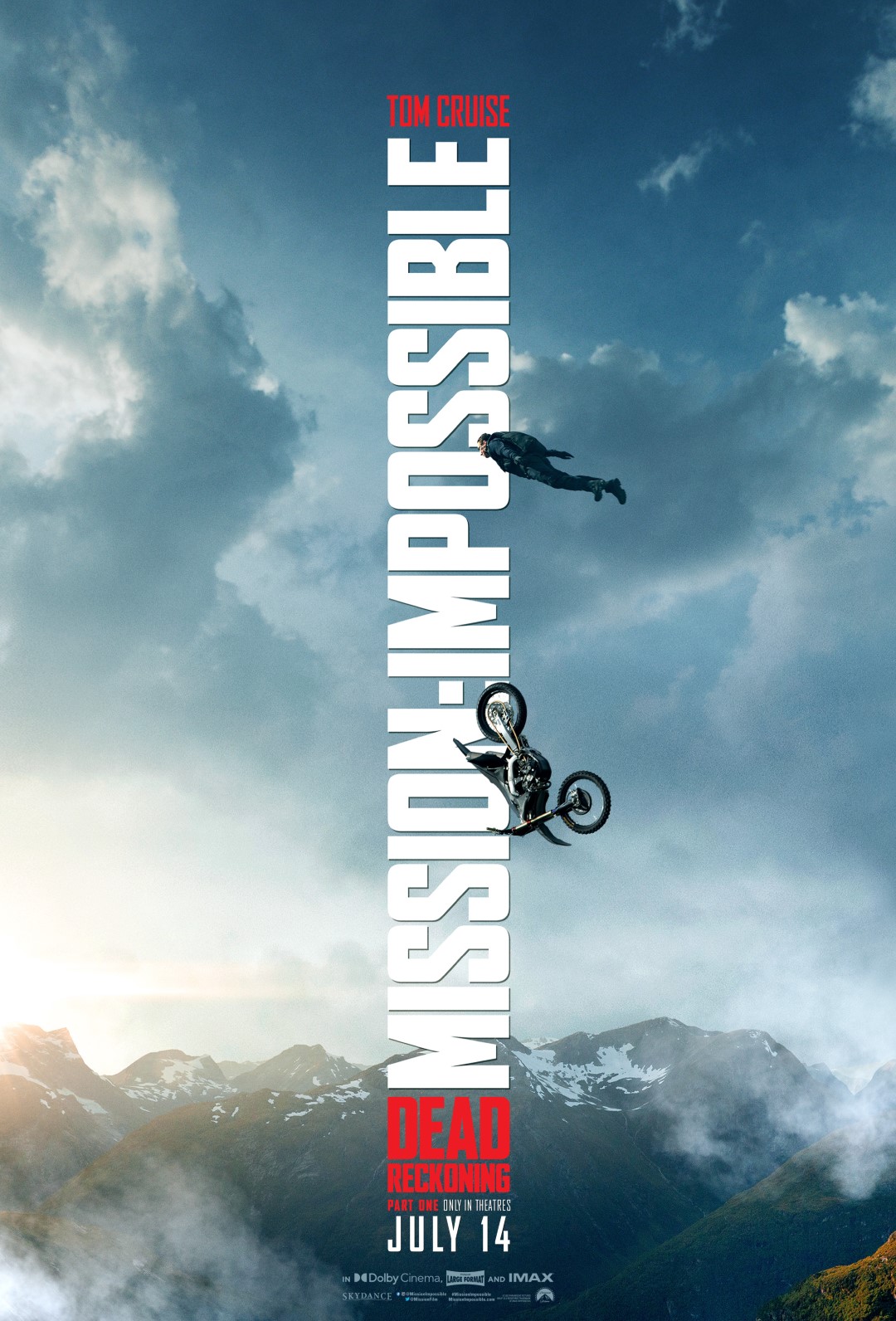 Release date: July 12, 2023 (USA)
Director: Christopher McQuarrie
Cinematography: Fraser Taggart
Editor: Eddie Hamilton
Screenplay: Christopher McQuarrie
Distributed by: Paramount Pictures
Cast:
Tom Cruise, Ving Rhames, Simon Pegg, Rebecca Ferguson, Vanessa Kirby, Hayley Atwell, Shea Whigham, Pom Klementieff, Esai Morales, Henry Czerny, Rob Delaney, Cary Elwes, Indira Varma, Mark Gatiss, Charles Parnell, Greg Tarzan Davis, Frederick Schmidt

Logline
Are you excited for Mission: Impossible – Dead Reckoning Part One? Do you think Part Two will be Cruise's final film in the franchise? Would you want to do any of Tom Cruises' stunts? Let us know your thoughts on Social Media!
Source: Paramount Pictures
KEEP READING: What The Incredible Transformers: Rise of the Beasts Post-Credits Scene Means For The Future of 2 Franchises