The Blackening, based on the 3Peat Comedy Central short of the same name, follows a group of friends who celebrate Juneteenth inside a cabin in the woods. There, they are stalked by a masked killer who has plans of their own and traps the group of friends inside a "Game Room," where they are forced to play a racist board game called "The Blackening" to save one of their friends who the killer abducted.
What starts out as a simple card game gets more complex as the killer's demands change from moment to moment, and the house is rigged with automatic locks on every corner. The group decides to do what Black people always do in horror movies, leading to their demise: split up. They do this to find who the killer is and why they are doing what they're doing. 
The Blackening Greatly Expands The Short
If you've seen the 3peat short, that entire sequence is featured in the film, where the killer asks the group to sacrifice someone they deem "the blackest." In that scene, one of the characters, Clifton (Jermaine Fowler), admits he voted for Donald Trump twice to exonerate himself. What's fun about watching a movie based on a short is finding out what elements of that specific movie they will expand upon while retaining the short's absurd and quick-witted humor. Fans of the short will be pleased to see the scene featured prominently inside the movie and be even more thrilled to see that the humor falls very much in line with what was established in the short. 
RELATED: Elemental Review – Pixar Reignites the Magic With a Gorgeous Story About Love and Identity
The Blackening successfully calls out all of the tropes that Black people, unfortunately, suffer in horror movies while simultaneously putting them in every one of these tropes. Director Tim Story and screenwriters Tracy Oliver and Dewayne Perkins (the latter also stars in the movie as Dewayne) do a great job at establishing the relationship Lisa (Antoinette Robertson) has with her friends: Dewayne (Perkins), Shanika (X Mayo), King (Melvin Gregg), Allison (Grace Byers), and Nnamdi (Sinqua Walls). Clifton shows up, though it seems like there's something he's not telling them (beyond voting for Trump twice) that he seems to hide close to himself. 
The Blackening Has a Predictable Plot, But Its Cast is Highly Talented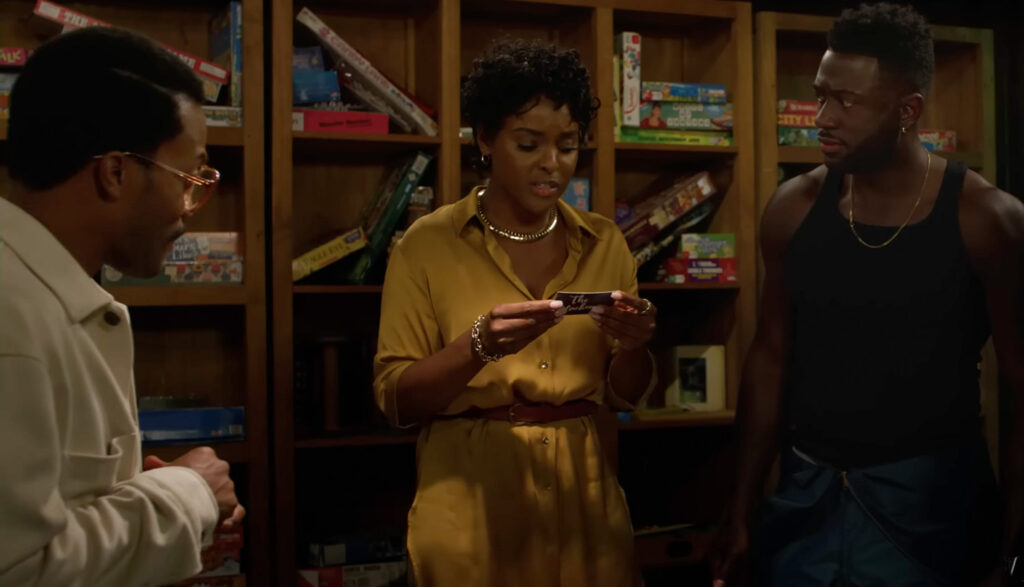 The Blackening spends a lot of time establishing the connection before thwarting them inside a horror plot that feels like it wants to subvert many tropes (it does, but only to an extent), but is contrived inside a clichéd storyline that can only subvert a select few tropes without going too overboard and subversive. The end result is an enjoyable movie that doesn't go to its fullest potential when it comes to showcasing to audiences how these tropes can be subverted.
I don't want to go too deep into detail because part of the fun is to guess who the killer is, but there's an inherent predictability in how the filmmaker tells the story that it becomes far too conventional for its own good. Near the beginning of the film, you can already sense that the killer is part of the friends, and within about twenty minutes, it's clear who it is. 
RELATED: ABOUT MY FATHER MOVIE REVIEW: ROBERT DE NIRO CARRIES THIS OTHERWISE MEDIOCRE COMEDY
It's part of why the final twist doesn't hit as it should — we see it coming. Sure, Story plays with that misdirection in a fun and exciting manner, and it's certainly interesting to see the actor playing the villain flex many ranges of expressions throughout the film that keeps viewers on their toes. The kills are also surprisingly brutal, though at times played for gross laughs, which keeps the movie consistently engaging and spine-tingling. Yes, it's a comedy at heart, but it isn't afraid to make the audience occasionally squirm. 
The performances are also great. Robertson is a particular highlight, but Byers steals the show multiple times. One scene where she accidentally takes Adderall and starts tripping balls had me in stitches and is hands-down the best part of the entire movie. Story hasn't necessarily made the best comedies in recent memory, but he feels like he's able to make the material his own and give a style to the The Blackening's action scenes that make it somewhat energetic and watchable. And he's aided by a cast of incredible actors giving their all in every scene. 
Fans of the short film will not be disappointed. Non-fans and casual viewers may also find some high enjoyment in The Blackening. It's a shame that the story had to be so conventional, but if you remove that from the equation, you get a fairly enjoyable and funny horror comedy that dares to subvert many tropes that have unfortunately plagued horror movies for a long time. I feel it's high time for a change. Don't you?
3/5
The Blackening is now playing in theaters. What did you think of the movie? What is your favorite Tim Story production? Let us know in the comments below, and be sure to follow us on social media!
KEEP READING: SKULL ISLAND REVIEW – AN ISLAND FULL OF FEARSOME CREATURES BUT THE FOCUS IS ON 6 RANDOM HUMANS