It's officially been ten years since Monty Oum's RWBY first premiered on streaming services. Since then, anyone who has been on Twitter in this past decade is sure to have seen the four letters plastered all across the trending tabs. The truly polarizing anime series has been adapted into nine seasons of action-comedy content. But is Volume 10 on the horizon? Showrunner and writer Kerry Shawcross sure thinks so!
Unveiled today during the RWBY Panel at Rooster Teeth's premiere convention RTX, Shawcross, and fellow cast and crew, announced a slew of new content for the fan-favorite anime web series, including the physical release of the previous Volume, the streaming release of Volume 9's soundtrack, as well as new looks at the future of the franchise!
RELATED: Momocon: Atlanta Nerd Convention Returns Plots 2022 Return With Smash Ultimate Tournaments, Cosplay, & So Much More!
RWBY: HAS VOLUME 10 BEEN GREENLIT YET?
The short answer to that question is unfortunately no. Volume 10, the potential finale to RWBY, has been requested by fans worldwide. But for a show with effects and animation on the level the series has, it shouldn't surprise anyone that the budget is going to have to be massive. No figures have been announced regarding the budgets for the show so the fans really don't have any idea how much the show needs to be made.
That said, Shawcross was quoted as saying "Eddy [Rivas] and I and the writer's team have been working on stuff for Volume 10 despite not having a greenlight," at today's RTX Panel (via Twitter user RobinRising, who attended the panel). It's been previously mentioned that the future of RWBY stems mostly from the purchasing of associated official merchandise as well as continuous streaming numbers for RWBY via its new exclusive home on Crunchyroll.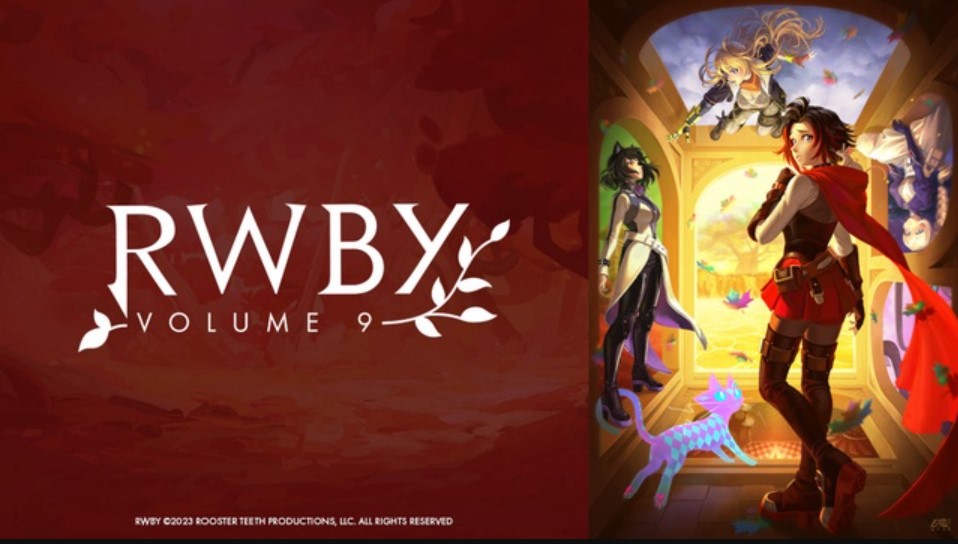 While Volume 9 is still available exclusively on Crunchyroll, how about some more at-home media?
RWBY: VOLUME 9 GETS OFFICIAL PHYSICAL RELEASE DATE ON BLU-RAY
Also announced today at the RTX Panel, RWBY Volume 9 will have its physical Blu-Ray/DVD Release later this fall on Oct. 3 alongside its official digital release outside of Crunchyroll. For those unaware, Volume 9 follows Team RWBY (Lindsay Jones, Kara Eberle, Arryn Zech, and Barbara Dunkleman) as they find themselves in a fairy tale world after failing to save a friend in the previous volume. Now, fighting emotions, trauma, and the confusion that comes with a world that doesn't obey logic, Team RWBY needs to escape back to the real world to save it from Salem (Jen Taylor).
Met with positive fan reaction, Volume 9 is sure to find a proper home in any RWBY fan's collection. However, that wasn't the only thing announced today.
RWBY: VOLUME 9 OFFICIAL SOUNDTRACK & SCORE RECEIVES A DIGITAL RELEASE DATE!
One thing any RWBY fan will tell you to get you to watch the show is that the music is amazing and to die for. The statement holds true now 10 years later with Casey Lee Williams and Martin Gonzalez getting ready to release the long-awaited soundtrack on all streaming services later this month on Jul. 28.
Having released two singles of the 44 tracks from the soundtrack, Casey and Martin have proven able to not only carry the weight of Jeff Williams' legacy but exceed themselves. You can listen to "Inside," the show's opening theme, as well as "The Edge" from the Volume's finale right now on Spotify below.
And yet, there's even more news on the franchise coming out of the panel at RTX 2023!
JUSTICE LEAGUE X RWBY: SUPER HEROES & HUNTSMEN PART 2 TEASED
Last year, Rooster Teeth Animation teamed with Warner Bros. Animation to release the first part of Justice League X RWBY: Super Heroes & Huntsmen via straight-to-DVD and straight-to-Digital. Now, hot on the heels of the Volume 9 announcements, Part 2 has been officially announced to release later this Fall and teased with the below image: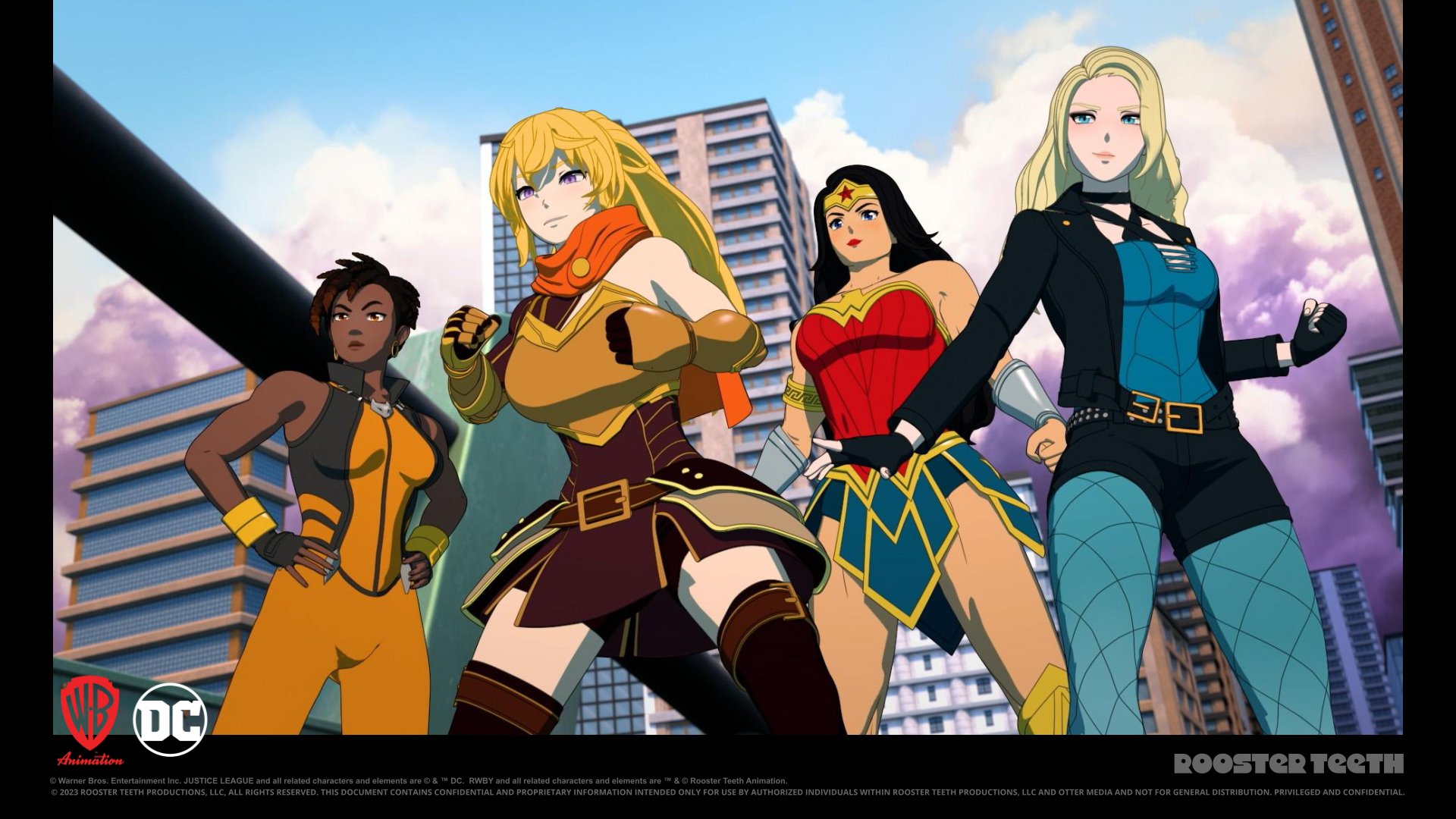 So far, the film is slated to feature Vixen (Ozioma Akagha), Yang Xiao-Long (Barbara Dunkleman), Wonder Woman (Natalie Alyn Lind), and Black Canary, whose voice actress has not been announced yet.
Rooster Teeth also revealed that fans will be able to watch Justice League X RWBY: Super Heroes & Huntsmen Part 1 on Warner Bros. Discovery's "new" streaming service MAX starting on Jul. 24. The film features DC Superheroes like Superman, Batman, Wonder Woman, The Flash, and Green Lantern crossing over into the world of Remnant. Now, searching for a way home, the Justice League must find a way to work with Team RWBY or be stuck on Remnant forever.
Speculation on Part 2 has widely agreed that the film will feature Team RWBY crossing over into the DC Universe to assist the Justice League in stopping the villain who united them in the first place. Part 2 is directed by Yssa Badiola (a writer on RWBY) and Dustin Matthews (who co-directed RWBY spinoff RWBY Chibi) and is expected for a Fall 2023 release on DVD and Digital.
WHAT'S NEXT FOR RWBY?
Right now, RWBY's future is up in the air following Warner Bros. Discovery's various content decisions, with various Rooster Teeth productions also on the chopping block. However, with the announcement of Rooster Teeth's newest (and final) season of Red Vs. Blue premiering this fall as well as another fan favorite series Camp Camp receiving a third season in 2024, the likelihood of Volume 10 being greenlit doesn't seem as far-fetched as it seems.
RELATED: Injustice: Gods Among Us Animated Movie Coming to Your Home October 19th
However, Rooster Teeth is still encouraging fans to purchase merchandise, including the Volume 9 physical release later this October, hoping to convince the higher-ups to provide the budget necessary to premiere Volume 10 in the Spring or Summer of 2024.
What do you think about the news about what's next for RWBY? If you want more news on anime and other Nerd content, be sure to follow The Illuminerdi on Twitter AND Follow us on our all-new Instagram Threads account below!
SOURCE: Rooster Teeth, Twitter
KEEP READING: Crunchyroll's Summer 2022 Anime Season Slate Announced