Delicious in Dungeon is coming to Netflix as an upcoming anime series for the start of 2024. The announcement for the new anime series was revealed during the Anime Expo 2023 event as the latest release will be streamed worldwide on the platform.
This will be one of the latest releases of content for the new year and the new anime drops during January 2024. The anime features a fantasy world where a party must survive by eating the monsters of a dungeon as they dive into an unexplored palate. 
RELATED: ONE PIECE: THE LEGENDARY ORIGINAL JAPANESE VOICE ACTORS TO DUB THEIR LIVE-ACTION COUNTERPARTS
Netflix have blessed fans with a range of content over the year, with a variety of anime content currently available. In addition to a range of movies and series, live-action adaptations have been highlighted as the streaming service reveals trailers and teasers for upcoming releases, One Piece and Avatar: The Last Airbender. Although some anime are no longer available, such as Gurren Lagann, various titles that are available on the platform including Eden's Zero, Ultraman, Tekken Bloodline, and The Seven Deadly Sins.
Delicious in Dungeon Coming to Netflix
On July 1st, 2023 KADOKAWA Corporation announced during the TRIGGER World Premiere at Anime Expo 2023 that the upcoming January 2024 anime, Delicious in Dungeon will stream on Netflix worldwide after its release. Ahead of its premiere, a special Delicious in Dungeon exhibit is being featured at the KADOKAWA booth (South Hall 1206) at Anime Expo 2023. Kentaro Kumagai, the voice of Laios, and Sayaka Sembongi, the voice of Marcille, are also attending Anime Expo 2023 as special guests from Japan.
RELATED: MASHLE: MUSCLES & MAGIC REVIEW – THE BEST MAGIC WORLD PARODY ANIME WITH PHYSICALLY IMPOSSIBLE SHENANIGANS
KADOKAWA Corporation announced Delicious in Dungeon TV anime will stream on Netflix worldwide during the world premiere at Anime Expo 2023. The upcoming Studio TRIGGER anime will premiere in January 2024. Ahead of the premiere, Delicious in Dungeon is being featured at the KADOKAWA booth (South Hall 1206) at Anime Expo 2023. Kentaro Kumagai, the voice of Laios, and Sayaka Sembongi, the voice of Marcille, are also present at Anime Expo 2023 from Japan.
The anime adaptation of the popular Japanese manga Delicious in Dungeon (Japanese: ダンジ ョン飯 / Hepburn: Danjon Meshi / lit. "Dungeon Meal"), written and illustrated by Ryoko Kui, has been highly anticipated ever since its track record of selling more than 8.5 million copies in Japan. In North America, the manga series is licensed by Yen Press and has been translated up to Volume 12 in English (as of June 2023).
Cast:
Kentaro Kumagai as "Laios"
Sayaka Sembongi as "Marcille"
Asuna Tomari as "Chilchuck"
Hiroshi Naka as "Senshi"
Delicious in Dungeon Official Synopsis
When young adventurer Laios and his company are attacked and soundly thrashed by a dragon deep in a dungeon, the party loses all its money and provisions…and a member!

They're eager to go back and save her, but there is just one problem: If they set out with no food or coin to speak of, they're sure to starve on the way!

But Laios comes up with a brilliant idea: "Let's eat the monsters!"

Slimes, basilisks, and even dragons…none are safe from the appetites of these dungeon-crawling gourmands!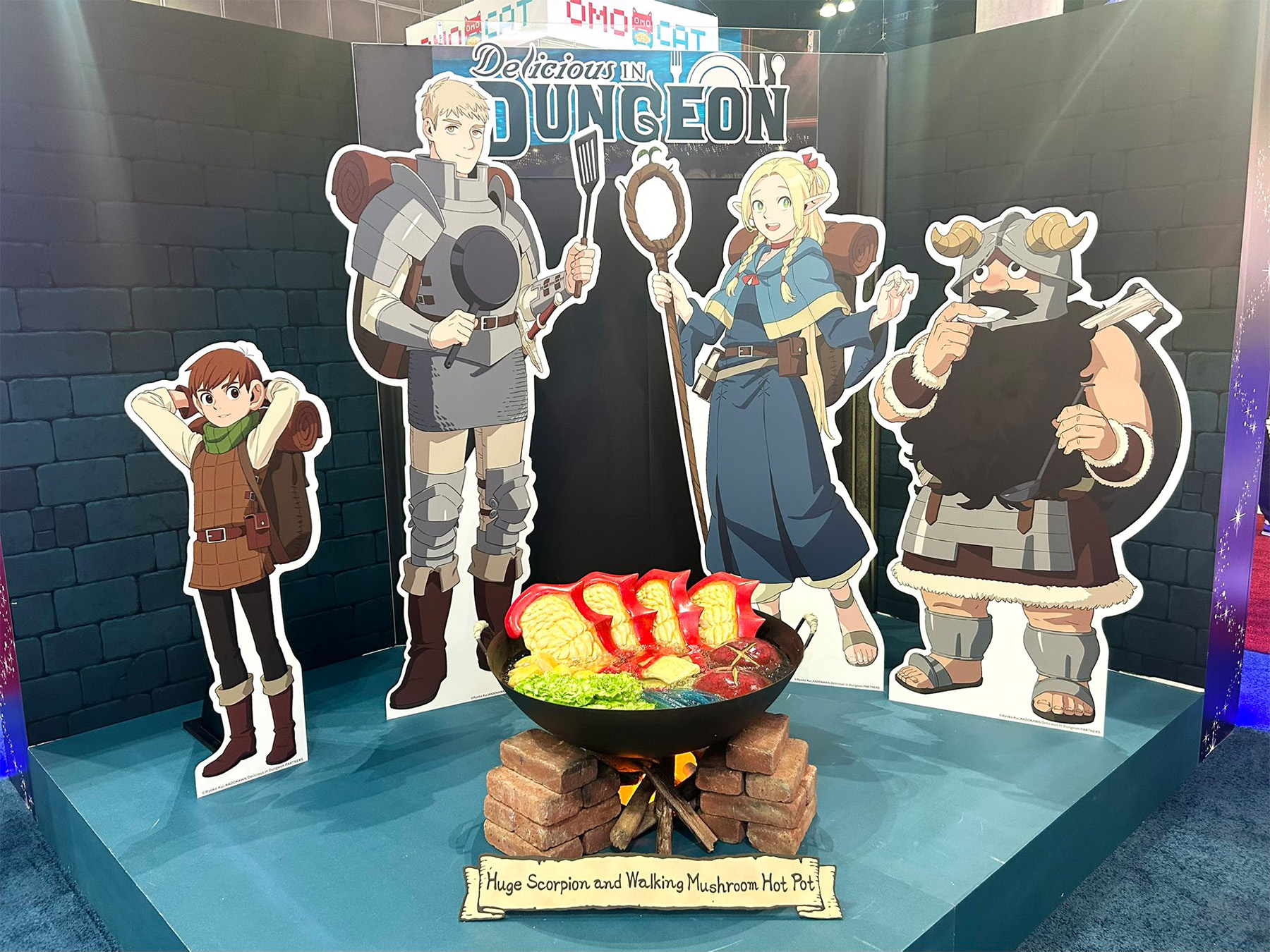 This is such a fantastic take on a Dungeon Crawler anime series since it highlights the horrific monsters that are likely used as a source of food in a fantasy world. This will be a great anime to dive into as it addresses a mix of lore with food quirks much like releases such as Campfire Cooking in Another World with My Absurd Skill. The reactions of the characters as they must survive by consuming nasty looking creatures is a great story that will be entertaining to explore, plus will be interesting to find out what kind of action it has in store for viewers.
Delicious in Dungeon will be released worldwide during January 2024, via Netflix. The new anime series page is currently available on the streaming service to active a reminder for the upcoming premiere.
About Delicious in Dungeon:
Release Date: January 2024
Author: Ryoko Kui (Delicious in Dungeon / KADOKAWA)
Director: Yoshihiro Miyajima
Story Editor: Kimiko Ueno
Character Design: Naoki Takeda
Music Composer: Yasunori Mitsuda
Animation Production: TRIGGER
Cast: Kentaro Kumagai, Sayaka Sembongi, Asuna Tomari, Hiroshi Naka
What do you think of Delicious in Dungeon? Do you enjoy watching anime on Netflix? Will you be setting a reminder for the release on the streaming platform? Let us know on social media and keep following The Illuminerdi for more anime news.
KEEP READING: WARNER BROS. & WIT STUDIO REVEAL UNEXPECTED SUICIDE SQUAD ISEKAI ANIME PROJECT WITH NEW TEASER
Source: Netflix