Top WWE Superstar Cody Rhodes recently spoke to Sam Roberts about what leaving AEW was like and how proud he is in helping to create it. Rhodes is currently one of the most popular Superstars in WWE. He has a big SummerSlam match with Brock Lesnar just around the corner.
With all of Cody Rhodes' recent success in WWE, it is easy to forget that he was all those same things in a rival promotion not that long ago.  In 2019 Rhodes along with others built AEW from the ground up and it has become WWE's only viable US rival.
In early 2022 Rhodes and AEW were unable to reach an agreement on contract negotiations and Rhodes left the company he helped to create. His departure was just one of the extremely weird things which have happened in wrestling over the last few years. It is still hard now to believe that he left AEW to return to WWE.
On a recent episode of Notsam Wrestling, Cody Rhodes discussed why his promo on a Jan. 19 episode of AEW: Dynamite felt like an exit interview.  He also had a goal in mind with the promo because he knew there was a very real possibility he may not be with AEW for much longer.
"I look at it now and I call it the exit interview, and I think, maybe selfishly, egotistically, maybe I wanted to remind them 'Hey, I appreciate that the company's changed. I do. Please know, though, there is no company had these things hadn't happened.' Now other stuff had to happen. [Chris] Jericho had to do his stuff, the [Young] Bucks had to do their stuff, Kenny [Omega] had to do his stuff, [Jon] Mox [Moxley] had to do his stuff. He's a big part of it, too. I don't give him credit enough. But I just wanted them to know."

H/T To Wrestling Inc. For Transcription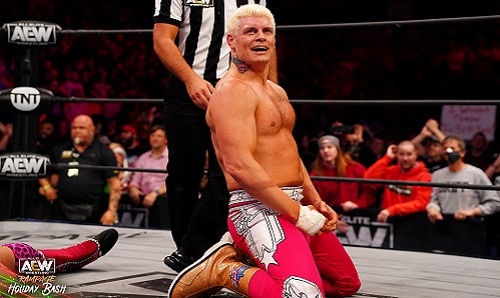 CODY SAYS GOODBYE TO THE PROMOTION HE HELPED CREATE AND HELLO TO HIS OLD ONE
Rhodes did indeed leave AEW in early 2022, and his reasons are still not entirely known. Rumors were circulating the internet that he would be returning to WWE. At WrestleMania, that year he made his big return as Seth Rollins' surprise opponent. WWE and its fans welcomed him back with open arms.
During Rhodes' Dynamite promo which he considers his exit interview, he made a remark saying he was "wanting them to know." The "them" he is referring to is the fans and he wants that to be clear and for the fans to know how much he appreciates them.
RELATED: WWE American Nightmare Becoming Cody Rhodes: Check Out Trailer And Release Date For Emotional Documentary
"I just, selfishly, wanted fans to know 'I love you guys so much. And I did all this. And if you have forgotten about it, I don't think that's cool, but it's part, it's the nature of it. Me, Matt [Jackson], and Nick [Jackson] talk about it all the time. People don't remember … It's so odd, because I was so mad at different journalists and stuff like that for how they discredited my dad, took things away from him. And then later he passed away and 'Oh yeah, he did all of this and that.'

"As mad as I was, I felt like in that moment, I was like 'Oh. It's happening all over again. Happening to me.' There's too many egos in wrestling, including my own. I can't take credit for the revolution. I can't. There were other people. Was I big part of it? Sure."
THE WRESTLING WORLD ACKNOWLEDGES CODY RHODES
To think that Cody Rhodes wasn't given credit for helping to build AEW is insane. As AEW was first being talked about, first as a PPV, then later as a promotion his name was always being mentioned. AEW always seemed like his baby, and Tony Khan gave him the money to fund it. Meanwhile, Kenny Omega, The Young Bucks, and Chris Jericho also gave the promotion credibility. This is why it is still so shocking that he left AEW.
RELATED: Cody Rhodes Admits The Huge Pressure He Feels To Surpass His Father's Legacy
Rhodes' next big match will be a continuation of his feud with Lesnar. It will be happening the Saturday after next on August 5 at SummerSlam. The event is being held at Ford Field in Detroit, Michigan. It will be streamed live on Peacock in the United States and on WWE Network overseas.
What did you think of Cody Rhodes' time in AEW? Do you think he was better in AEW or during his current run in WWE? Should Rhodes get more or less credit for his impact in AEW? Let us know if you think AEW would have been successful if everything was the same, but no Rhodes.
SOURCE: Notsam Wrestling, Wrestling Inc.
KEEP READING: Matt Cardona Wearing WWE Women's Tag Team Championship Was A Huge Stunt