Cody Rhodes talks about what it is like being a second generation wrestler and why he is so driven to reach the top of WWE.
---
Cody Rhodes came back to WWE in 2022 and has been one of the top guys in the company since. His merchandise is one of the best sellers, he is beloved by the fans, has had some of the best matches on any premium live event he is on and had very high-profile matches with some of the top guys in WWE.
Cody Rhodes has reached the top of WWE and the only thing he is missing is a world championship around his waist. Even though he has reached the top of the mountain, he isn't satisfied yet. He still has the drive to do more and wants to surpass his father, Dusty Rhodes', legacy.
RELATED: WWE's Rhea Ripley Talks About Her Strong Chemistry With Dominik Mysterio
Rhodes recently did an interview with ESPN Radio and talked about the drive second and third generation athletes feel to honor and surpass their parent's legacy.
"I think a big secret that there is when it comes to second- or third-generation wrestlers and honestly this trickles down to any athlete said. The thing you don't always say is 'I wanna honor them. I wanna honor my mom or my dad,' but also, you wanna be better than they were."

– Cody Rhodes – (H/T To Wrestling Inc. For Transcription)
Dusty's Legacy
Rhodes said that his drive to outdo his father isn't out of any sense of malice, but out of a sense of obligation he feels he owes his father. He put it as "you want to take it a step further."  Adding onto their accomplishments and extending their legacy while also establishing your own.
RELATED: MALAKAI BLACK TALKS CORE TO HIS POPULAR WWE CHARACTER AND WHAT HE LEARNED FROM SETH ROLLINS
Cody Rhodes' father was not some jobber from the past or some mid-card guy who fans kind of remember.  Dusty Rhodes was one of the top babyfaces in the '70 and '80s.  He eventually started booking for Jim Crockett Promotions which eventually became WCW.  After a brief stint in WWF, he would return to WCW and return to booking and do commentary until 2000.
Fellow Second Generation Wrestlers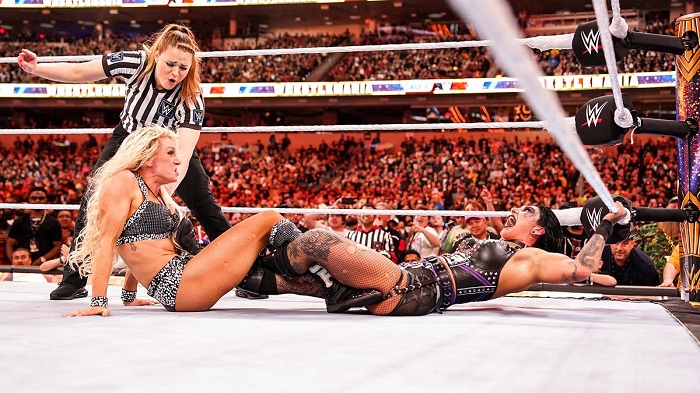 Being a second generation wrestler comes with a lot of pressure no matter how big their parents legacy is. However, when your father is considered one of the best ever the pressure must be overwhelming at times. The good thing is that Cody is not alone in this situation in WWE. He has the daughter of one of his father's biggest rivals in Charlotte Flair and the son of one of the best luchadors of all time in Dominik Mysterio.
The modern wrestling audience knows Dusty from his time working on developing NXT and the young wrestlers which came from the NXT brand. His work during that time may be the most important thing to happen in modern wrestling.
RELATED: Kevin Owens Talks Favorite Big WrestleMania Moment And Not Having Matches In Canada
In 2015 Dusty died and left behind a huge legacy and shoes to fill for Cody. When his father died, Cody was far from the top of the card and was a far cry from what he is today.
Cody Rhodes talked about his father, Dusty, not being able to see him win the Royal Rumble and main event WrestleMania:
"He wasn't able to see [Rhodes winning the Royal Rumble] but I still feel like he's here with me."
Rhodes continued:
"Dusty did everything, so to be able to win the Royal Rumble, to go to WrestleMania and be the main event, the biggest thing that's been involved in wrestling rings since the turn of the century. I'm blessed, I'm lucky, but I'm still on the hunt."

– Cody Rhodes –
Cody Rhodes Building His Own Legacy While Adding On To His Father's
Cody is not coasting on hype or past accomplishments. Most recently he defeated a fellow second generation wrestler in Dominik Mysterio at Money in the Bank. His next big match looks to be a rematch with Brock Lesnar. However, Cody's big goal is to achieve something his father and brother, Dustin Rhodes aka Goldust, were never able to achieve. His sights are set on Roman Reigns' and Seth Rollins' championships.
What do you think of Cody Rhodes's drive to outdo his father? Should he let it light a fire in him or just focus on making his own legacy? Do you think he has already surpassed his father's accomplishments in winning the Royal Rumble, main eventing WrestleMania and helping to create WWE's only US rival in AEW? If not, what does he need to do to outdo his father? Let us know if you would like to see Cody win the World Heavyweight or Undisputed WWE Universal Championship first.
KEEP READING: Becky Lynch Talks About Her Worst Injury and The Immense Pressure She Feels
Sources: ESPN Radio, Wrestling Inc.