A trailer and release date for the upcoming documentary, WWE American Nightmare: Becoming Cody Rhodes, has just hit the internet.
Wrestling is full of behind-the-scenes stories the public never hears about. Some of those stories are heartbreaking and some are inspiring.
WWE American Nightmare: Becoming Cody Rhodes Official Trailer
The story of Cody Rhodes is inspiring and is about making a name for yourself on your own and showing the world you are worthy of all your success.
RELATED: BECKY LYNCH TALKS ABOUT HER WORST INJURY AND THE IMMENSE PRESSURE SHE FEELS
A new documentary entitled WWE American Nightmare: Becoming Cody Rhodes will chronicle just that. The trailer of the new Peacock Original was just released along with a synopsis.
"Cody Rhodes grew up living in the shadow of his father, WWE Hall of Famer "The American Dream" Dusty Rhodes. In 2016, Cody risked it all by leaving WWE to make a name for himself, becoming the "American Nightmare." This intimate and revealing documentary follows Cody's journey away from the WWE, and his return at WrestleMania 38 last year, as he chases the dream of winning the WWE championship, the one title his father was never able to claim. Through never-before-seen footage and unprecedented access, this Peacock Original illustrates the transformation of a man who is blazing a new trail in sports entertainment." 
Some Big Names Commenting On Cody Rhodes
The trailer for WWE American Nightmare: Becoming Cody Rhodes shows the debut of Rhodes and his journey in WWE before his departure and triumphant return. Contemporaries like Kevin Owens and legends like Ric Flair, Undertaker and Triple H all discuss Rhodes journey in pro wrestling. 
WWE American Nightmare: Becoming Cody Rhodes also discusses his big return in 2022 to WWE along with his nasty torn pectoral muscle at Hell in a Cell. His journey of trying to win the WWE Championship, the one title neither his father or brother could win will also be included.
Cody's Rise And Fall Within WWE
Rhodes started his career in 2006 wrestling for Ohio Valley Wrestling. In 2007 he made his Raw debut.  Rhodes became a very solid performer, but failed to reach the top of the card. In this time he tried to honor his family's wrestling legacy while creating his own legacy. He began teaming up with his Hall of Fame father Dusty Rhodes and had matches with his future Hall of Fame brother Goldust.
RELATED: Becky Lynch Talks About Her Worst Injury and The Immense Pressure She Feels
In 2014, Rhodes reached the lowest part of his career when he began portraying the Stardust character. This new character was very similar to his brother's Goldust character. He spent years trying to build his own legacy and WWE gave him a joke character which was just a clone of his brother's.
Departure And Huge Return
In 2016 Rhodes decided to leave WWE and try to make a name for himself on the indies. This could have been a disaster and could have been the end of his wrestling career. However, it was the smartest thing he could have ever done.
RELATED: MALAKAI BLACK TALKS CORE TO HIS POPULAR WWE CHARACTER AND WHAT HE LEARNED FROM SETH ROLLINS
While outside WWE, Rhodes wrestled all over including notable promotions like TNA/IMPACT Wrestling, Ring of Honor and NJPW. However, the most important thing he did is without a doubt help to create AEW.
Will AEW Be Discussed In WWE American Nightmare: Becoming Cody Rhodes?
A big question which everyone is wondering is how much of Rhodes wrestling outside WWE will be shown and talked about in WWE American Nightmare: Becoming Cody Rhodes. The trailer has some footage of him wrestling on some indies, but will it show him wrestling for any of the big names like TNA/IMPACT and NJPW?
RELATED: Seth Rollins Talks About What A Huge Influence Shawn Michaels' Was On Modern Wrestling
However, the biggest question is will they talk about the creation of AEW? Rhodes was a very important factor in its creation. Will this time of his life be glossed over or will it be completely skipped? Footage from AEW will almost certainly not be included along with footage from ROH because Tony Khan owns their tape library.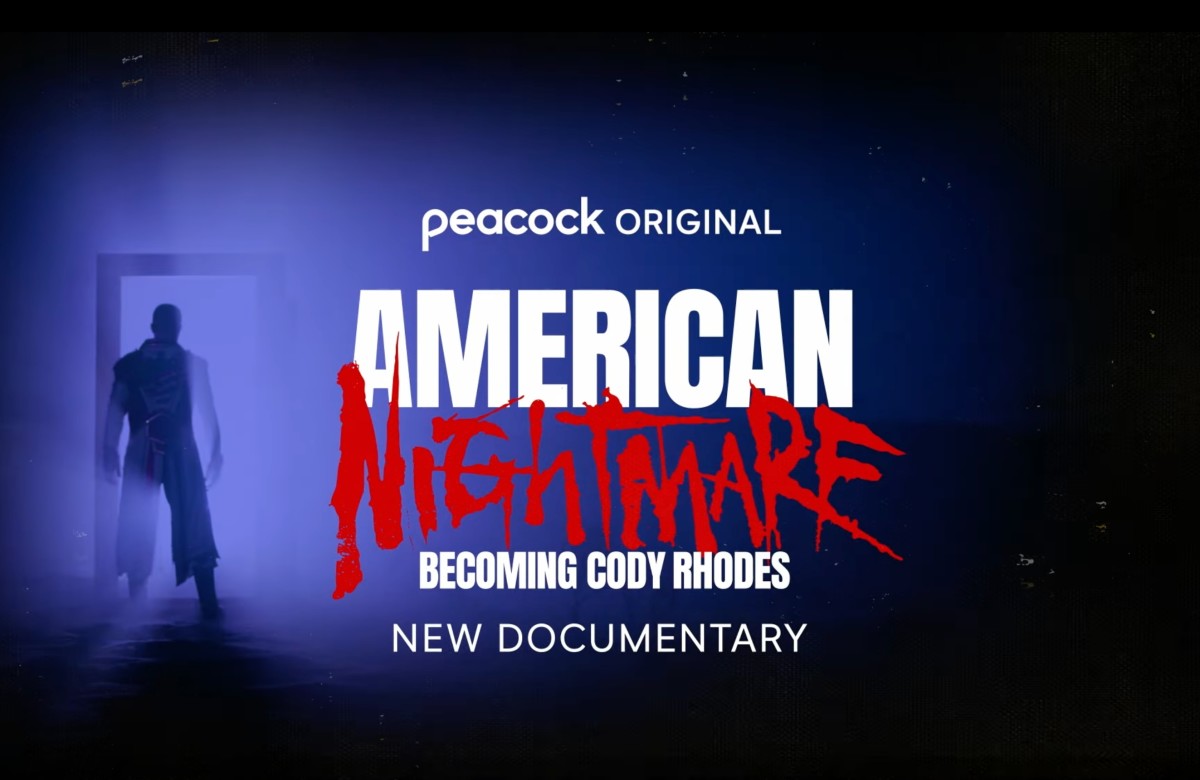 WWE American Nightmare: Becoming Cody Rhodes will be released on July 31, 2023, on Peacock. It is narrated by Stephen Amell of Arrow and Heels fame.  
Are you excited to see WWE American Nightmare: Becoming Cody Rhodes? Do you think Rhodes' story so far merits a documentary? How do you think they will handle the AEW stuff? Do you think they will interview his brother Dustin Rhodes aka Goldust since he is in AEW? If not, do you think they will show or talk about Goldust? Let us know who you would like to see have a documentary made about their wrestling journey next.
KEEP READING: Cody Rhodes Admits The Huge Pressure He Feels To Surpass His Father's Legacy
Source: Peacock