James Gunn, the acclaimed filmmaker and co-CEO of DC Studios, has confirmed that the upcoming American adult animated television series Creature Commandos will consist of seven episodes in its first season. The announcement was made via Gunn's Twitter account, adding to the anticipation for this new addition to the DC Universe (DCU).
Introducing Creature Commandos
Produced by DC Studios and Warner Bros. Animation, Creature Commandos will be the first television series in the DCU. The series focuses on a black ops team of monsters assembled by Amanda Waller and is set to be released on the streaming service Max in 2024. It will be part of the DCU's Chapter One: Gods and Monsters.
RELATED: Gal Gadot Talks About GREAT 'Superman: Legacy' Screen Tests
The star-studded cast includes Frank Grillo as Rick Flag Sr., Maria Bakalova, Indira Varma, Zoë Chao, Alan Tudyk, David Harbour, Sean Gunn, and Steve Agee. Viola Davis will also reprise her role as Amanda Waller from prior DC media.
A New Direction for DC
After Gunn and Peter Safran became co-CEOs of DC Studios in October 2022, they began developing an eight-to-ten-year plan for a new DC Universe that would be a "soft reboot" of the DCEU. Creature Commandos was revealed in January 2023, with all seven episodes written by Gunn himself.
The series is part of a broader strategy to expand the DCU, with Gunn and Safran working on various projects, including the film Superman: Legacy. The animated series is expected to serve as an "aperitif" for the DCU, providing fans with a taste of what's to come.
RELATED: Special Ops: Lioness Episode 4 Discussion — Joe's Struggles Catch Up to Her in Riveting Episode
Based on the original Creature Commandos from Weird War Tales #93, the series will depict a modern version of the team, including characters like Rick Flag Sr., Nina Mazursky, Doctor Phosphorus, Eric Frankenstein, the Bride of Frankenstein, G.I. Robot, and Weasel. Gunn has expressed excitement about the lead character, the Bride of Frankenstein, and the opportunity to explore the character's backstory.
The animation for the series is being handled by Bobbypills, allowing for "gigantic" storytelling without the need for a massive budget.
Creature Commandos represents an exciting new direction for the DC Universe, with James Gunn at the helm. Fans are eagerly awaiting the release of this animated series, which promises to bring a fresh perspective to beloved characters and set the stage for the future of the DCU.
While "Creature Commandos" was originally planned to release in 2024, the ongoing Screen Actors Guild (SAG) and Writers Guild of America (WGA) strikes may pose a challenge to this timeline. The strikes have affected various aspects of the entertainment industry, and it's not out of the question that they could lead to a delay in the release of the series. But this is what happens when major corporations do not adequately compensate their employees.
About Creature Commandos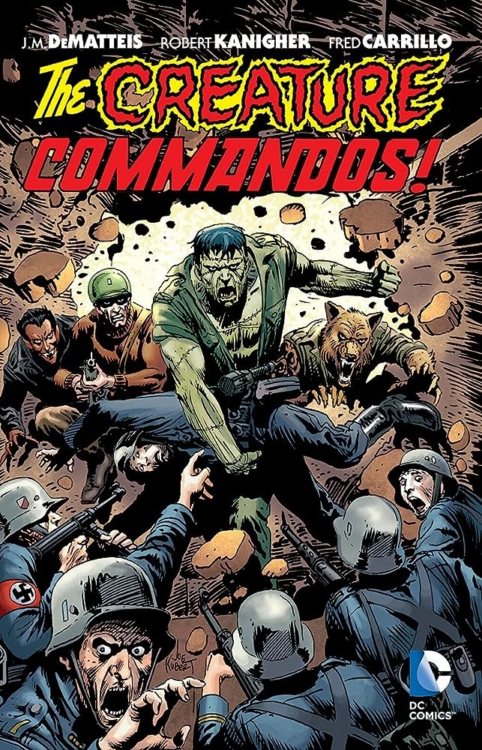 Release: 2024
Created by: James Gunn
Based on Characters from DC Comics
Written by: James Gunn
Executive Producers: James Gunn, Peter Safran
Production: DC Studios, Warner Bros. Animation
Distribution: Max
Cast: Frank Grillo, Maria Bakalova, Indira Varma, Zoë Chao, Alan Tudyk, David Harbour, Sean Gunn, Steve Agee

Details
Follows a group of military super humans composed by a human leader, a werewolf, a vampire, Frankenstein's monster and a gorgon. [via IMDB]
Are you excited about the new Creature Commandos series? What are your expectations for this new chapter in the DC Universe? Who are you most looking forward to seeing in the animated series? Share your thoughts on social media!
Source: James Gunn
KEEP READING: Apple TV+'s 'Invasion' Returns for a Gripping Season 2