Renowned energy drink brand G FUEL Energy has made a significant move into the snack market with the launch of its Game-Changing G FUEL Protein Puffs. The debut flavor, White Cheddar, is now available for purchase at GFUEL.com, marking a new era for the company.
Announcing G FUEL Protein Puffs
Following the immense success of its powdered Energy Formula and ready-to-drink lines, with over 450 million servings sold since 2012, the pop-culture energy drink company is venturing into the snack arena. The newly introduced G FUEL Protein Puffs are performance-based corn snacks that pack a punch with 17g of protein per 1 oz bag. These protein puffs are also gluten-free, contain just 3g of net carbs per serving, and are free from artificial preservatives, flavors, or colors.
RELATED: G Fuel and Capcom Unite for a Delicious New Mega Man-Inspired Energy Drink
Company Founder and CEO Cliff Morgan expressed excitement about the new product line and the news ways the company is powering the community.
"G FUEL has been synonymous with energy drinks over the past decade, but it's important for us to find new and satisfying ways to power and build our fan community," said G FUEL Founder and CEO Cliff Morgan. "White Cheddar Protein Puffs are not only a snack you can feel good about, but they're also delicious! G FUEL is changing the snack game one bag at a time."

-Cliff Morgan, G FUEL Founder and CEO-
A New Way to Satisfy Crunch Cravings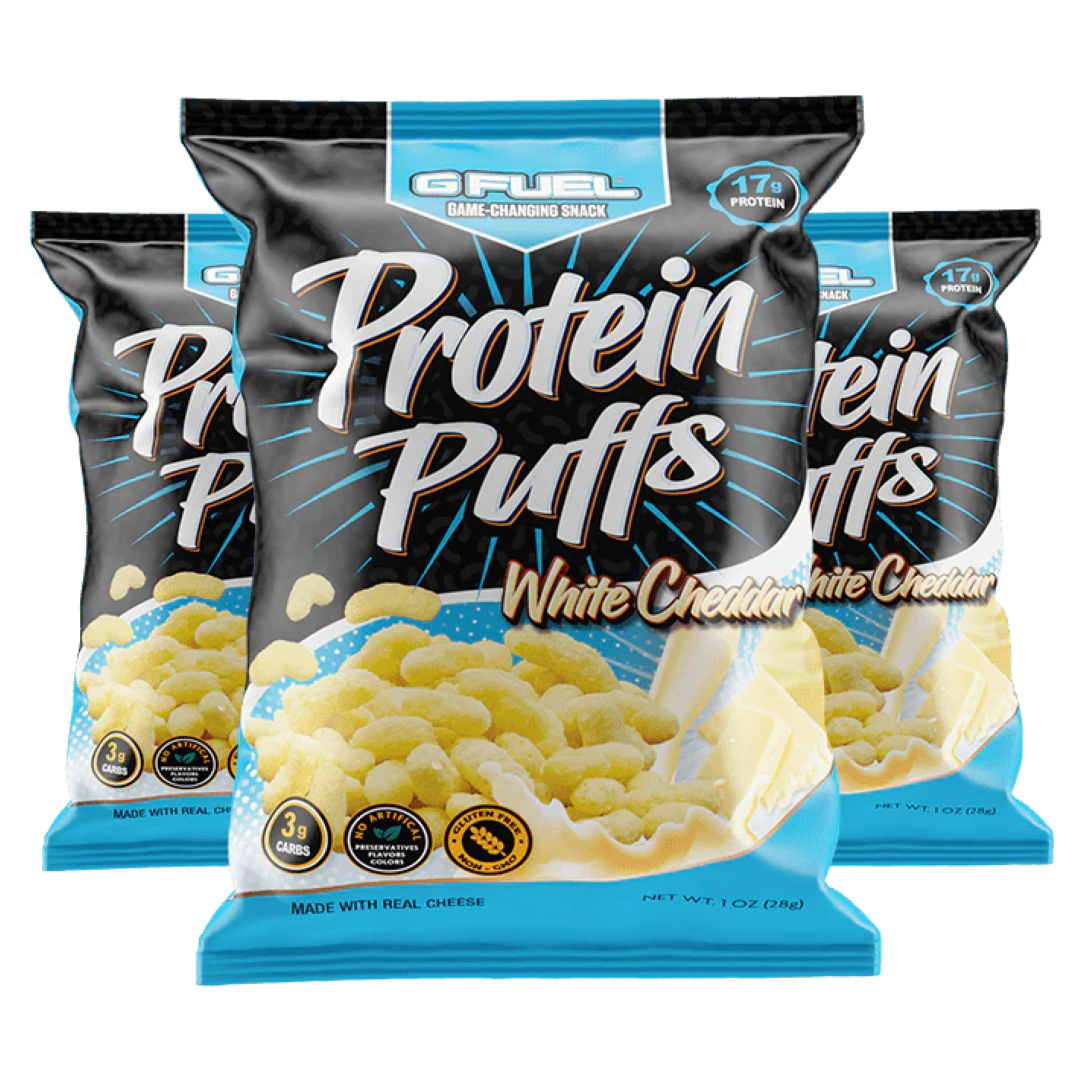 The White Cheddar Protein Puffs are designed to satisfy crunch cravings while providing a healthy and protein-rich snack option. This innovative product aligns with the company's commitment to offering performance-driven alternatives to traditional snacks and beverages.
G FUEL is a market leader in the energy drink industry, providing fans with a game-changing, sugar-free product lineup. The brand's offerings include powdered Energy Formula, ready-to-drink cans, powdered Hydration Formula, and now Protein Puffs snacks.
With more than 346,000 5-star Shopper Approved Ratings and a shipping network that spans over 125 countries, G FUEL has established a strong presence in the market. The company's global social media footprint of over 1 billion followers and partnerships with content creators and brands like Ninja, NoisyButters, PewDiePie, and Capcom® further solidify its position as an industry leader.
RELATED: Street Fighter 6 Welcomes the Teenage Mutant Ninja Turtles (TMNT) in a Radical New Collaboration
G FUEL's success is not only attributed to its innovative products but also its strategic collaborations with content creators, partners, and renowned brands. The company has teamed up with the likes of Activision, SEGA of America, Capcom®, EA, Bethesda Game Studios, Warner Bros., and more. These collaborations have played a vital role in enhancing their brand presence and connecting with a diverse and passionate community of fans, customers, and partners. Whether it's a special edition flavor or a unique marketing campaign, the company's collaborations continue to set the brand apart in the energy drink industry.
The introduction of Protein Puffs marks a significant expansion of the brand's product offerings. The White Cheddar flavor is set to be the first in what could become a popular line of protein-rich snacks. Fans of the company and those looking for a tasty and nutritious snack option can now purchase White Cheddar Protein Puffs at GFUEL.com.
Are you going to try G FUEL's new White Cheddar Protein Puffs? How do you think they'll taste? What other flavors would you like to see from this new line of Protein Puffs n the future? Share your thoughts on social media and join the conversation about this game-changing snack!
Source: G Fuel
KEEP READING: Secretlab x Jujutsu Kaisen Titan EVO – A Gaming Chair Collaboration Brimming with Cursed Energy