G Fuel, the market leader in the energy drink industry, has once again joined forces with Capcom to launch a new energy drink flavor inspired by the iconic Mega Man™ franchise. The new flavor, Mega Man Rush, is now available for pre-order at GFUEL.com as a Collector's Box bundle and standalone 40-serving Tub, while supplies last.
A New Flavor for Mega Man Fans
In the face of the Robot Masters wreaking havoc in Mega City, Mega Man's trusty robotic dog, Rush, springs into action to lend a paw. The Mega Man Rush Cherry Slushie Collector's Box is an all-new power-up designed to give gamers a game-changing energy boost. This icy cherry flavor is sure to cool down and recharge gamers as they battle Dr. Wily's menacing mechanical army. Each Collector's Box comes with an exclusive Rush Shaker Cup, which when filled with Rush's signature flavor, colors in Rush's armor and gets him ready for battle.
RELATED: Secretlab x Jujutsu Kaisen Titan EVO – A Gaming Chair Collaboration Brimming with Cursed Energy
The Mega Man Rush Collector's Box also includes an exclusive G FUEL x Mega Man dog leash and collar set, perfect for connecting with your own canine companion.
Continuing the Successful G FUEL x Capcom Collaborations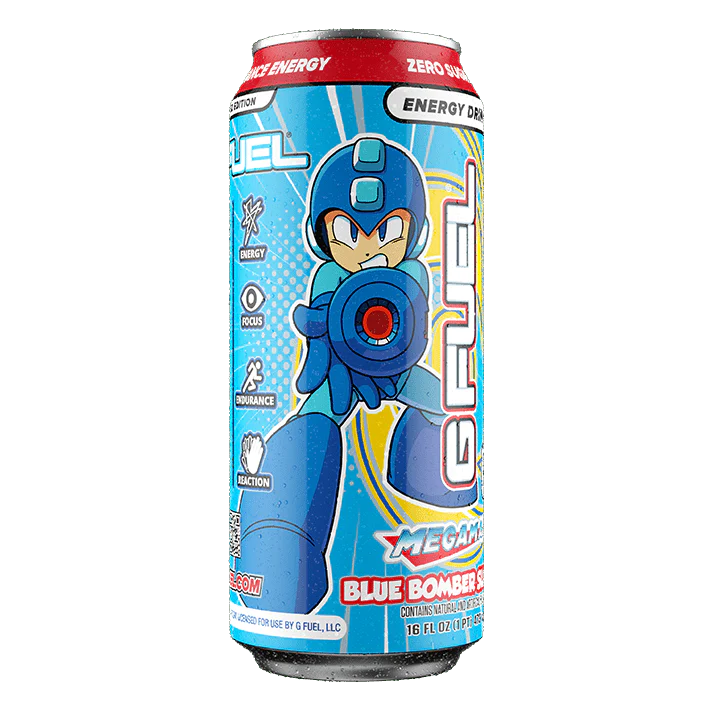 Mega Man Rush marks the sixth flavor developed in partnership with Capcom. Previous collaborations have resulted in flavors inspired by various Capcom franchises, including the Mega Man Blue Bomber Slushee, Resident Evil™ 3 Nemesis Tea, Monster Hunter™ Rise-inspired Mega Potion, Resident Evil™ Village-themed Maiden's Blood, and most recently, Las Plagas inspired by Resident Evil™ 4.
RELATED: BoxLunch Unveils New Radical TMNT Collection Inspired by the Original Animated Series
Like all G FUEL products, the Mega Man Rush Energy Formula is sugar-free and packed with antioxidants from 18 different fruit extracts. Each serving has only 15 calories and contains 140 mg of caffeine, along with proprietary energy and focus-enhancing complexes.
A Tribute to Gaming's Best Canine Companion

Rush, Mega Man's robotic dog companion, was introduced in Mega Man 3. Created by Dr. Light, Rush possesses the ability to transform into a coil, hoverboard, and submarine. His capabilities were expanded in later games like the ability for Rush to fuse with Mega Man, enabling the use of Power and Jet Suits. In 7, Rush's abilities were further enhanced with a search function and detection mode. 8 added even more transformations, including a motorcycle and healing powers.
RELATED: Dragon Ball Super Card Game Powering Up to the Next Level in 2024 with Exciting Updates
Rush has been a major part of the franchise and is wonderfully being celebrated in this latest collaboration. Founder and CEO Cliff Morgan expressed his excitement about the new flavor and the company's love of dogs and Mega Man's best Friend.
"We love dogs at G FUEL – my dalmatian Cooper is by my side as I speak – so we were incredibly excited to team with Capcom for a flavor tribute to one of the greatest canine companions in gaming history, Rush," said G FUEL Founder and CEO Cliff Morgan. "Cooper knows plenty of tricks, but Mega Man is incredibly lucky to have a dog who can transform into a motorcycle or a submarine! We're glad we could unite Mega Man with 'Robot's Best Friend' in our G FUEL flavor lineup."

-Cliff Morgan, Founder and CEO-
Transform your day into a true Game Changer with Mega Man Rush, now available for pre-order at GFUEL.com!
What are your thoughts on this new Mega Man-inspired flavor from G Fuel? Have you tried any of the previous flavors from the Capcom collaboration? How do you think this new flavor will enhance your gaming experience? Share your thoughts and experiences with us on social media!
Source: G FUEL
KEEP READING: Yu-Gi-Oh! TCG Will Crown a New World Champion in August 2023