Universal Studios Hollywood has revealed its full line-up for Halloween Horror Nights 2023, including the addition of the box office smash Evil Dead Rise, original houses "Monstruos: The Monsters of Latin America," and the return of fan-favorite "Holidayz in Hell." The event kicks off on Thursday, September 7, and runs on select nights through October 31.
A Night of Unforgettable Horrors
RELATED: Universal Studios Hollywood Revs Up for New Fast & Furious-Themed Roller Coaster as 'Fast X' Hits Home Media
This year's Halloween Horror Nights promises to be an unforgettable experience with eight haunted houses and the exclusive Terror Tram. Here's a glimpse of the terror that awaits:
"The Last of Us": Battle fearsome Clickers, Bloaters, and more from the award-winning video game.
"Stranger Things 4": Face off against the evil Vecna in the fourth season of Netflix's original series.
"The Exorcist: Believer": Experience a terrifying new beginning in horror with demonic possessions.
"Universal Monsters: Unmasked": Encounter horror icons like The Invisible Man, Dr. Jekyll and Mr. Hyde, and more.
"Chucky: Ultimate Kill Count": Witness the infamous slasher doll's best kills.
"Evil Dead Rise": Step into a twisted tale based on the 2023 box office hit.
"Monstruos: The Monsters of Latin America": Encounter terrifying ghosts and creatures from Latin American folklore.
"Holidayz in Hell": Take a petrifying trip through psychotic seasonal celebrations.
"Terror Tram…The Exterminatorz": Join an insect uprising led by the devious Larry Larva on the Universal backlot.
Tempting Terror-Themed Treats and Merchandise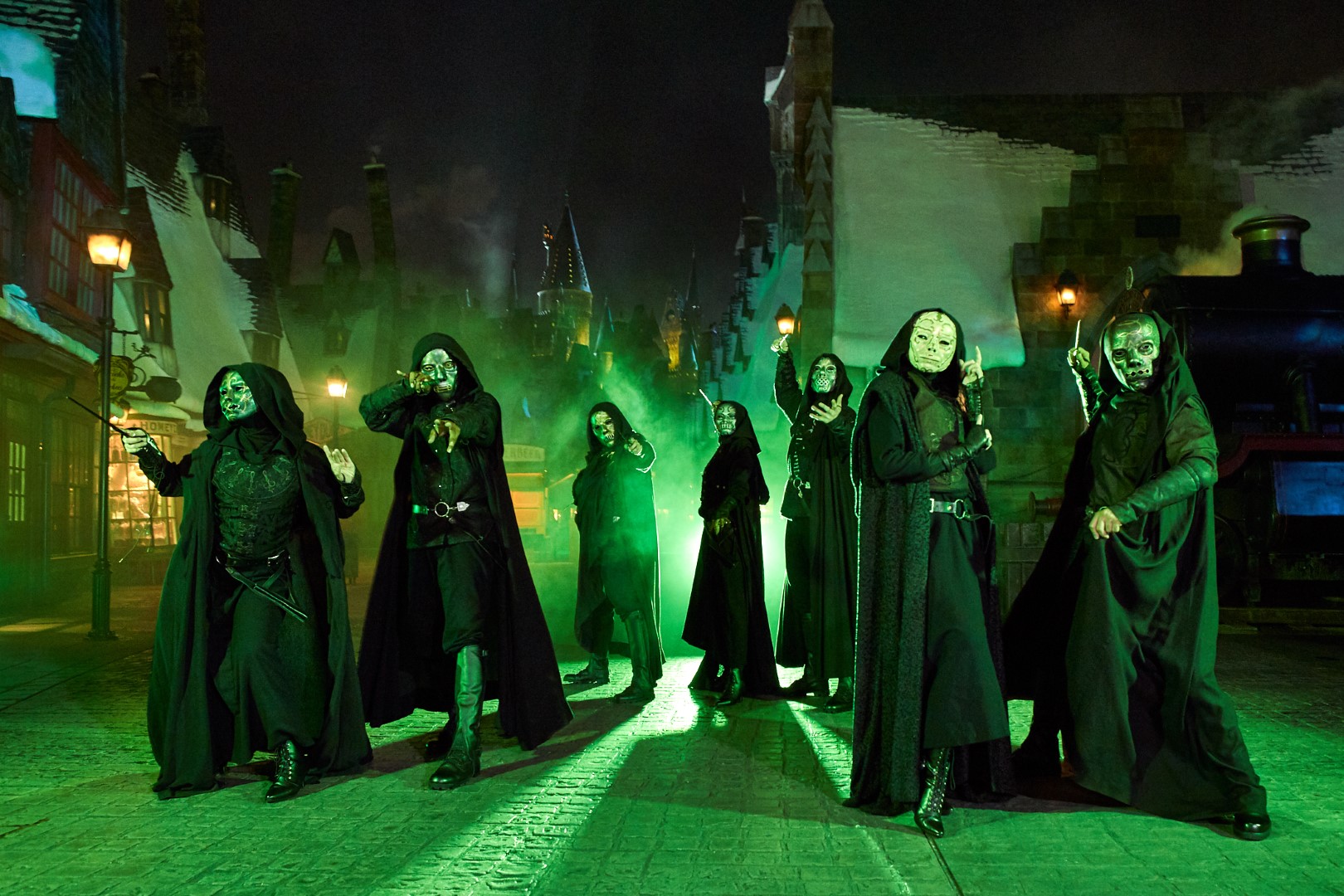 Guests can indulge in a plethora of horror-themed food and drink items, including pizza at Surfer Boy Pizza, ice cream at Scoops Ahoy, and mixed cocktails at the 80's themed Stellar Bar. Quick service restaurant Hollywood & Dine will transform into a Chucky-themed BBQ, and Universal Plaza will serve up a celebration for Dia de Los Muertos with Latin Folklore-themed cocktails and more.
RELATED: Ravensburger's 'Horrified: Greek Monsters' Brings New Mechanics to the Frightening Tabletop Franchise
Horror fans can also find a selection of merchandise themed to this year's houses, including t-shirts, hoodies, mugs, and more. On top of that, there are always the classic, non-horror-themed Universal franchises to enjoy. Many of which will likey have Halloween or spookified versions for fans to enjoy and celebrate the scary season with.
Universal Studios Hollywood Halloween Horror Nights Attractions and Ticket Options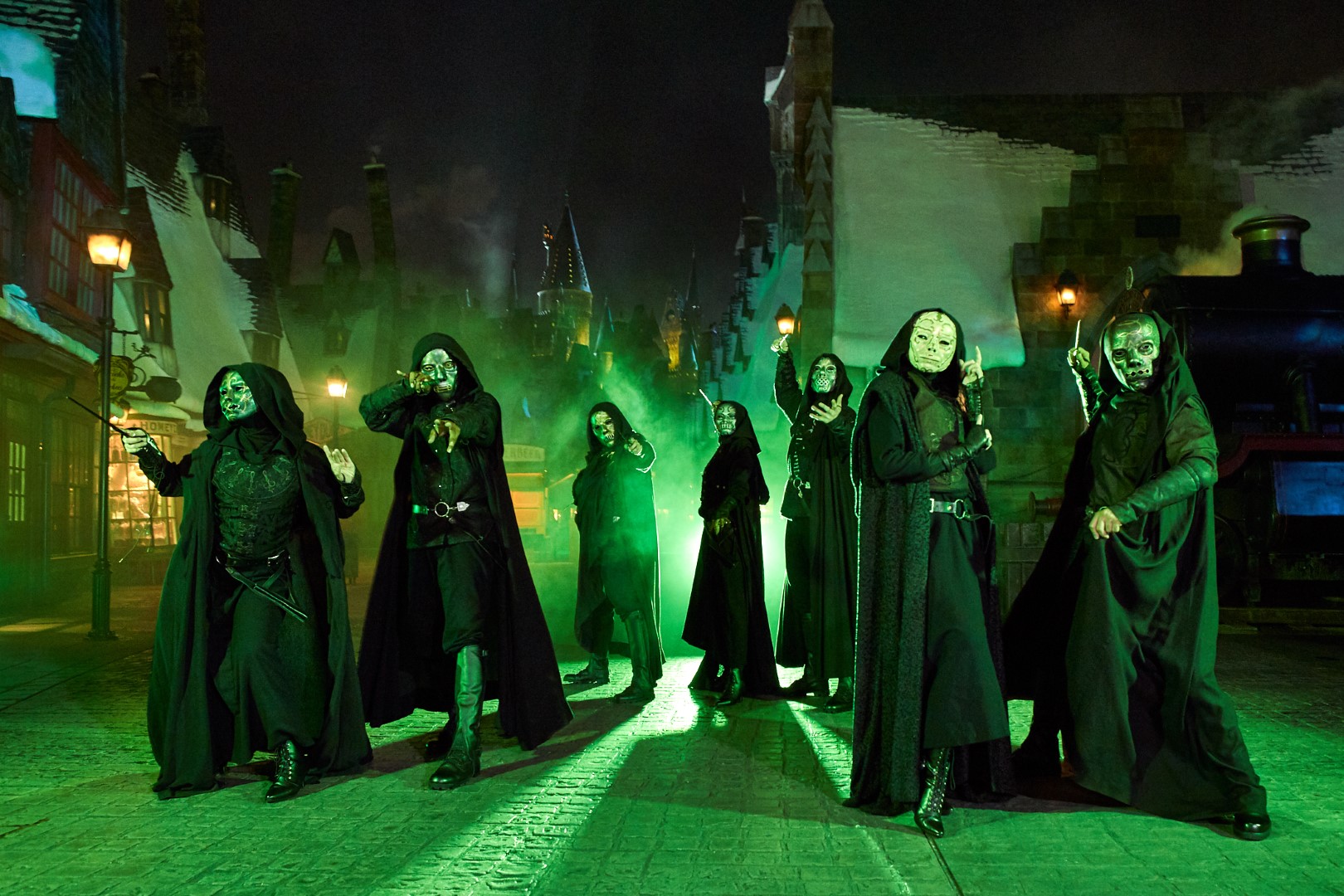 RELATED: Apple TV+ Unveils 'The Changeling,' A New Kind of Fairytale Coming 9/8
Select theme park attractions will be open during the event, including "Jurassic World—The Ride," "Transformers™: The Ride-3D," "Revenge of the Mummy—The Ride," and "The Simpsons Ride™." "The Wizarding World of Harry Potter™" will also be open, with Death Eaters™ roaming Hogsmeade™ village. So be sure to have your spells memorized and wands at the ready when roaming through Diagon Alley.
Universal Studios Hollywood offers a variety of ticket options, including General Admission, Universal Express, After 2 P.M. Day/Night, the premium R.I.P. Tour, the new Early Access Ticket, and the popular Frequent Fear Pass and Ultimate Fear Pass.
Halloween Horror Nights is Southern California's most terrifying horror event, and this year's line-up is sure to send chills down your spine. Are you ready to face the demonic Evil Dead Rise or explore the mysteries of Monstruos: The Monsters of Latin America? Will you survive the "Terror Tram" or indulge in the terror-themed treats? What are your thoughts on the returning "Holidayz in Hell"? Share your excitement and favorite scary moments with us on social media!
Source: Universal Studios Hollywood
KEEP READING: The Continental Official Trailer Reveals a Dark and Gritty 1970's New York Full of Assassins