WWE Superstar and Women's Tag Team Champion Chelsea Green recently revealed the match that made her want to become a WWE Superstar. Some people knew they wanted to be a wrestler from a young age and some people fall in love with wrestling at a later age.  Whatever the reason, some people love wrestling as a kid and then they might stop to only come back to wrestling later in life.
This is exactly what happened with Green.  On a recent episode of WWE After The Bell with Corey Graves & Kevin Patrick, Green spoke about how she and her sister would sneak to the upstairs area of their home to watch wrestling as children. Green recalled during the interview:
RELATED: Kevin Owens Reflects On Big WrestleMania Moments And His Future Retirement
"It's so crazy because everyone in my life is a die hard wrestling fan through and through. My sister used to watch wrestling when we were growing up. We used to sneak upstairs in like third to fifth grade and watch it. Like many other wrestling fans, I fell out of love with it because I thought I outgrew it, which ironically I never outgrew it, clearly."

H/T to Wrestling Inc. for the transcription
CHELSEA GREEN STARTING TO MAKE A NAME FOR HERSELF THIS TIME AROUND IN WWE
Chelsea Green has been rising up the ranks of the WWE women's division as of late.  This is her second or maybe even time around in WWE if you count her time on Tough Enough.  From 2018 to 2021 she was with WWE before she was released because of budget cuts.  However, in January of this year, she made her big return to the company.  Since returning she has become one of WWE's hottest up-and-coming women Superstars.
When Chelsea Green got back into wrestling she decided to give being a wrestler a shot after seeing two former WWE Divas wrestle.  An unnamed match between Naomi and Nikki Bella ignited the wrestling spark inside her. She continued on how the matchup inspired her to start training in wrestling:
RELATED: Matt Cardona Wearing WWE Women's Tag Team Championship Was A Huge Stunt
"I was going to school for kinesiology in in Calgary. A match came on and I believe it was Trinity, Naomi vs. Nikki Bella and I started watching it and I googled 'how to be a WWE diva' while I was doing my kinesiology homework and what do you know not 7 minutes down the road from me was Storm Wrestling Academy.

It was right down the road for me and I just had this weird gut feeling like it's 7 minutes away. I feel like this was meant to be. I got in the ring for the first time maybe a week after that and I was in love with it. The minute I saw the wrestling ring I was like, 'I don't know what it is about this, but I love it. I love it. I love it.'"
Storm Wrestling Academy is none other than former WWE, WCW and ECW wrestler Lance Storm's wrestling school.  Some other notable graduates from Storm's school include Tyler Breeze, Emma, Peyton Royce and Taya Valkyrie.
HARD FOR CHELSEA GREEN TO BE A TAG TEAM CHAMPION WITHOUT A TAG TEAM PARTNER
Currently, Chelsea Green is one-half of the WWE Women's Tag Team champions.  However, she has a big problem.  Her co-champion,  Sonya Deville, suffered a torn ACL and there is no word as to when she will return. Green admitted that the championships were cursed, but she is going to change that. 
The first thing she is doing to lift the curse on the tag titles is putting sage on them. She was asked what makes her different and why the curse will stop with her. She said she is going to change the women's tag team division and maybe even the titles themselves.
Green continued, "No, what makes me different is I'm about to. I'm about to take them on a whole different journey." She added, "OK, honey, I might even rename them. They might even be the Undisputed Unified World Heavyweight Women's Tag Team champion, no S EU UW WTTC."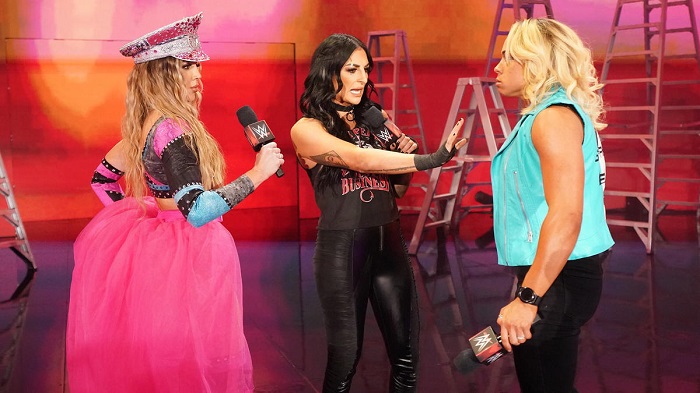 Green seems perfectly ok with defending her tag team championships by herself, but she might not need to. She has been holding auditions to fill the spot. However, on this week's Raw Piper Niven skipped the audition and took one of the championships off Green's shoulder and declared herself Green's new partner. That is as official as wrestling gets so Niven and Green seem to be the new champions and even have Niven listed as champion on WWE's website.
What have you thought of Chelsea Green since she returned to WWE?  Are you surprised that a Naomi and Nikki Bella match made her want to wrestle?  What do you think of her as the tag team champion?  What about Niven as her partner?  Is there someone else you would rather have as her partner? Let us know what match made you a wrestling fan or got you back in. 
SOURCE: Wrestling Inc., WWE After The Bell with Corey Graves & Kevin Patrick, Wrestling Inc.
KEEP READING: WWE: Vince McMahon vs. Triple H in a Spectacular Creative Showdown!