Kevin Owens looks back on his last two huge WrestleMania matches and if he is ready to retire soon.
Kevin Owens hasn't been on TV much lately, but when he returns he will make a huge impact like always.  He has proven himself to be able to handle any feud and make it amazing. Being a heel is what he does best and he is one of the best on the roster. However, he is so good at what he does it is extremely hard for fans to not love him.
RELATED: GUNTHER Explains Why He Is Such A Great IC Champion
It seems like the WWE Universe aren't the only ones who love Owens. WWE has taken a liking to him and have put a lot of trust in him. A prime example of the trust WWE has in him is by putting him in a match with Stone Cold Steve Austin at last year's WrestleMania. It had been 19 years since Austin had wrestled a match and he came back just to wrestle Owens and WWE knew they could trust Owens with the responsibility.
Kevin Owens Big Moment
At this year's WrestleMania Owens had another huge moment when he and his long-time friend Sami Zayn defeated the long-time Undisputed Tag Team Champions The Usos.  
RELATED: Kevin Owens Talks Favorite Big WrestleMania Moment And Not Having Matches In Canada
Kevin Owens recently did an interview with Toronto Sun and talked about which WrestleMania moment he felt was a bigger moment for him:
"I talk about those moments a lot because I get asked about them a lot," Owens said. "And every single time I say the same thing and it sounds kind of redundant, but I just can't put that into words what those two nights meant to me, the Stone Cold one especially.

As far as saying that Sami and I would win our first WWE tag team titles in the main event of WrestleMania, I guess that was still somewhat of a fleeting possibility through the years, but Stone Cold coming back after 19 years, nobody would have called that. I feel like there is a threshold or something like that where once somebody's been retired for long enough, you think, 'OK, they're really never coming back.' I think 19 years is well past that point." 

– Kevin Owens –
Austin Wanted To Open One Last Can Of Whoop Ass On Owens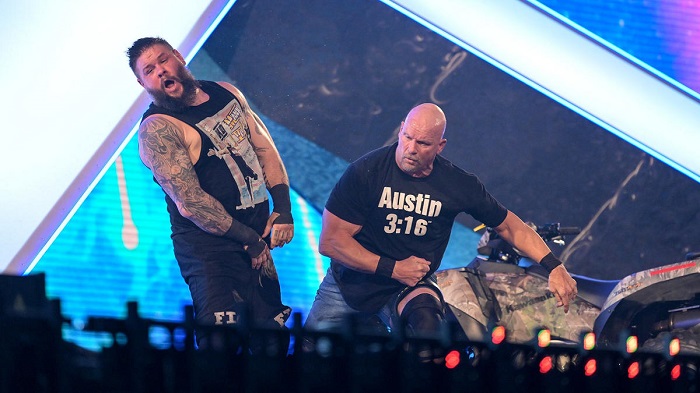 Kevin Owens said one of the reasons the Austin match was so important to him was because he was such a huge fan of him growing up. He described himself as "a diehard Stone Cold fan my entire life. He was my favourite." Owens went as far as to say that Austin along with Shawn Michaels, Trish Stratus and Steve Corino were his top four wrestling influences growing up.  
RELATED: Becky Lynch Talks About Her Worst Injury and The Immense Pressure She Feels
Currently Owens and Zayn are still the tag team champions. The pair winning the tag titles was a huge moment for two reasons. The first being that The Uso's reign was extremely long and it didn't look like it was ever going to end.  However, the bigger moment was that these two longtime friends were able to win their first ever WWE Tag Team Championships with each other.
Retirement Is Looming
Owens has done just about everything there is to do in WWE. He only has a year and a half left on his contract, so the question of retirement is bound to come up. When he was asked if hanging up his boots was around the corner for him he wasn't sure.
"That's a great question," Owens said. "I really don't know. I used to say I don't see myself not being in the ring for another five to 10 years. And if I said it right now, I'd be lying because over the last few months, I have to admit, I don't know if that's true anymore.

I look at things and I don't know where I stand going beyond the next year and a half. I know I want to be involved in wrestling. I know I want to be involved in the WWE and I know I have a place here. I just don't know where it is exactly. Maybe it's still in the ring, maybe it's not. I don't know."
Kevin Owens Is Just Looking To Have Fun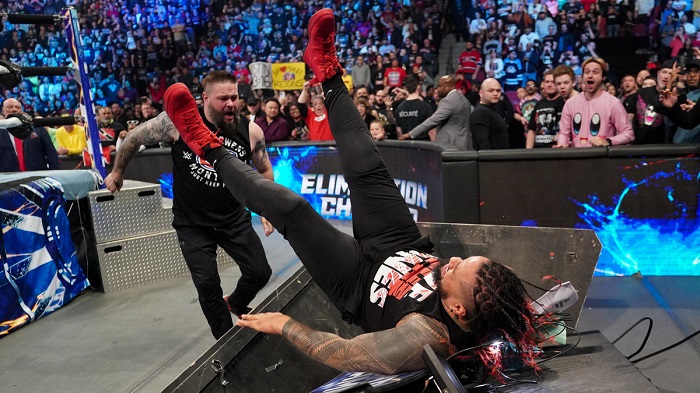 Kevin Owens continued to say he isn't sure what he is going to do once his contract is up. However, he knows that he is going to stay with wrestling whether it is in the ring or outside. In the meantime he said he is going to enjoy every moment he can. He doesn't have winning championships on his mind anymore. Having fun is all he is looking to do for the next year and a half.
Even though Owens has won every championship and gold is not his focus there is one gold belt he hasn't won yet. The World Heavyweight Championship is one he has never held and is held by an old rival in Seth Rollins. Maybe he can add that championship to his list in the near future.
Which WrestleMania moment do you think Kevin Owens should be more proud of? Would you like him to take on a new legend at the next WrestleMania? Who would you like to see come out of retirement to face him? Do you think Kevin Owens will or should retire once his contract expires? Let us know what you would like to see Owens do in the next year and a half.
KEEP READING: LA Knight Reflects On Big SummerSlam Win And Comparisons To Other Wrestlers
Sources: Toronto Sun, Wrestling Inc.