In a groundbreaking collaboration, G FUEL, the game-changing energy drink brand, has joined forces with CD PROJEKT RED's renowned dark-fantasy RPG video game series, The Witcher. The result? A mesmerizing new flavor, G FUEL Tawny Owl Potion, is now available for pre-order exclusively at GFUEL.com.
A Collector's Dream: The G FUEL Tawny Owl Potion Box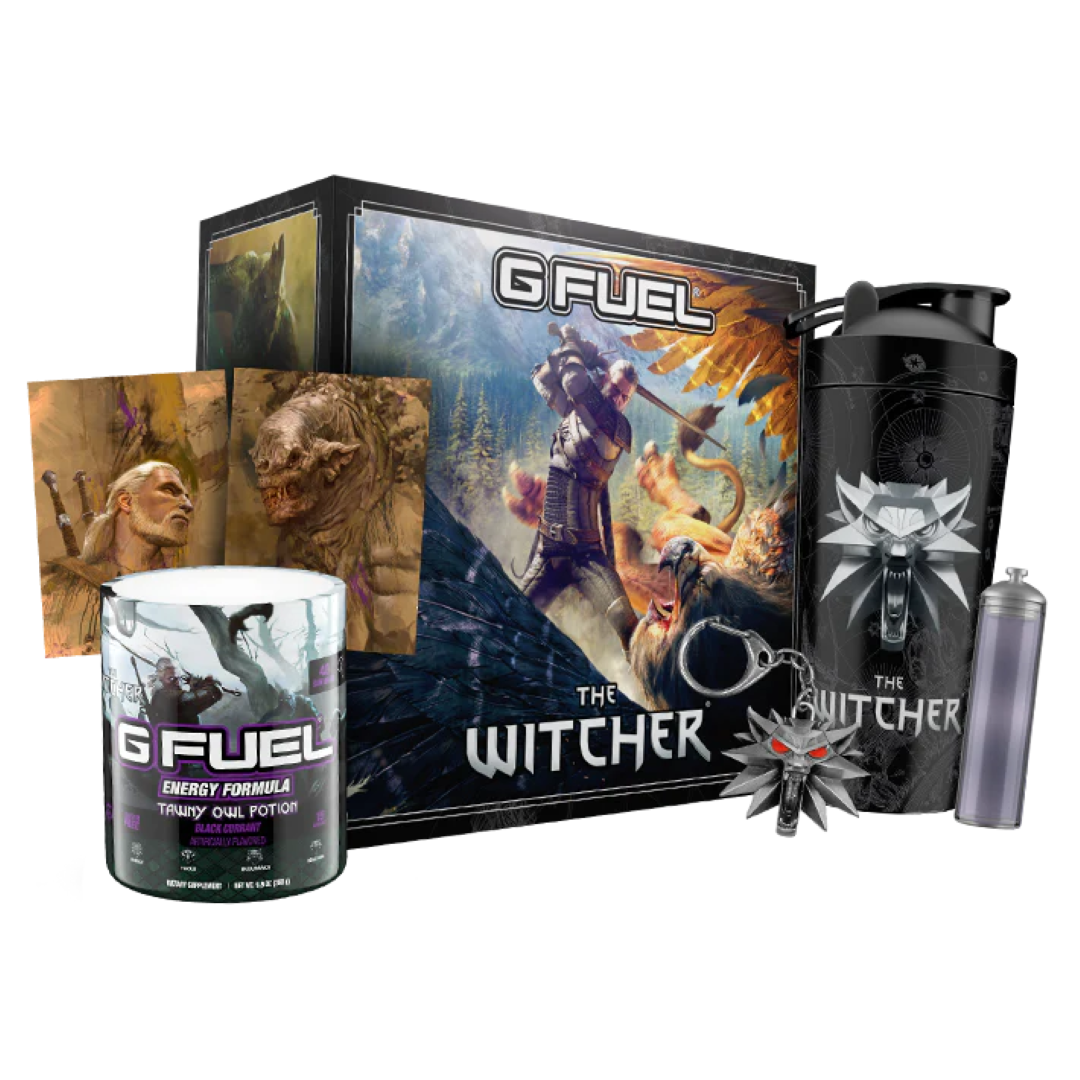 Whether you're saving the world from monsters or hitting the gym, it's always useful to have a potion at hand to recharge your stamina before your next quest. Introducing the G FUEL Tawny Owl Potion Collector's Box, inspired by the legendary action-adventure RPG franchise, The Witcher! With a tart, flowery, berry taste of Black Currant, this elixir will have you back on your feet and ready to face epic enemies in no time! 
The one-of-a-kind collector's box depicts art from The Witcher world, featuring Geralt, Yennefer, and Ciri. Each box comes with a unique laser-etched surgical stainless steel 24 oz shaker cup, perfect for an on-the-go energy boost.  
For a limited duration, fans can get their hands on the G FUEL Tawny Owl Potion Collector's Box, a treasure trove for both G FUEL enthusiasts and The Witcher aficionados. The box, adorned with captivating The Witcher art featuring iconic characters like Geralt, Yennefer, and Ciri, is a testament to G FUEL's commitment to aesthetic excellence. But that's not all. The box also includes a laser-etched Surgical Stainless Steel 24 oz Shaker Cup, perfect for those in-game and real-world adventures.
RELATED: BoxLunch Unveils New Star Wars™ Collection Celebrating New 'Ahsoka' Series
Inside this collector's box, fans will discover:
A unique Wolf School Medallion shaker accessory, complete with a glow-in-the-dark feature.
Two exclusive 5″ x 7″ The Witcher art prints, paying homage to the game's rich legacy.
A portable witcher's potion vial, ensuring you have your stamina-boosting blackcurrant elixir on the go.
The Potion: A Witcher's Essential
A witcher's job never ends. Whether you're slaying monsters in your local neighborhood, rescuing a queen from a demon, or hitting the gym to prepare for upcoming quests, you'll need something to help you regenerate your stamina! Introducing the all-new G FUEL Tawny Owl Potion with the tart, flowery, berry taste of Black Currant. Shake up this elixir and you'll be back on your feet taking on beasts and baddies twice your size in no time! 
Every witcher knows the importance of staying energized, especially in battle. The Tawny Owl Potion, with its tantalizing blend of tart, flowery, berry flavors, promises just that. This Black Currant potion, available in a 40-serving tub, is sugar-free, packed with antioxidants from 18 fruit extracts, and contains a mere 15 calories per serving. With 140 mg of caffeine, it's the perfect pick-me-up for any situation.
RELATED: Dumbgood's New Sanrio 90s Collection: A Stylish Nostalgic Fashion Fusion
G FUEL Founder and CEO, Cliff Morgan, expressed his excitement about the collaboration.
"We all know that Tawny Owl is one of the potions any good witcher needs in their inventory to keep their stamina up. So, while working together with CD PROJEKT RED, we wanted to make sure we brought the magic of The Witcher into our fans' energy routine. Fighting monsters and staying energized clearly go hand-in-hand!"

–Cliff Morgan, G FUEL Founder and CEO–
G FUEL stands out in the energy drink market, offering a performance-driven, sugar-free alternative to traditional products. With a diverse product range that includes powdered Energy Formula, ready-to-drink cans, powdered Hydration Formula, and Protein Puffs snacks, G FUEL has solidified its position as an industry frontrunner.
Boasting over 346,000 5-star Shopper Approved Ratings and a global social media presence of over 1 billion followers, G FUEL's community is vast and passionate. Their partnerships span a wide array of content creators and brands, including Ninja, PewDiePie, Activision, and Disney.
What are your thoughts on this collaboration? Will you be adding the Tawny Owl Potion to your collection? How excited are you for this unique flavor adventure? Share your thoughts on social media!
Source: G Fuel
KEEP READING: CURSED SPIRITS BEWARE: New 'JUJUTSU KAISEN' Capsule Collection Coming from 999 Club and Crunchyroll