Armored Core VI Fires Of Rubicon launches on gaming platforms as players finally get to experience the latest game from the iconic Mecha franchise. The anticipated action game from FromSoftware reignites the Armored Core Franchise in a High-octane experience now available on consoles and PCs. The game not only releases worldwide but also features an engaging new story, with players able to forge their own Armored Cores for intense battles.
Armored Core has finally returned after 10 years since Armored Core Verdict Day was released in 2013 for Xbox 360 and PlayStation 3. Now a stunning new release allows players to become Armored Core pilots once more, with a whole range of amazing features and foes to battle.
RELATED: Armored Core VI Fires of Rubicon: Discover New Gameplay in latest Trailer
The latest game developed by FromSoftware has been distributed on the latest platforms and even Steam, allowing PC players to experience the latest release. Fans of the series will recall fond memories as they forge their own mecha and battle huge enemies, which also feature in the latest release. You can also check out a newly released overview trailer of the game below:
Armored Core VI Launches Players into Combat
It's time to make planetfall on Rubicon 3, pilot. Bandai Namco Europe and FromSoftware, Inc. (ELDEN RING, DARK SOULS) has launched Armored Core VI Fires Of Rubicon globally for PlayStation 5, PlayStation4, Xbox Series X|S, Xbox One, and PC via Steam and optimized for Steam Deck. With fast-paced mech action, intense omnidirectional battles, in-depth customization, and thrilling boss fights, Armored Core VI Fires Of Rubicon is the culmination of FromSoftware's experience creating unforgettable action games. The game features robust world-building, massive environments, and challenging yet rewarding gameplay that promises to propel the ARMORED CORE franchise forward for a new generation.
A mysterious new substance called Coral was discovered on the remote planet, Rubicon 3. As an energy source, this substance was expected to dramatically advance humanity's technological and communications capabilities. Instead, it caused a catastrophe that engulfed the planet and the surrounding stars in flames and storms, forming a Burning Star System. Almost half a century later, Coral has resurfaced on Rubicon 3, a planet now contaminated and sealed off by the catastrophe. Extra-terrestrial corporations and resistance groups fight over control of the substance. Armored Core VI Fires Of Rubicon puts players in this desolate world, where they infiltrate the planet as an independent mercenary and find themselves in a struggle over the substance with rival corporations and rogue factions.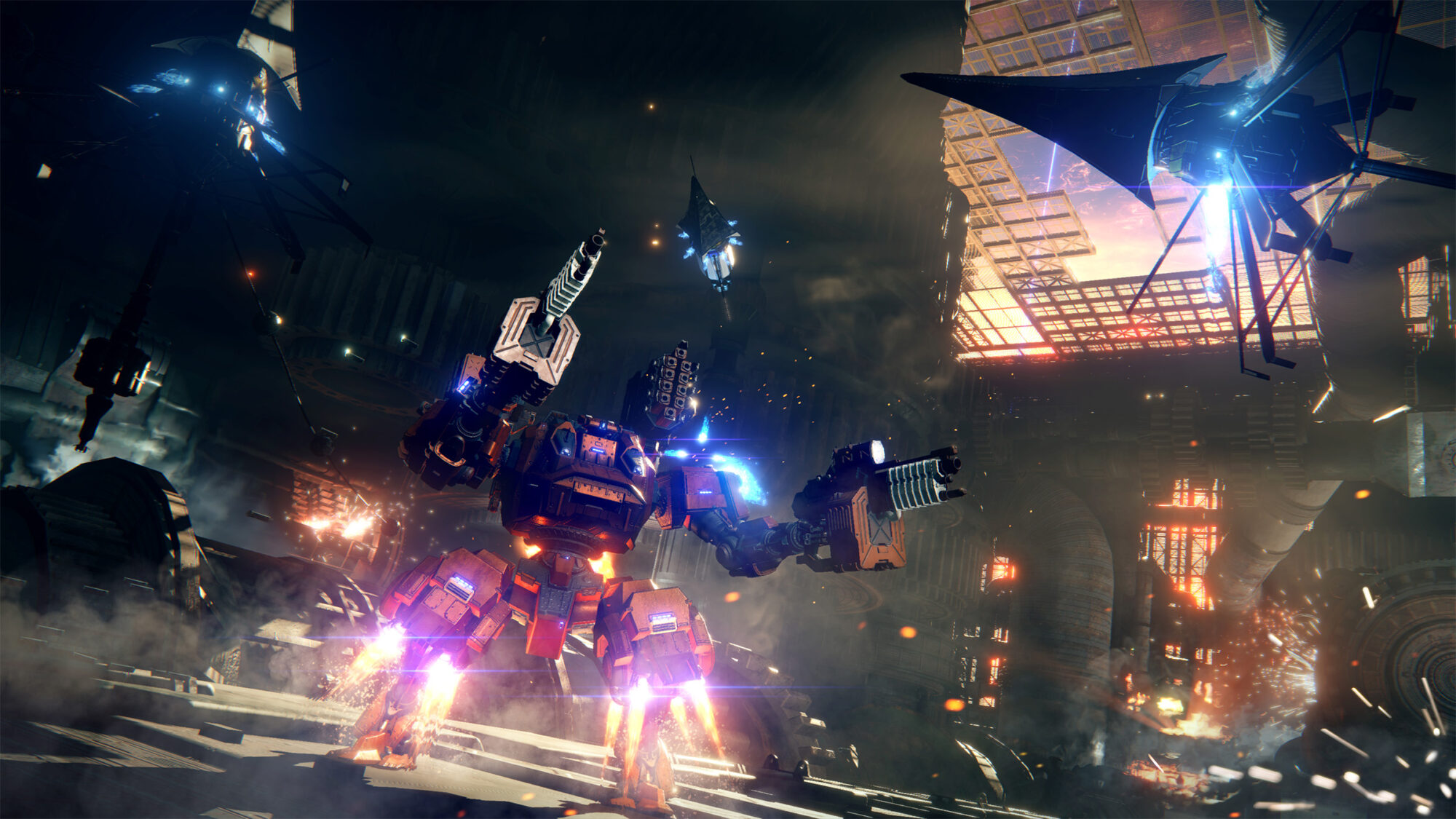 The Features of Armored Core VI:
Intense omnidirectional combat – Overcome enemy challenges that come from all directions by taking to the air, thanks to the addition of high-powered boosters to Armored Core mechs. Players can boost jump, hover in the air, assault boost to rapidly close distances and use the highly maneuverable machines to rapidly switch from long-range to short-range battles, using every advantage to succeed in battle.
Highly mobile and customizable mechs – The key to success in Armored Core VI Fires Of Rubicon is finding the right parts to do the job. With numerous different parts to fit in four weapon slots in addition to modifiable head, arms, legs, torsos, boosters, and more, tinkering to find the perfect combination of parts to overcome challenges is core to overcoming the game's challenges.
A completely new story – Armored Core VI Fires Of Rubicon is a fully standalone experience, with no story connections to previous entries of the series. The single-player story-driven experience features branching paths and multiple endings for players to explore.
Overcome immense odds on Rubicon 3­ – With FromSoftware's signature challenging gameplay, players can strive for a sense of achievement to earn S-Ranks on solo missions, take on NPCs 1-on-1 in the Arena to unlock parts, and compete with other players in 1v1 or 3v3 online PVP battles.
The latest game will be included in PlayStation® Free Upgrades and Xbox Smart Delivery. The game will be presented with both English and Japanese VO, with text localizations in English, French, Italian, German, Spanish, Neutral Spanish, Brazilian Portuguese, Polish, Russian, Traditional Chinese, Simplified Chinese, and Korean.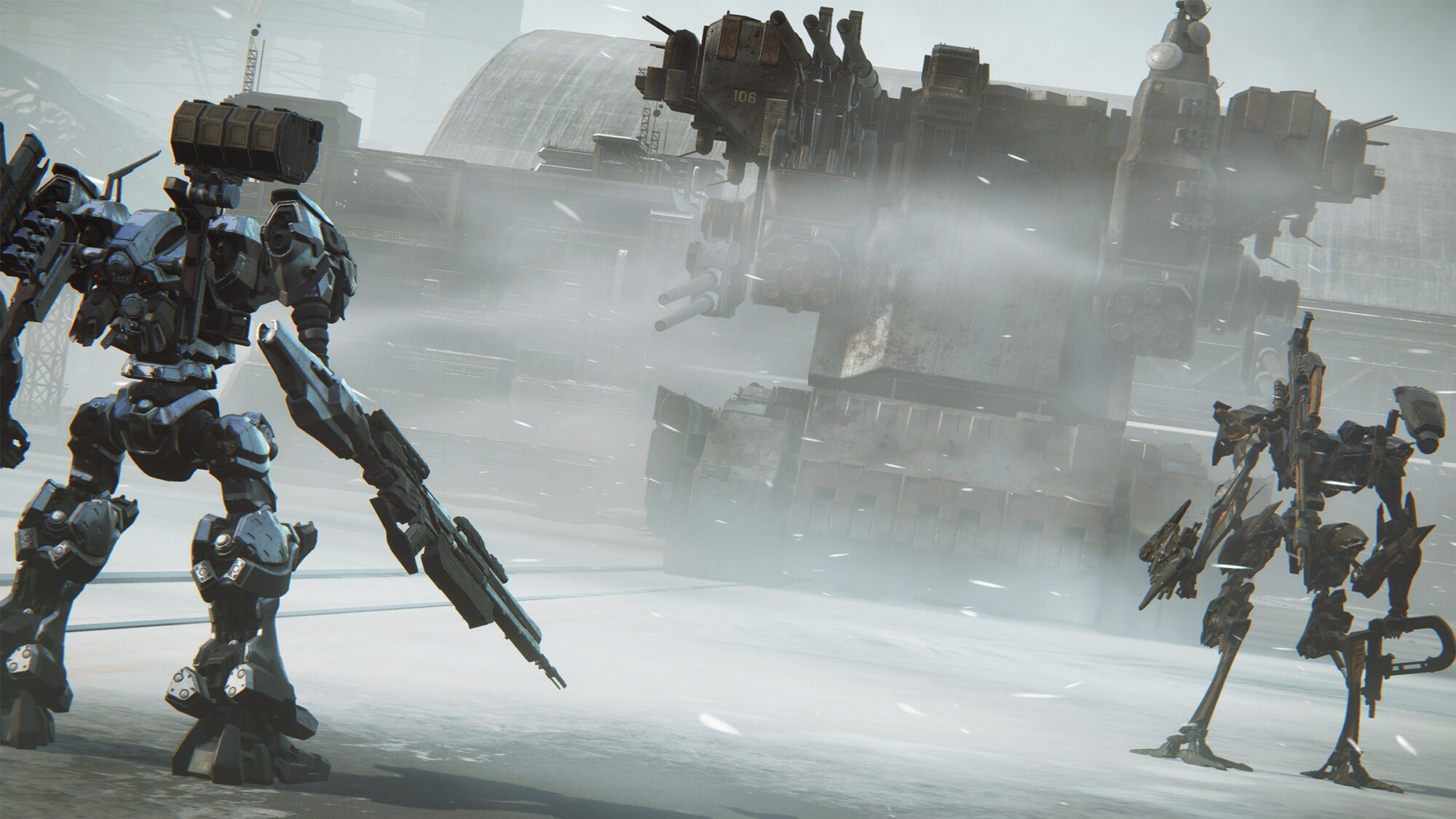 After so long, it was epic to finally become a pilot once more and experience Armored Core with a deeper dive thanks to modern platforms. The whole game is even more visually stunning than before, and fans have already been sharing their custom designs on social media. There is so much choice in the new release that it will keep players wanting to test new parts and even their skills against various foes, or even other players. It will be exciting to see what else could be released soon as there could be more content on the horizon.
Armored Core VI Fires Of Rubicon is out now. The game is available on PlayStation 5, PlayStation 4, Xbox Series X/S, Xbox One, and Windows PC via Steam. Additionally, the newest installment of the Armored Core franchise will also be optimized for Steam Deck users.
RELATED: Armored Core VI: Fires of Rubicon – See the perils of Rubicon 3 in new full CGI story trailer
About Armored Core™ VI Fires Of Rubicon™
Release Date: 25 August 2023
Publisher: Bandai Namco
Developer: FromSoftware, Inc.
Platforms: Steam® (PC), PlayStation 4, PlayStation 5, Xbox One, Xbox Series X/S
Genre: Action
Rating: 12 (PEGI)
What do you think of Armored Core VI Fires Of Rubicon? Did you pre-order the latest game from the Mecha game franchise? Have you enjoyed the various Armored Core configurations shared on social media? Let us know on social media and keep following The Illuminerdi for more gaming news.
SOURCE: Bandai Namco
KEEP READING: 'One Punch Man: World' 1st Impression – This Free-to-Play Game is OP AF