Armored Core VI Fires OF Rubicon has revealed the extended gameplay preview trailer, which features incredible mecha combat. Fans have been treated to a glorious sneak-peak into the action as players pilot their AC for fast-paced, omnidirectional action. As the players take on the role of 621, the protagonist pilot, who engages soldiers on the battlefield. The trailer also gives a preview of the various parts and weapons used to create any mecha, plus the various environments and locations the wars are fought. 
Armored Core VI Trailer Reveals Fast-Pace, Omni-Directional Action
Armored Core offered one of the best mecha piloting experiences as the rapidly intense combat was the core feature of the game series. One of the best features also included was the ability to create your own AC unit, using the parts that players had accessible.
RELATED: Armored Core VI: Fires of Rubicon – See the perils of Rubicon 3 in new full CGI story trailer
This means that a unit could be tailored to the mission or even the preferences of the player. The latest release has kept many features from past games and even teases combat against larger foes and an assortment of challenges.  
You can check out the newly released gameplay preview from Bandai Namco Games below:
Bandai Namco Europe and FromSoftware, Inc. (Elden Ring™, Dark Souls™) reveal a new extended gameplay walkthrough trailer for Armored Core VI™ Fires OF Rubicon™. Narrated by the developers, this video is the deepest look yet at the game's intense action, sprawling levels, and challenging battle sequences. 
As the video showcases, success in Armored Core VI Fires OF Rubicon will come from tinkering with highly customizable mech builds, a signature feature of the series, and learning the best strategies and techniques such as staggering enemies with the right weapons, combining ranged and melee attacks, and taking every advantage in battle. 
Armored Core VI Fires OF Rubicon, the latest high-octane action game by FromSoftware and Bandai Namco Entertainment Inc., promises fast-paced mech action with intense omnidirectional battles, in-depth customization, and thrilling boss fights.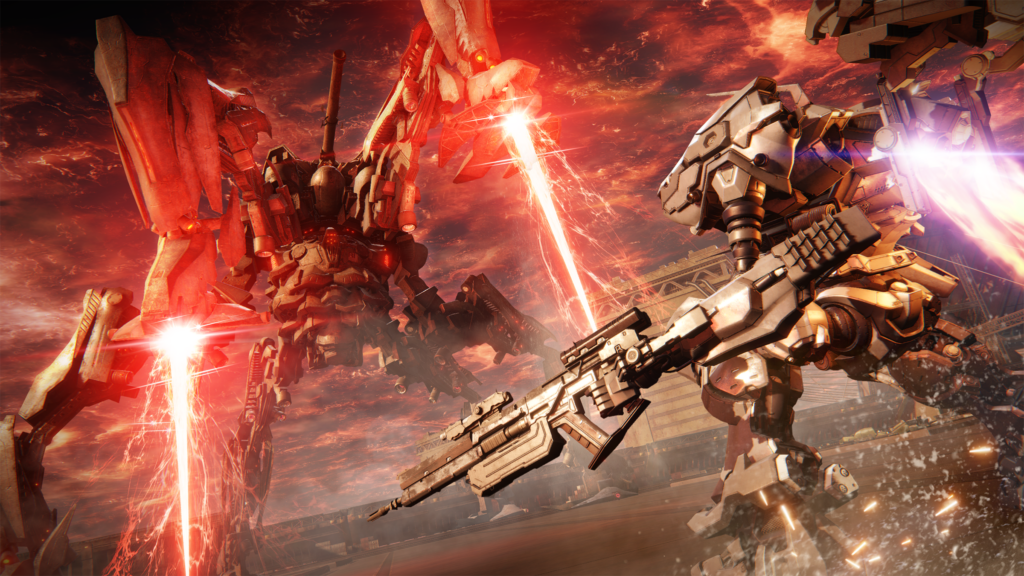 It was a joy to see so many core features from past games have been included in this latest release, including forging your own Armored Core using various parts and weapons. All the environments are visually stunning and include so many details with the urban landscape, which will make the combat even more exciting.
There is also a great deal of diversity among the foes a player will face, including fully armed helicopters and unique ACs. It will be fantastic to finally take on these challenges and find out what more is in store. 
RELATED: FEED THE FIRE — ARMORED CORE VI FIRES OF RUBICON WILL LAUNCH GLOBALLY ON 25TH AUGUST
This franchise has been through a lot over the years and has withstood the test of time, with the original Armored Core game being released 26 years in 1997. Armored Core VI Fires OF Rubicon is set to release on Aug. 25 for PlayStation 5, PlayStation 4, Xbox Series X|S, Xbox One, and PC via Steam, and the new upcoming game is available for pre-order. 
About Armored Core VI Fires Of Rubicon
Release Date: 25 August 2023 
Publisher: Bandai Namco 
Developer: FromSoftware, Inc.
Platforms: Steam® (PC), PlayStation 4, PlayStation 5, Xbox One, Xbox Series X/S 
Genre: Action
Rating: 12 (PEGI) 
What do you think of the featured gameplay in the new trailer? Are you excited to play Armored Core VI Fires OF Rubicon? Do you like the environments and foes featured in the trailer? Let us know on social media and keep following The Illuminerdi for more gaming news. 
SOURCE: Bandai Namco
KEEP READING: Bandai Namco Europe Announces Awesome Gamescom 2023 Line-Up