In the realm of cinematic storytelling, few directors have managed to create as expansive and immersive worlds as Alik Sakharov. With a portfolio that boasts of iconic series like Game of Thrones, Rome, and Marco Polo, Sakharov's expertise in large-canvas storytelling is undeniable. In a recent interview, the director delved into his approach to Invasion Season 2, sharing insights on how he brings authenticity to the series' global tale.
Drawing from Past Experiences
Sakharov's rich history in directing grand-scale narratives has undoubtedly influenced his approach to Season 2 of the series. He emphasizes the importance of staying true to the written material and letting the grandeur of the story unfold organically.
"Well, creating a large canvas storytelling is not something new to me at all. I mean, I've cut my teeth on big shows like Game of Thrones and Rome and Marco Polo. I mean, those are spectacular canvas shows, and Invasion is very much in that realm, if not more so. You don't really think about the scope and grandness of it; it's implicit; it's there; it's on the page. So what you concern yourself with is depicting it and creating it as honestly to the written material as possible."

-Alik Sakharov, 'Invasion' Season 2 Director-
RELATED: INVASION S2 Interview – Balancing Drama and Sci-Fi with Director Alik Sakharov
The Art of Honest Storytelling
For Sakharov, the key to successful storytelling lies not in the grandeur of the visuals but in the authenticity of the narrative. He believes in building the story block by block, focusing on eliciting genuine performances that resonate with the audience.
"Yeah, it definitely works if you don't, you don't wanna, you don't want to go into anything saying that, 'Oh, we're gonna do this bang, man,' because usually it's not going to translate as a bang. It's, you don't want to think about it; you don't want to clutter your mind with that. But what you want to clutter your mind with is being true and elicit the most honest performances that would invoke some sort of emotion from the viewer, from the audience. And if that happens, then you've succeeded. And if that happens in the background of a big canvas, then you've succeeded twice."

-Alik Sakharov, 'Invasion' Season 2 Director-
RELATED: INVASION S2 Interview – Balancing Spacey Sci-Fi and Grounded Earth with VFX
Alik Sakharov's approach to Season 2 is a masterclass in visual storytelling. By prioritizing authenticity and genuine performances over sheer visual spectacle, he ensures that the narrative remains at the heart of the series, even against its grand global backdrop.
INVASION Season 2 now streaming globally on Apple TV+, with new episodes every Wednesday.
About INVASION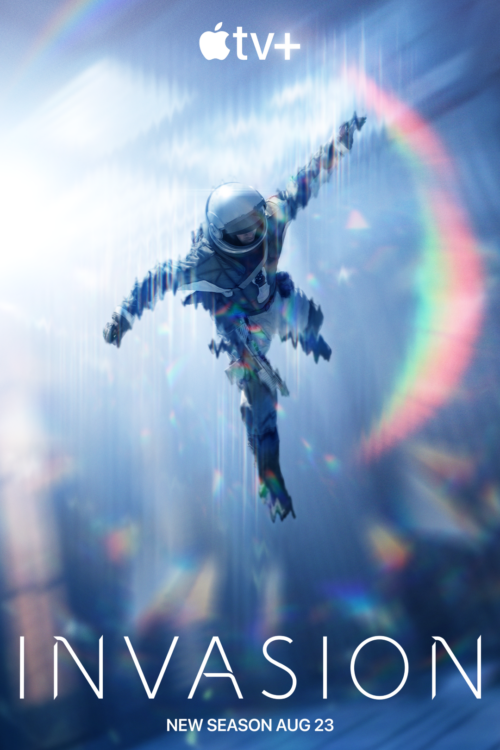 Release Date: Season 2 Premieres August 23, 2023
Executive Producers: Simon Kinberg, David Well, Audrey Chon, David Witz, Alik Sakharov, Andrew Baldwin, Katie O'Connell Marsh
Production: Boat Rocker Studios
Distribution: Apple TV+
Cast: Golshiteh Frahani, Shioli Kutsuna, Shamier Anderson, India Brown, Billy Barratt, Azhy Robertson, Paddy Holland, Tara Moayedi, Enver Gjokaj, Nedra Marie Taylor, Naian González Norvind

Synopsis
From Academy Award-nominated and two-time Emmy Award-nominated producer Simon Kinberg and David Weil, "Invasion" is a sweeping, character-driven science fiction drama series that follows an alien invasion through different perspectives arouhat do you think of Alik Sakharov's approach to visual storytelling in Invasion Season 2? Do you agree with the importance of creating a unified vision for the opening sequence? How do you feel about the character-based drama set against the backdrop of an alien invasion? Share your thoughts and reactions to Sakharov's insights and the second season of Invasion on social mediand the world. Set across multiple continents, "Invasion" stars Shamier Anderson, Golshifteh Farahani, Sam Neill, Firas Nassar and Shioli Kutsuna.
What are your thoughts on Sakharov's approach to large-canvas storytelling? Do you believe that authenticity is the key to resonating with audiences? How do you feel about the balance between grand visuals and genuine performances in series like Invasion? Share your thoughts with us on social media!
KEEP READING: INVASION S2 Exclusive Interview – Alik Sakharov on Bringing His Visual Storytelling to the Acclaimed Series