Half a century after the world was introduced to the spine-chilling tale of The Exorcist, a new chapter is set to unfold. This October, brace yourself for a fresh wave of terror with The Exorcist: Believer. And to whet the appetite of horror enthusiasts, a special "A Look Inside" featurette has been released, offering a tantalizing glimpse into the dark world of this upcoming horror masterpiece.
A Legacy Reimagined
In 1973, The Exorcist, based on William Peter Blatty's best-selling novel, took the world by storm. It wasn't just a movie; it was a cultural phenomenon, breaking box office records and becoming the first horror film to be nominated for Best Picture at the Academy Awards. Now, 50 years later, Blumhouse and acclaimed director David Gordon Green, known for their groundbreaking work on the Halloween franchise, are set to redefine horror once again with The Exorcist: Believer.
RELATED: 'THE LAST VOYAGE OF THE DEMETER' REVIEW – DRACULA MISSES THE JUGULAR
The story revolves around Victor Fielding, portrayed by the talented Leslie Odom, Jr. (One Night in Miami, Hamilton). After tragically losing his pregnant wife in a Haitian earthquake, Victor has single-handedly raised their daughter, Angela (Lidya Jewett, Good Girls). But their world is turned upside down when Angela and her friend Katherine (debutant Olivia O'Neill) vanish in the woods, only to reappear three days later with no recollection of the events that transpired. This mysterious disappearance sets off a chain of events, plunging Victor into the depths of evil and leading him to seek guidance from Chris MacNeil, a character who has firsthand experience with such malevolent forces.
A Tale of Lost Memories and Unearthed Evil
Ellen Burstyn, the Oscar-winning actress, returns to reprise her iconic role as Chris MacNeil from the original 1973 film. The cast also boasts Emmy winner Ann Dowd, Grammy winner Jennifer Nettles, and two-time Tony winner Norbert Leo Butz, adding depth and gravitas to this highly anticipated film.
RELATED: UNIVERSAL STUDIOS HOLLYWOOD UNVEILS HAUNTING LINE-UP FOR HALLOWEEN HORROR NIGHTS 2023
The Exorcist: Believer is the brainchild of a team of brilliant minds. The screenplay is penned by Peter Sattler and David Gordon Green, with the story crafted by Scott Teems, Danny McBride, and David Gordon Green, all based on the unforgettable characters created by William Peter Blatty. The film is produced under the banners of Blumhouse and Morgan Creek Entertainment, with Jason Blum and the Robinson duo, David and James G., taking on the roles of producers.
The Exorcist: Believer promises to be more than just a horror film; it's a continuation of a legacy that has haunted the dreams of generations. As the release date of October 6th approaches, fans are eagerly awaiting to be immersed in the eerie world of Panem once again.
The Exorcist: Believer releases in theaters October 6, 2023.
About The Exorcist: Believer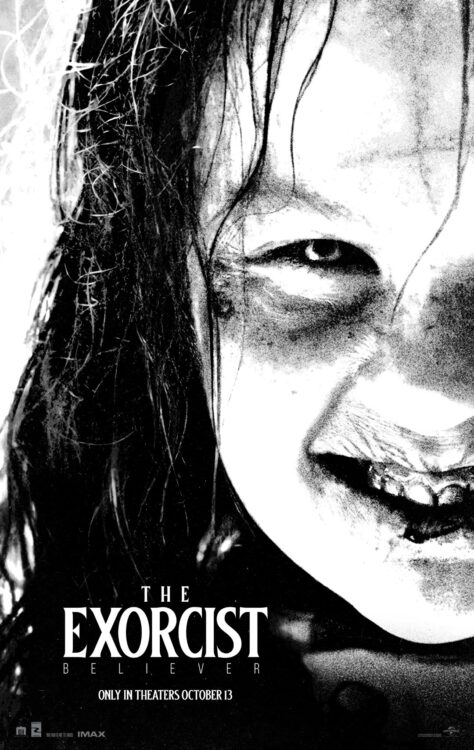 Release Date: October 6, 2023
Directed by: David Gordon Green
Screenplay By: Peter Sattler and David Gordon Green
Based on characters created by William Peter Blatty
Producers: Jason Blum, David Robinson, James G. Robinson
Executive Producers: Danny McBride, David Gordon Green, Stephanie Allain, Ryan Turek and Atilla Yücer
Genre: Horror
Cast: Leslie Odom, Jr., Ann Dowd, Jennifer Nettles, Norbert Leo Butz, Lidya Jewett, Olivia Marcum and Ellen Burstyn

Synopsis
Exactly 50 years ago this fall, the most terrifying horror film in history landed on screens, shocking audiences around the world. Now, on Friday, October 6, a new chapter begins. From Blumhouse and director David Gordon Green, who shattered the status quo with their resurrection of the Halloween franchise, comes The Exorcist: Believer.  
Are you ready to confront the evil that lurks within? How do you think this new chapter will compare to the original classic? Will The Exorcist: Believer redefine horror for a new generation? Share your thoughts and join the conversation on social media!
Source: Universal Pictures
KEEP READING: RAVENSBURGER'S 'HORRIFIED: GREEK MONSTERS' BRINGS NEW MECHANICS TO THE FRIGHTENING TABLETOP FRANCHISE