Sung Kang, the director of the indie horror-comedy Shaky Shivers, has had a storied career in Hollywood, working with some of the industry's most iconic directors. In our recent interview, Kang opened up about the invaluable lessons he's learned from these directing legends and how they inspired and helped shape his directorial debut.
Learning from Walter Hill: The Art of Delegation
Walter Hill, the man behind classics like 48 Hours and Brewster's Millions, imparted a crucial lesson to Kang: the importance of delegation and hiring the right people for the job.
"Walter Hill taught me that a director's job is to hire people that are smarter and better at departments than you. You're really leaning on departments and your talent. You can only do so much. So that idea of leaning on people and not having to take credit for everything and putting your ego to the side is crucial."

-Sung Kang, Director 'Shaky Shivers'-
RELATED: SHAKY SHIVERS – Director Sung Kang Shares the Film's Secret Ingredient in Our Exclusive Interview
This lesson was particularly relevant for Kang while making Shaky Shivers, a film with limited resources. By surrounding himself with a talented cast and crew, Kang was able to focus on the bigger picture, allowing the experts in each department to shine.
The Open-Book Approach of Robert Rodriguez
Another significant influence on Kang's directorial style is Robert Rodriguez, known for his work on films like El Mariachi. Rodriguez's openness and willingness to share knowledge had a profound impact on Kang.
"Robert Rodriguez shared not only passion and enthusiasm for filmmaking but the enthusiasm to share information. He's an open book. That was my approach with Shaky Shivers—to share everything. If everybody working on the film knows the script, my story, my inspirations, then we're all on the same page."

-Sung Kang, Director 'Shaky Shivers'-
RELATED: SHAKY SHIVERS' Unbreakable Chemistry and Unforgettable Performances
Nurturing Dreams and Fostering Openness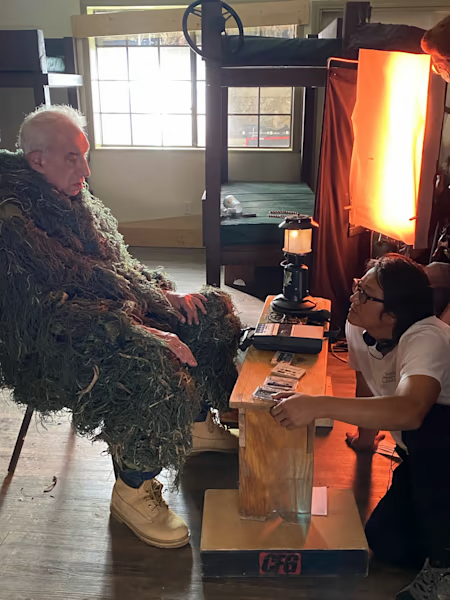 Kang also emphasized the importance of nurturing the dreams of those on set who aspire to take on different roles in the industry. This approach was especially vital during the challenging times of shooting Shaky Shivers amid the pandemic. Kang credits the film's success to the collective efforts of everyone involved, stating that openness and gratitude were the project's "superpowers."
"If you want to be a director, there are people on the crew that aspire to do that. Let me show you. If you want to be a writer, let me show you the early drafts. If you're an actor, just be an open resource. Filmmaking is very pragmatic. If you try to hoard these ideas and then your ego comes in, it doesn't work. Especially on a film like this, it does not work."

-Sung Kang, Director 'Shaky Shivers'-
As Sung Kang continues to evolve in his career, the foundational lessons from these legendary directors serve as his guiding stars, proving that the wisdom of the past can indeed illuminate the path to future success. You can see the wonderful first step Kang has taken following these philosophies in Shaky Shivers. Now playing in theaters and hopefully will be available on more platforms soon.
About Shaky Shivers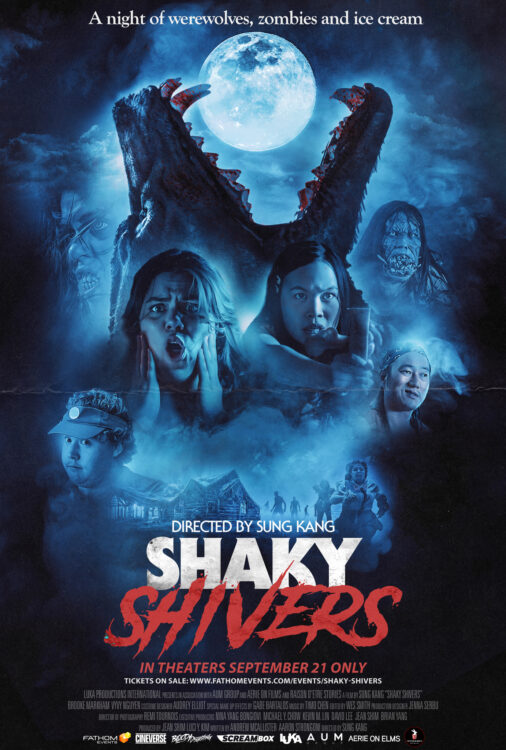 Release Date: September 21, 2023
Director: Sung Kang
Writers: Andrew McAllister and Aaron Strongoni
Executive Producers: Nina Yang Bongiovi, Michael Y. Chow, John Lepper, Kevin M. Lin
Producers: Eric Bergman, Jameson English, Lucy Y. Kim, Kean Shim, Brian Yang
Distribution: Cineverse
Music by: Timo Chen
Cast: Brooke Markham, VyVy Nguyen, Jimmy Bellinger, Erin Daniels, Skyler Day, Herschel Sparber

Synopsis
After finding herself bitten by a mysterious animal, Lucy becomes convinced that she will transform into a fearsome werewolf. Joined by her best friend Karen, the two embark on a wild adventure filled with magic and mayhem, as they look to do battle with a throat-slashing creature ripped right out of an 80s horror movie.
Are you excited about Sung Kang's directorial debut with Shaky Shivers? Which directors would you want to learn from? How do you feel about witches and cults? Let us know your thoughts on social media!
KEEP READING: KILLER KLOWNS FROM OUTER SPACE: THE GAME – A CULT CLASSIC REIMAGINED INTO NEW KILLER GAME