Shaky Shivers has a refreshing secret ingredient. In the world of filmmaking, the role of a director is often seen as the linchpin that holds the entire project together. From managing the crew to guiding the actors, a director's decisions can make or break a film. But what happens when a director attributes the film's success not just to their own skills but to the cast they've chosen? Sung Kang, the director of the much-talked-about horror-comedy Shaky Shivers, sheds light on this often-overlooked aspect of filmmaking: casting.
Shaky Shivers' Secret Ingredient: Casting
In our recent interview, Sung Kang opened up about the challenges and joys of directing Shaky Shivers. One of the most striking revelations was his emphasis on the importance of casting. According to Kang, the right cast can elevate a film from good to great, and in the case of Shaky Shivers, it was the "superpower" that made the film what it is today.
RELATED: NO HARD FEELINGS REVIEW: JENNIFER LAWRENCE SHINES IN HILARIOUS COMEDY
"I felt the currency or the equity that we had, our superpower essentially was Brooke and Vivi. Without them bringing life to Karen and Lucy, we had no chance. So I was taught early in my career is that casting is everything in a film. And as a director, if you just cast the right actors for the parts, you know, that makes my job easier because all I have to do is call action and they go for it."

-Sung Kang, Director of 'Shaky Shivers'-
The Start of a Brilliant Directing Career
This perspective is a breath of fresh air in an industry where directors often receive the lion's share of the credit. Kang's humility and willingness to share the spotlight with his cast members, Brooke Markham and VyVy Nguyen, who play Karen and Lucy respectively in Shaky Shivers, speaks volumes about his approach to filmmaking. It's a collaborative effort, where every cog in the machine plays a vital role in the final product.
RELATED: THE BLACKENING MOVIE REVIEW: STRONG LAUGHS, BUT A PREDICTABLE PLOT
Kang's philosophy on casting aligns with his broader approach to filmmaking, which he describes as a collective endeavor. He credits not just the actors but also the crew, the art department, and even the limitations they faced for contributing to the film's success. For Kang, the cast and crew are not just people who work for him; they are integral parts of a creative process that requires everyone's input and expertise.
Experience Sung Kang's directorial debut, and the tremendous performances of Brooke Markham and VyVy Nugyen, in Shaky Shivers. Now playing in theaters and hopefully will be available on more platforms soon.
About Shaky Shivers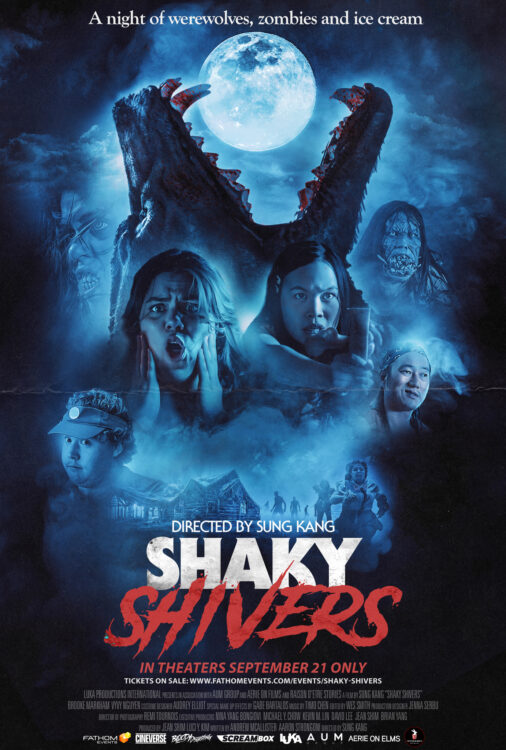 Release Date: September 21, 2023
Director: Sung Kang
Writers: Andrew McAllister and Aaron Strongoni
Executive Producers: Nina Yang Bongiovi, Michael Y. Chow, John Lepper, Kevin M. Lin
Producers: Eric Bergman, Jameson English, Lucy Y. Kim, Kean Shim, Brian Yang
Distribution: Cineverse
Music by: Timo Chen
Cast: Brooke Markham, VyVy Nguyen, Jimmy Bellinger, Erin Daniels, Skyler Day, Herschel Sparber

Synopsis
After finding herself bitten by a mysterious animal, Lucy becomes convinced that she will transform into a fearsome werewolf. Joined by her best friend Karen, the two embark on a wild adventure filled with magic and mayhem, as they look to do battle with a throat-slashing creature ripped right out of an 80s horror movie.
Are you excited about Sung Kang's directorial debut with Shaky Shivers? Do you enjoy movies where the chemistry between the leads really makes the film? Would you want to cure yourself if you become a werewolf? Share your thoughts and expectations with us on social media!
KEEP READING: 'TOTALLY KILLER' 1ST LOOK IMAGES OF PRIME VIDEO AND BLUMHOUSE'S NEW SLASHER COMEDY