The final episode of the first season of Ahsoka is just around the corner, and there are a lot of storylines left up in the air. After episode seven rolled credits 40 minutes in and with barely any significant movement in the show's main plot, many, including myself, were left scratching their heads wondering how Dave Filoni plans to wrap all of this up in one episode. Is the finale going to be hourlong? We've been here before, many times, and the answer is always no. Now, the runtime has leaked online, and the answer is pretty much what we could have expected.
The Twitter account @Cryptic4KQual, which is known for accurately posting the runtimes of upcoming movies and episodes of TV, revealed recently that the final episode of Ahsoka season 1 will be 46:25min long with credits, and 42:43min without them. Take out an additional two minutes or so of previews and the Star Wars logo at the beginning, and we're left with a 40-minute episode to wrap things up.
RELATED: DONALD GLOVER'S NEW STAR WARS LANDO SERIES NOW HEADING TO BIG SCREEN AS A MOVIE
Now, we should obviously be cautious and not pass judgment before we see the episode, but it's safe to say that this at least feels like a rushed episode, all things considered. We don't know where the season is going to end, but all main characters need a sendoff — that rests on the more-than-capable hands of writer Dave Filoni and director Rick Famuyiwa, who is stepping up to direct the final episode of the season.
What To Expect from the Ahsoka Episode 8 Season Finale?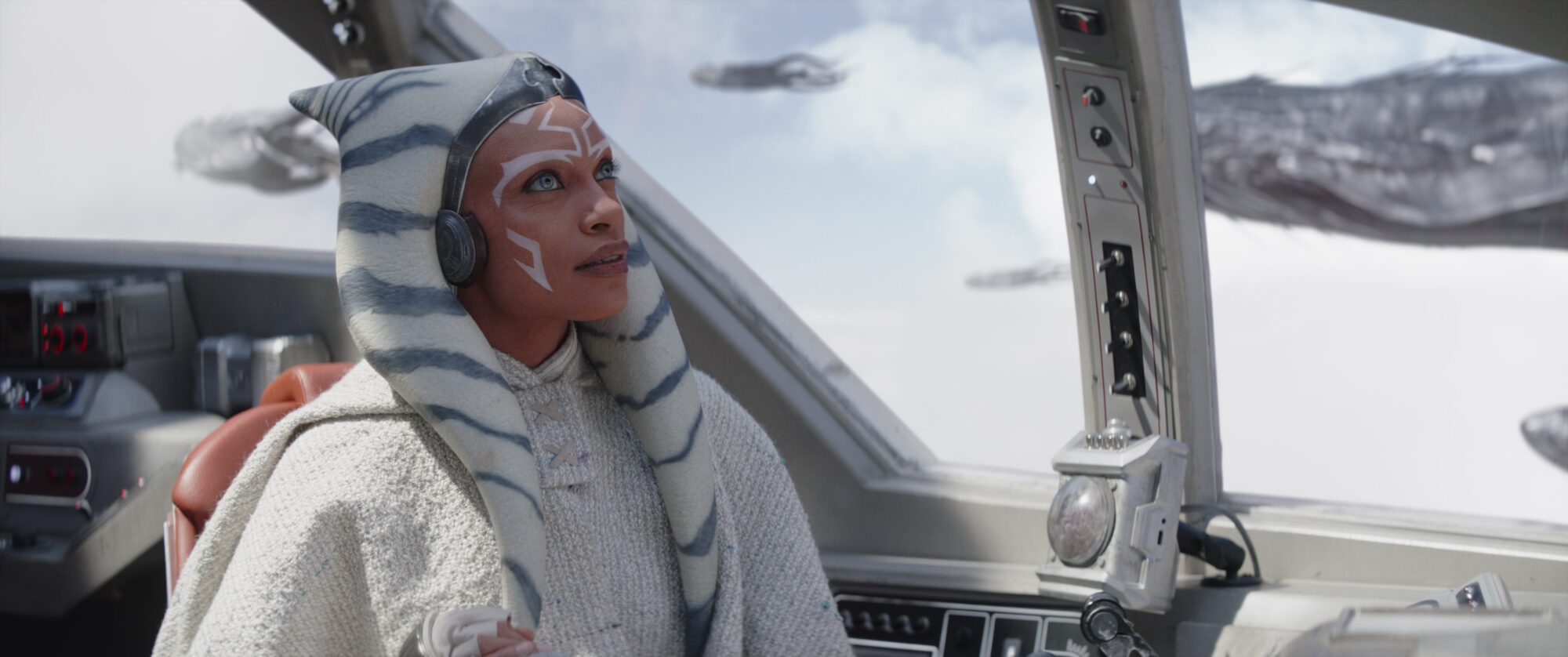 Diana Lee Inosanto said in an interview earlier this year that she has a massive fight scene with Rosario Dawson in the show, so that's something we can expect from the finale (in other words, Morgan Elsbeth is pretty much toast). But the future is very much in motion for the rest of them.
RELATED: Agatha: Darkhold Diaries Constant Title Changes Might Be Intentional Mischief From Marvel
It seems unlikely at this point that Grand Admiral Thrawn (Lars Mikkelsen) will get his hands dirty with a fight sequence, and Dave Filoni will likely reduce him to an overseer of the battle — hopefully he has a big military win for him in mind so he can establish himself as a villain to be reckoned with. Mikkelsen himself teased months ago a big twist coming in the final moments of the season too, so let's keep an eye out for that.
However, all bets are off in regards to Shin (Ivanna Sakhno), Baylan (Ray Stevenson), Sabine (Natasha Liu Bordizzo), and Ezra (Eman Esfandi). It'd actually be surprising if Sabine and Shin fought each other yet again, but the Mandalorian/Jedi apprentice is definitely not fighting Baylan. So she will probably board Thrawn's ship and wreak some havoc there — Ezra too, but for different reasons.
RELATED: Ahsoka and Filoni Being Filoni: The Meaningless Baylan Skoll Easter Egg That Has Taken the Internet by Storm
Our evil characters (I hesitate to call them Sith) seem to be on a different path now. Baylan has had enough and will probably be on his own from now, though hopefully, we'll get a final meeting between him and Shin to clear things up. If anything, Shin will run off to Thrawn's ship and back to our main galaxy, but before she does that she might have to ignite her lightsaber against Ezra, if anyone. There was a lot left on the table with their duel in Part Seven, so this is more wishful thinking than an educated guess.
Back in our regular galaxy, we'll probably get a conclusion to Hera's arc (whatever that is; seriously, Hera's storyline has been the biggest letdown of the series by far) and likely one final cameo. The last couple of episodes seemed to suggest that Leia Organa is coming sooner rather than later, and with her appearance in Dave Filoni's movie practically guaranteed, it'd be good to let everyone know "This is what we're doing" before then.
But since it's a pretty safe bet that we'll have a reunion of the main Ghost crew by the end of the season, and that Eman Esfandi's Ezra will meet Jacen Syndulla for the first time (prepare your tissues everybody!), the odds-on favorite is actually Zeb Orrelios, who already made his live-action debut in The Mandalorian and whose absence has been quite notable all season long.
RELATED: LOKI: CHECK OUT THE HILARIOUS THOR FROG, AKA THROG, DELETED SCENE FROM SEASON 1 NOW!
While episode 8 of Ahsoka should tie together most, if not all of the storylines of the first season, we know it's not a definitive end. A second season is reportedly in the works, and should get a go-ahead once the studio decides season 1's numbers are good enough to keep going. (This is also an argument to predict that a Leia cameo might be coming a bit further down the line.)
RELATED: Martin Scorsese, Superheroes, and the "Death of Cinema": Fact, Fiction, or Wild Fearmongering?
The plan at the moment seems to be doing a fourth season of The Mandalorian, which should get in front of cameras once the studios settle with the actors, and a second season of Ahsoka before the big theatrical event. It seems a bit ambitious, as Dave Filoni is expected to direct and also write the feature film, but we trust they'll be able to figure it out. After all, knowing how passionate Filoni is, we wouldn't be surprised if a season 2 was already written.
Episode 8 of Ahsoka streams on October 3rd, 2023 on Disney+. What do you think will happen in the Ahsoka finale? Do you have some crazy theories going into it? Do you think the team will be able to put together a satisfying season finale? Let us know on our social media!
KEEP READING: Star Wars The Clone Wars: The Case Against a New Live-Action Series
Source: X/Twitter