Fans have been waiting for a while for the Lando spinoff that would see Donald Glover don the cap of Lando Calrissian and return to the role once more. Variety has a new update that the upcoming spinoff of SOLO: A Star Wars Story is now being looked at as a feature film rather than a series or limited miniseries for Lucasfilm. What's more? Lucasfilm has actually confirmed this update to Variety as well.
LANDO SPINOFF PROJECT NOW BEING DEVELOPED AS A FEATURE FILM
As previously reported, it was reported by Variety in July that Donald Glover and his brother Stephen Glover reached a deal with Lucasfilm and Disney to develop and write a new Disney+ series for Lando in July, replacing the exiting Justin Simien (Disney's The Haunted Mansion). However, Stephen Glover later confirmed on a recent appearance on the Pablo Torre Finds Out podcast that the show is now being looked at as a movie.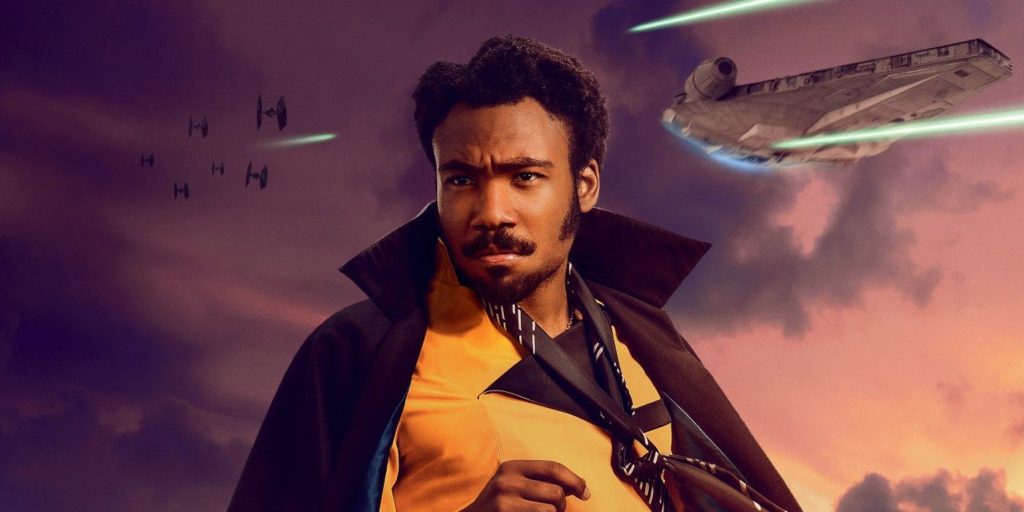 Glover stated on the project, "It's not even a show…the idea right now is to do a movie. Right now, because of the strike, it's kind of like telephone, all of the information." Lucasfilm reportedly confirmed the development of the project as a movie to Variety later on.
The Lando spinoff project has been gestating for quite some time. It was first announced during The Walt Disney Company Investor Day in December of 2020. Talk of the series finally resumed earlier in the summer when news surfaced that the Glover brothers signed a deal to develop the project earlier this year, and now it looks like it's been transformed from a Disney+ series into a movie.
RELATED: Lando: Donald Glover Will Write New Series and Shares Hopes For Its Development
Donald Glover made his big-screen debut as Lando in 2018's SOLO: A Star Wars Story, portraying a younger version of Lando Calrissian, who was first played by Billy Dee Williams in the classic 1980 film, Star Wars: The Empire Strikes Back. The film depicted Lando's first meeting with Han Solo (with Alden Ehrenreich portraying the younger Solo), and how Solo won the Millennium Falcon. While critic reviews of SOLO were relatively mixed, and the film underperformed at the box office making only $392 million worldwide, Glover generally received positive acclaim for his portrayal of the iconic, roguish hero.
The Glover brothers are also currently working under an overall deal at Amazon. Whatever work they are doing on Lando likely had to be halted due to the currently ongoing Writers Guild of America (WGA) strike against the Alliance of Motion Picture and Television Producers (AMPTP). The WGA strike began in early May and is currently in its fifth month. The Glovers won't be able to resume work on the Lando spinoff until the strike is resolved. That means it could still be a long while before fans see Donald Glover return to the iconic role.
It's not clear how the new movie will fit into the picture for Star Wars, Lucasfilm, Disney, and Disney+. Disney has developed sequels to popular films and IP directly for Disney+ in the past, such as Disenchanted and Hocus Pocus 2, both of which debuted on Disney+ last year. There hasn't been a Star Wars movie with a wide theatrical release in theaters since Star Wars: The Rise of Skywalker in 2019.
Earlier this year, Lucasfilm announced three theatrical Star Wars movies that are currently in development. One is a planned film directed by Dave Filoni focusing on the New Republic and the interconnected stories of The Mandalorian, The Book of Boba Fett, and Ahsoka. Another film will explore the dawn of the Jedi and will be directed by James Mangold. And finally, Sharmeen Obaid-Chinoy is attached to direct a new sequel set after the events of The Rise of Skywalker, and it will feature Daisy Ridley returning as Rey Skywalker, who is rebuilding a new Jedi Order.
RELATED: Donald Glover Confirms Plans To Play Lando Calrissian In the Star Wars Universe Again
With both the WGA and SAG-AFTRA on strike, there won't be much more movement on Lando or any of the aforementioned projects until the AMPTP resolves these labor disputes and signs new contracts with the guilds. So the release dates of those films and Lando are all currently TBD.
What are your thoughts about the news? Do you think Donald Glover pivoting his new Lando spinoff project from a series to a movie is a good idea? Or do you think this works better as a series? Are you looking forward to Glover returning to the role of Lando Calrissian? Let us know your thoughts on The Illuminerdi's social media.
SOURCE: Variety, Pablo Torre Finds Out
KEEP READING: All The Star Wars Celebration 2022 Disney Plus Announcements You Need To Know!