John Cena talks about coming back to WWE and who he thinks is the greatest of all time.
John Cena has been out of WWE since 2019. He started making guest appearances and wrestling a match here and there. It was a special treat for WWE fans. However, for the last few months Cena has been a pretty steady part of WWE TV and more specifically SmackDown.
RELATED: John Cena Praises Cody Rhodes Reinventing Himself And LA Knight's Drive
It has been nice having Cena around so much, but most fans didn't know the reason behind it. It all stems from the SAG-AFTRA strike. Cena couldn't act and so he had some free time.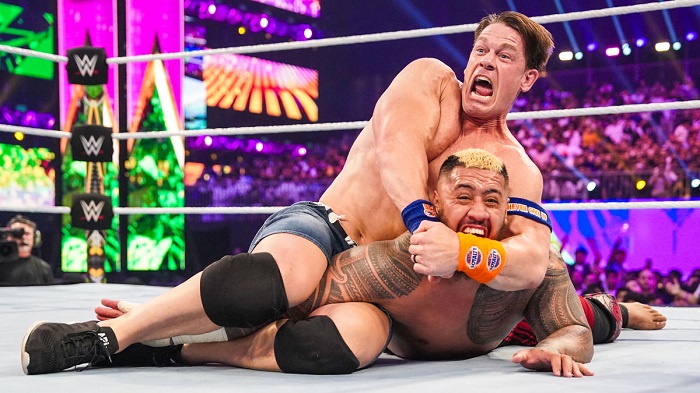 During a recent episode of WWE After The Bell with Corey Graves & Kevin Patrick, John Cena talked about why he returned to WWE and the process of his return to his former home.
"The labor dispute happens, the Screen Actors Guild decides as an entirety, to go on strike. Which either leaves me idle or asking questions of 'What can I do? What is within my control?' I wanted to see if it was okay to come back to tour, so we called the proper people at SAG, we got a written legal okay that it would be okay to come back to WWE," Cena said. "Once I had that, then I could ask the question of 'WWE, do you guys want me to come back and hang out for a little bit?' So, here we are."

H/T To Wrestling Inc. For Transcription
John Cena Staying Busy In WWE
Since returning to WWE Cena has had a few high profile run-ins and matches. The first of which was as a special guest referee in the LA Knight vs. The Miz match at Payback. He then teamed up with Knight to take on Jimmy Uso and Solo Sikoa. This past Saturday he faced Sikoa in a losing effort at Crown Jewel.
RELATED: Seth Rollins Talks About Retirement And Why The Love For His Daughter Has Him Contemplating It
Cena's return to WWE has been an honor to see. WWE fans are quickly reminded why he was the face of WWE for so long and is so highly regarded. His work on the mic is lightyears beyond many of the current wrestlers and his in-ring work is still top notch.
Since Cena's move to a part-time schedule WWE needed a new top guy. WWE had been trying to move Roman Reigns into that position for a while. However, WWE fans were not receptive to the push for Reigns. With Cena gone WWE decided to push Reigns with all their might during the COVID era and it worked with a lot of help from Reigns.
RELATED: Baron Corbin Talks About the WWE NXT Talent And His Unique 'Burn The Ships' Philosophy
Cena praises Reigns wrestling ability and being able to find his place in all the hate. He even thinks Reigns may be the GOAT.
"Roman is a very improvisational guy and works that style. He's really incredible," Cena said. "He's a sponge and he's athletic and super intelligent. He's a fan of this and I mean all of this. And most importantly, [he's] a fan of psychology. I say the WWE Universe is the biggest superstar we have. Roman navigated those waters without them … I don't think Roman is Roman if he doesn't have a time to work in front of no crowd because the crowd was so against the fact that the company believed in Roman Reigns … everyone has a tough hill to climb once they become pushed.

When the crowd wasn't there [during the pandemic], … Roman could be himself. Night after night, he becomes this extremely nuanced, soft-spoken character, … and as soon as they bring people back in, he had done such riveting programming that it's like, 'Man, now I want to see this guy.' And he has just done it better than [anyone] I've ever seen. He's the greatest of all time, in my opinion."

H/T To Wrestling Inc.
Let The Hate Flow Through You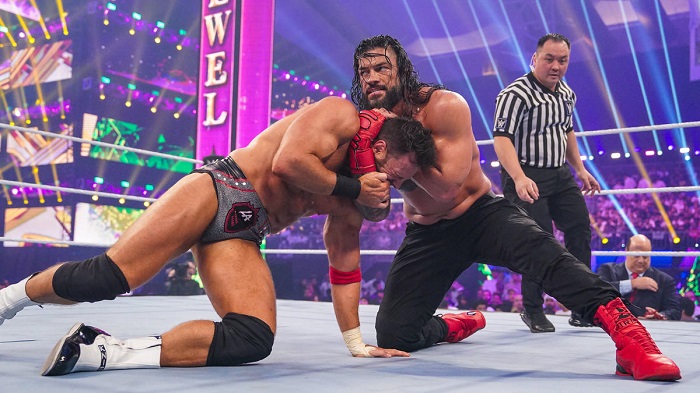 It can't be understated how against Reigns the fans were. Every move and every misstep was picked apart by fans. Even when he did everything perfect he was hated for it. One of the main problems is WWE wanted him to be a babyface so bad and couldn't see how much he was hated.
During the COVID era WWE decided to embrace the hate. Reigns began acting more and more like a heel.  He finally found his place and is the WWE's top Superstar and top heel. His win over LA Knight, who is one of WWE's top babyfaces, just makes fans hate him even more.
What have you thought of Cena's run since returning? Do you think he has lost some of his ability?  Cena's walkout of Crown Jewel seemed like a retirement, do you think it was? Do you think Reigns is the GOAT in WWE today? If not, then who do you think is? With Reigns currently at his peak, do you think he could be as successful if he went back to babyface? Let us know who you would like to see Cena wrestle or see him do if he isn't retired.
KEEP READING: Logan Paul Talks About Crossing Off A "Bucket List" Moment And His Big Win
Sources: Wrestling Inc., WWE After The Bell with Corey Graves & Kevin Patrick, Wrestling Inc.